Meal Prep Plan: How I Turn a 12-Item Grocery List Into a Full Week of Meals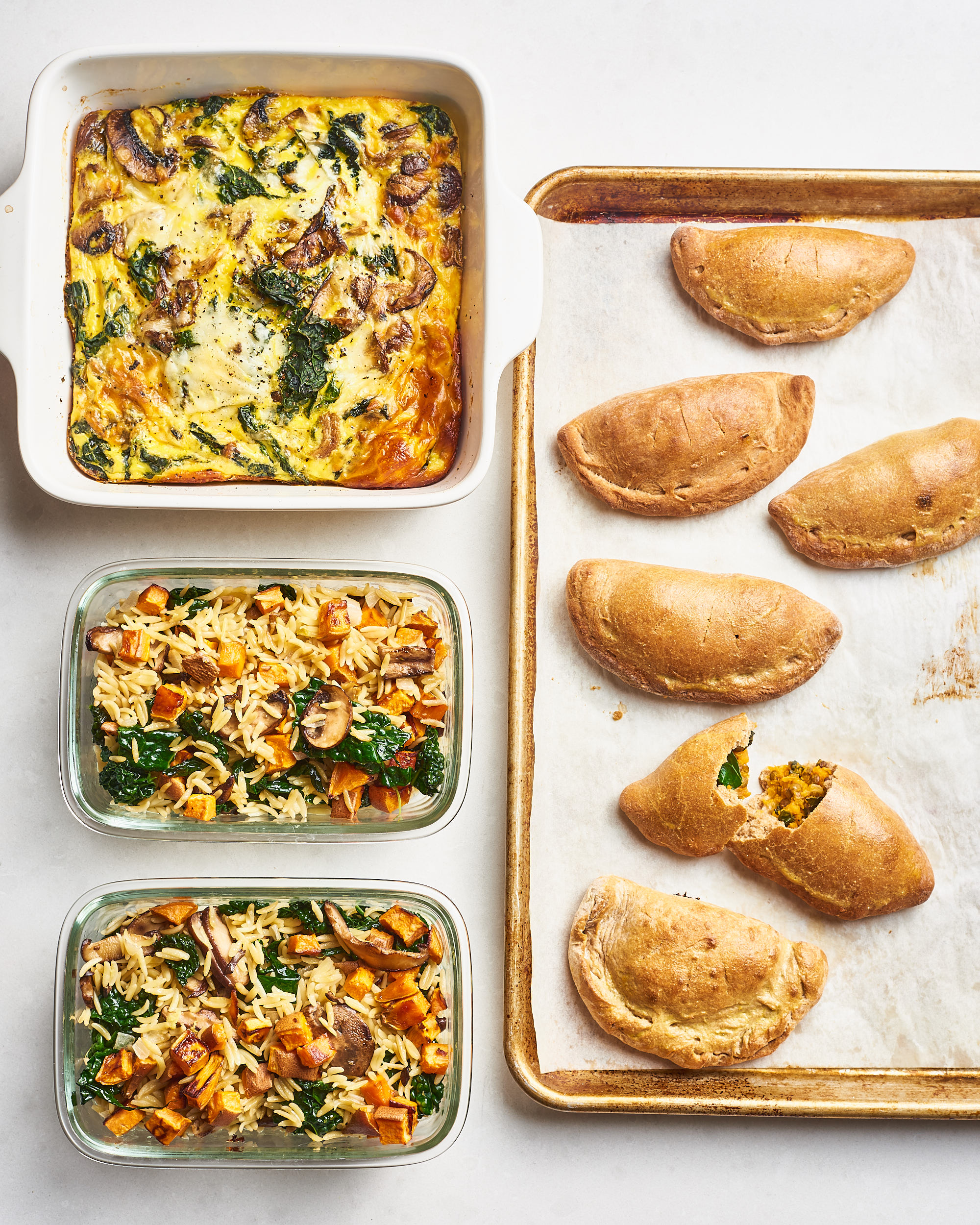 Meal prepping with a super-short grocery list is great for a number of reasons. It reduces the amount of time you have to spend at the grocery store. It keeps your grocery cost to a minimum (this entire plan cost about $70 total). It means nothing goes to waste. And perhaps best of all, it turns your Sunday meal prep session into a fun, puzzle-like challenge: how can I transform these 12 groceries into a week's worth of diverse, flavor-packed meals?
For this week's Power Hour Meal Prep Plan, you'll start with just 12 ingredients (and some basic pantry staples). In just two hours, you'll have a huge head start on a week's worth of meals for two, including breakfast, lunch, and dinner.
Kitchn Meal Prep Plan


My Meal Prep Goals
Breakfast: Hearty, fiber-packed breakfasts that my boyfriend and I can eat at home or on-the-go (five days)
Lunch: A wholesome, light, protein-packed lunch for both of us (five days)
Dinner: Healthy dinners that require minimal cooking and yield enough for leftovers the next day (five days).
Nutritional Goals: I follow a pescatarian diet, so this week our protein comes from fish, legumes, and eggs. It's packed with whole foods and vegetables, including lots of leafy greens.
Meal Prep Plan Snapshot
Feeds: Two people
Prep Time: About 2 hours
Meals Covered: About 70% (No weekend meals)
Weeknight Cooking Required? Yes, but nothing that takes more than 15 minutes to whip up.
My Meal Plan
Breakfast
Maple-Cinnamon Oatmeal with Banana (portioned into jars like these)
Banana-Oat Smoothies
Lunches
Dinners
Seared Salmon with Soy & Ginger & Sautéed Kale
Crustless Quiche & Kale Salad with Balsamic Vinaigrette
Orzo w/ Caramelized Vegetables & Ginger
Spiced Chickpea, Sweet Potato & Kale Pockets (adapted from these)
Soy-Ginger Scrambled Eggs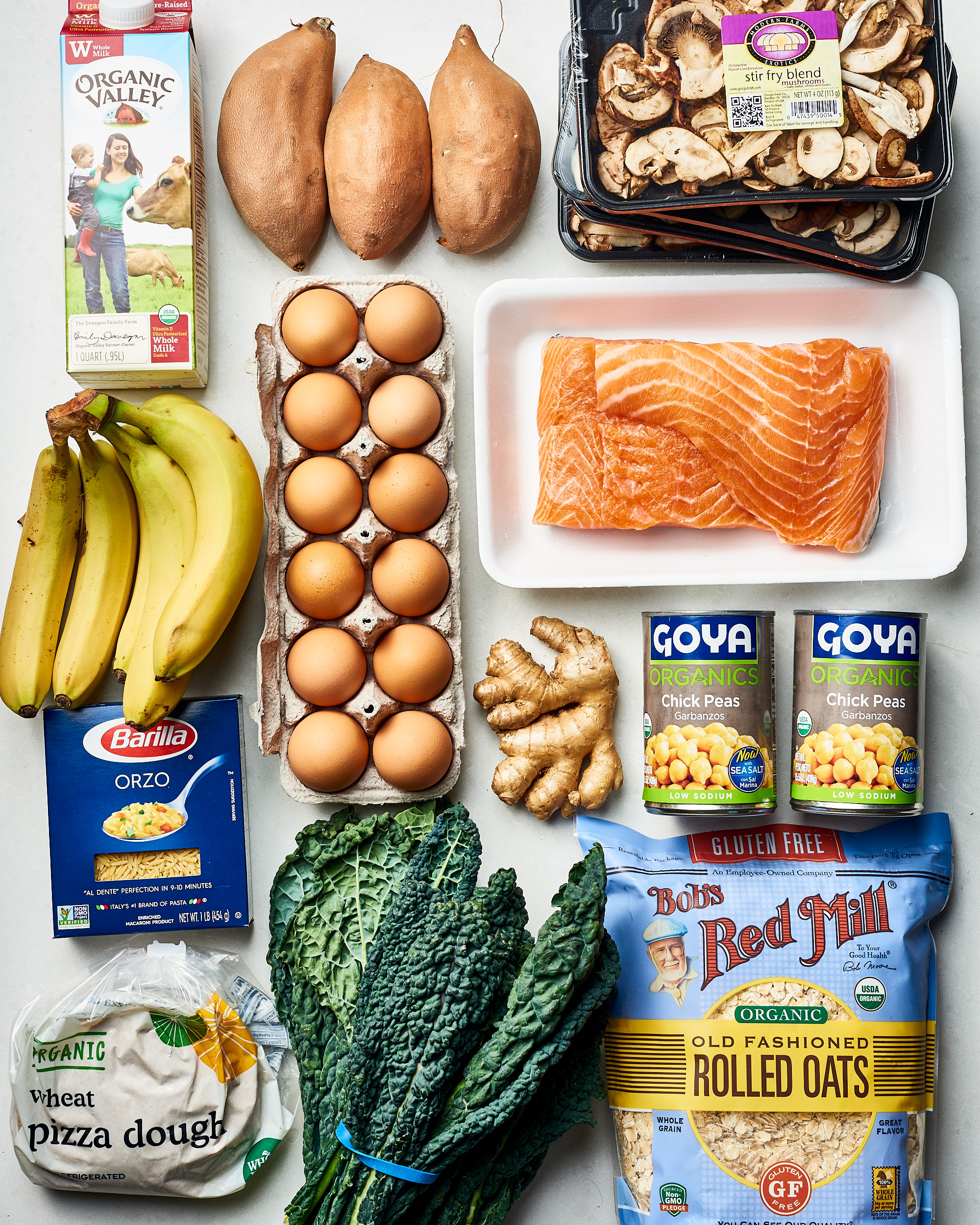 Your ingredients this week are as follows:
Produce: 3 large sweet potatoes, 1 pound shiitake or cremini mushrooms (or a blend), 4 bunches lacinato or curly kale, 1 knob fresh ginger, 1 bunch bananas
Seafood: 4 boneless salmon fillets (6 ounces each)
Dairy & Eggs: 1 quart whole milk, 1 dozen large eggs
Pantry: 1 (16 oz. box) orzo, rolled oats, 2 (15.5 oz.) cans chickpeas
Refrigerated: 1 lb. whole wheat pizza dough
I also relied on the following pantry staples: olive oil, tamari or soy sauce, sriracha, maple syrup or honey, balsamic vinegar, rice vinegar, red wine or apple cider vinegar, garlic powder, ground cinnamon, ground cumin, ground cardamom, kosher salt, freshly-ground black pepper.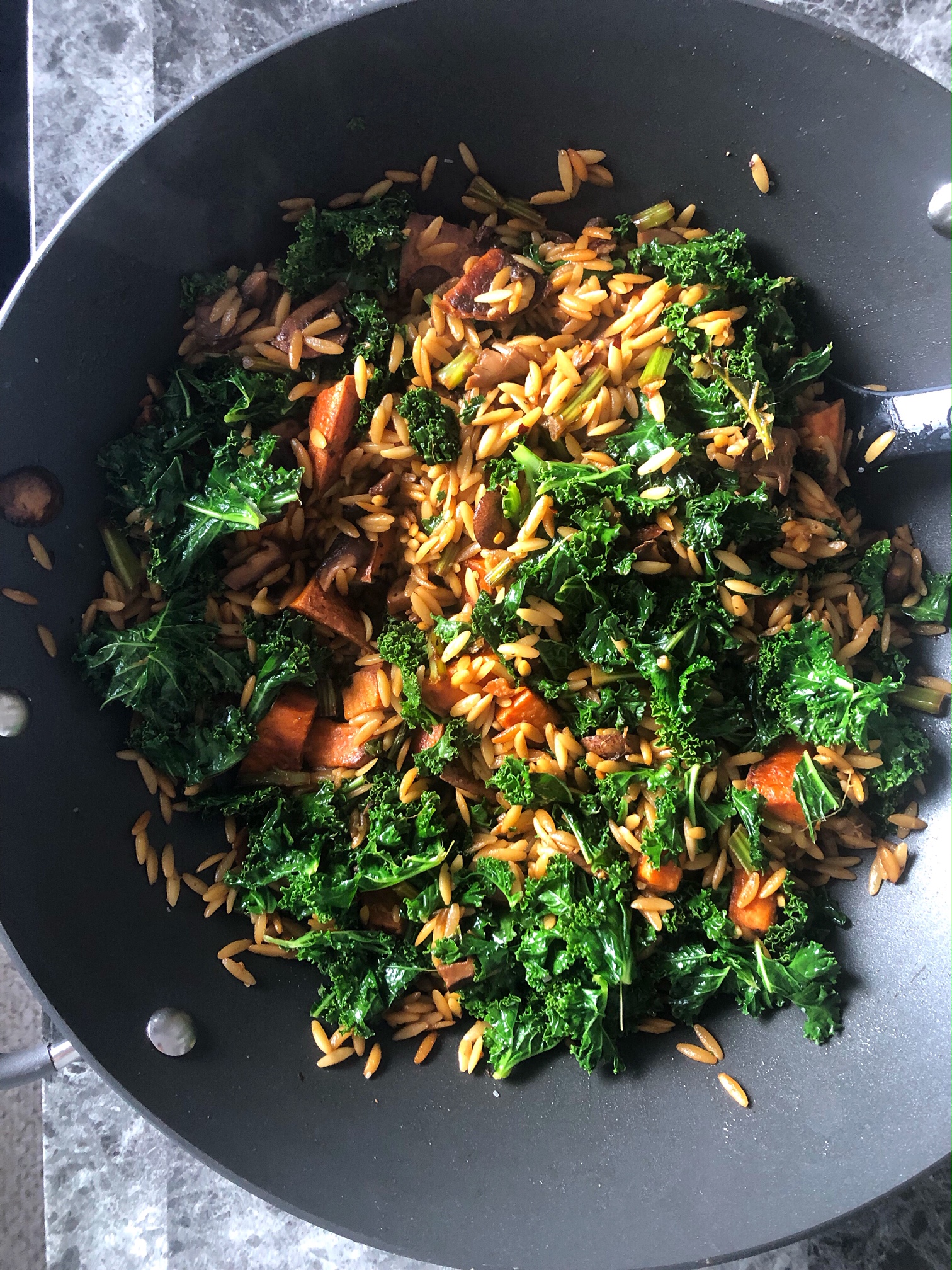 Power Hour: How I Get the Prep Done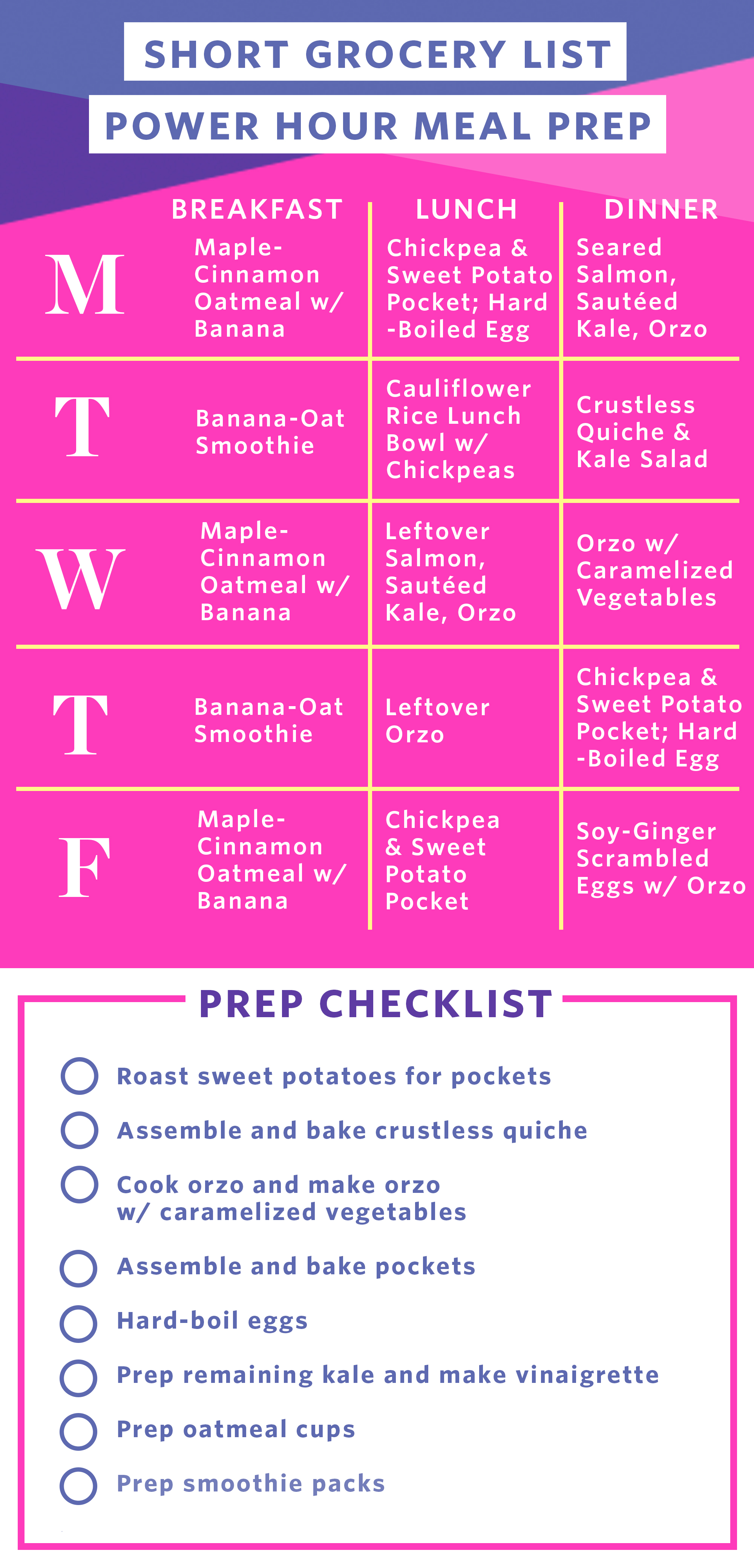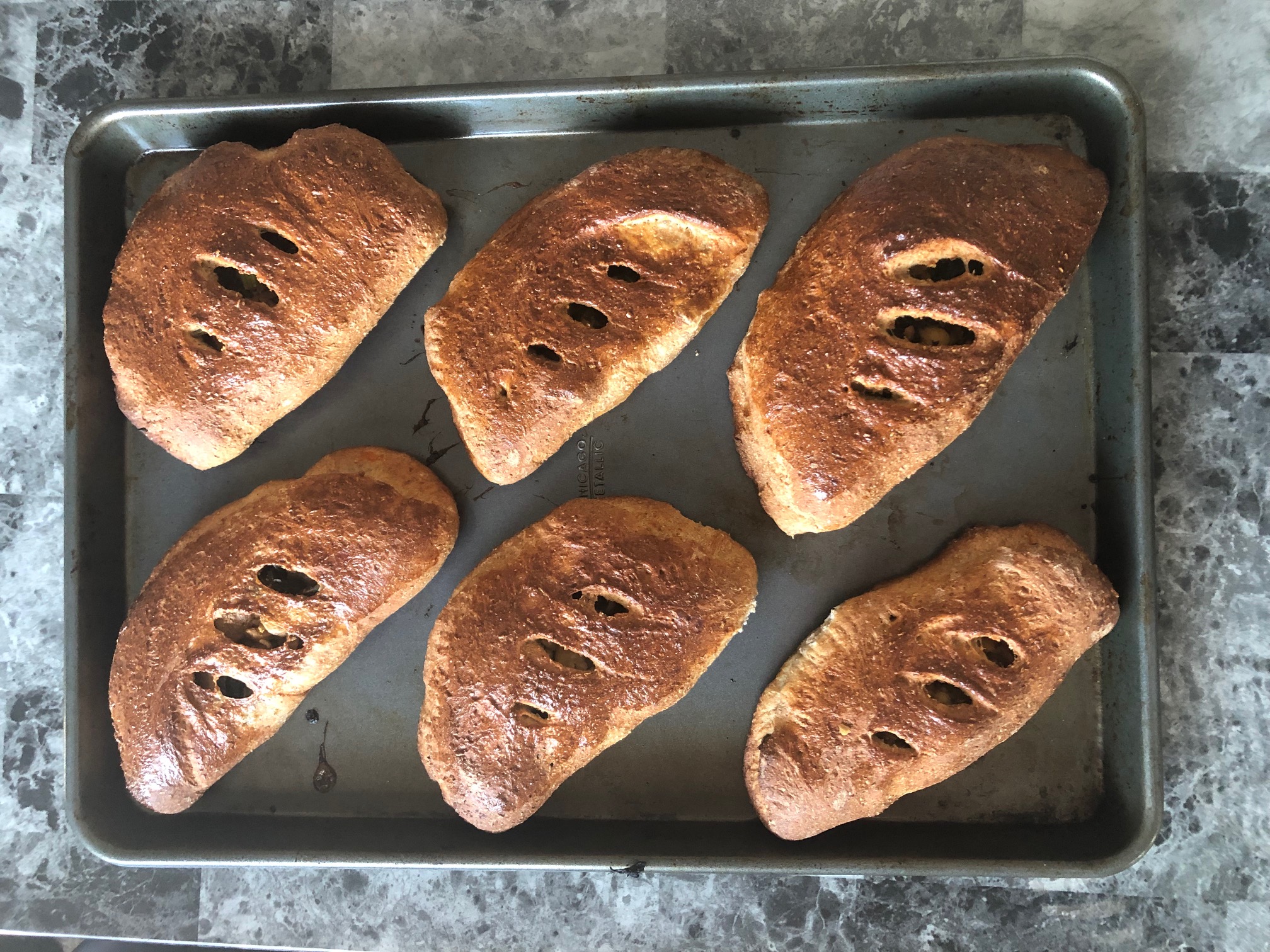 A Week Of Meals from a Single, Short Grocery List
Breakfast
Monday, Wednesday, and Friday, Maple-Cinnamon Oatmeal with Banana: I add enough water to the jar to just cover the oats. I microwave on HIGH 2 minutes, then add 1 sliced banana (and sometimes a splash of milk) and continue cooking until oats are cooked through, about 30 seconds more. I finish with a drizzle of honey or maple syrup.
Tuesday and Thursday, Banana-Oat Smoothies: I add the contents of a smoothie pack to the blender along with 2 cups whole milk and blend until creamy.
Lunch
Monday and Friday, Spiced Chickpea, Sweet Potato, & Kale Pocket: I reheat one of the pockets I stored in the fridge in 1-minute bursts on HIGH in the microwave for 2 to 3 minutes, or until warmed through. It's great drizzled with Sriracha. On Monday, I enjoy with a hard boiled egg.
Tuesday, Leftover Salmon, Sautéed Kale, and Orzo: I warm up some of last night's leftover sautéed kale and some of the orzo I cooked during my prep session. I top with one of the leftover salmon fillets, which I flake with my fork before digging in. I drizzle with a little tamari, too.
Wednesday, Leftover Quiche & Kale Salad: I pop a slice of quiche from last night's dinner in the microwave and eat alongside leftover kale salad.
Thursday, Leftover Orzo with Caramelized Vegetables: This is great eaten hot or cold, whichever you prefer!
Dinner
Monday, Seared Salmon with Soy & Ginger, Sautéed Kale, Orzo: I follow this recipe, omitting the scallions and cilantro. I sauté half my prepped kale using this recipe, omit garlic and adding a splash of red wine or apple cider vinegar instead of lemon juice, to taste. I serve atop some of the plain cooked orzo from my meal prep session. We eat half tonight and save the rest for lunch tomorrow.
Tuesday, Crustless Quiche & Kale Salad: We heat up half the quiche in the microwave (alternatively, use the oven). We toss the remaining prepped kale with some of the balsamic dressing I made during meal prep. The quiche tastes great with a drizzle of Sriracha. We save the rest for lunch tomorrow.
Wednesday, Orzo w/ Caramelized Vegetables: This dish was finished in its entirety during meal prep. All we have to do is warm up half in the microwave. If you'd like, it's great with a poached or fried egg on top.
Thursday, Spiced Chickpea, Sweet Potato, & Kale Pocket: I heat two of the pockets in a 400°F oven until warmed-through, about 30 minutes. I place two more in the refrigerator to thaw overnight for tomorrow's lunch. We split a hard boiled egg to eat alongside the pockets.
Friday, Soy-Ginger Scrambled Eggs w/ Orzo: I whisk together the remaining 4 large eggs with 1 teaspoon finely-grated peeled ginger and 1 teaspoon soy sauce. I heat a drizzle of olive oil in a skillet over medium-low. I pour in the eggs and cook, stirring with a rubber spatula, until large curds form eggs are no longer wet, about 2 minutes. I season with salt and serve with any remaining cooked orzo in the fridge, and leftover greens if there are any.
***
(We have more Power Hour Meal Prep plans for all kinds of cooks and eaters! Check out all the plans we have so far.)
Power Hour Meal Prep is the series where we help you put it all together. We show you how to eat well during the week with an hour or two of Power Hour prep over the weekend. Every plan is different; mix and match to find your own personal sweet spot.
Source: Read Full Article