My Family's Favorite Miracle Meal Has 2 Ingenious Shortcuts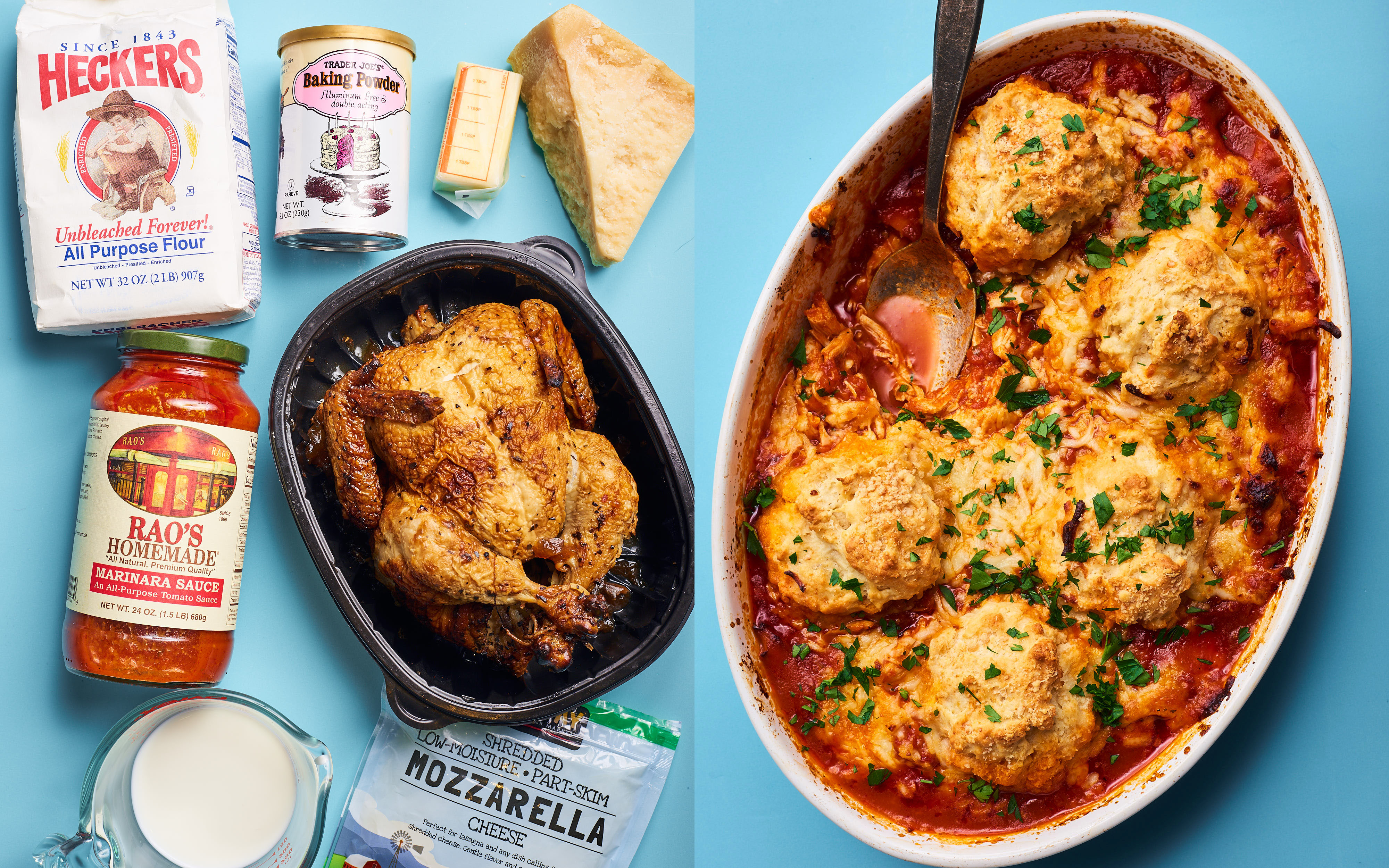 Miracle Meals are the family-friendly dinners that save you time, money, and effort — but not at the expense of taste. They're dishes that allow you to spend less time in the kitchen and more time with the people you love. This month's Miracle Meal comes from Meleyna Nomura, a San Francisco-based mom of two.
Feeding a family is no joke. From newborn feedings at midnight, to toddler tantrums over crackers, to the voracious appetites of growing teens, it often seems to come down to the perpetual parent-to-kid question: "What do you want?"
My kids are now 7 and 11, and with more than a decade of experience of figuring out family dinners, I've learned some important lessons along the way. One thing is that I most definitely do not approach every meal aiming to please everyone. For one thing, my kids' preferences are split — one loves the soft slump of braised meats, the other prefers the firm bite of chicken breasts and raw veggies — and finding the overlap can be tricky. So when I find those dishes that everyone loves, I know they're the real winners. The miracle meals. The unicorn dishes. The ones that are greeted with cheers as they land on the table. This is one of them.
It's a weeknight-friendly chicken Parmesan biscuit bake that captures all the satisfying flavors and textures of the classic dish with much less time and effort. My version is held together by two staples — and supermarket shortcuts — that my whole family can agree on: roasted chicken (both dark and white meat) and savory red sauce.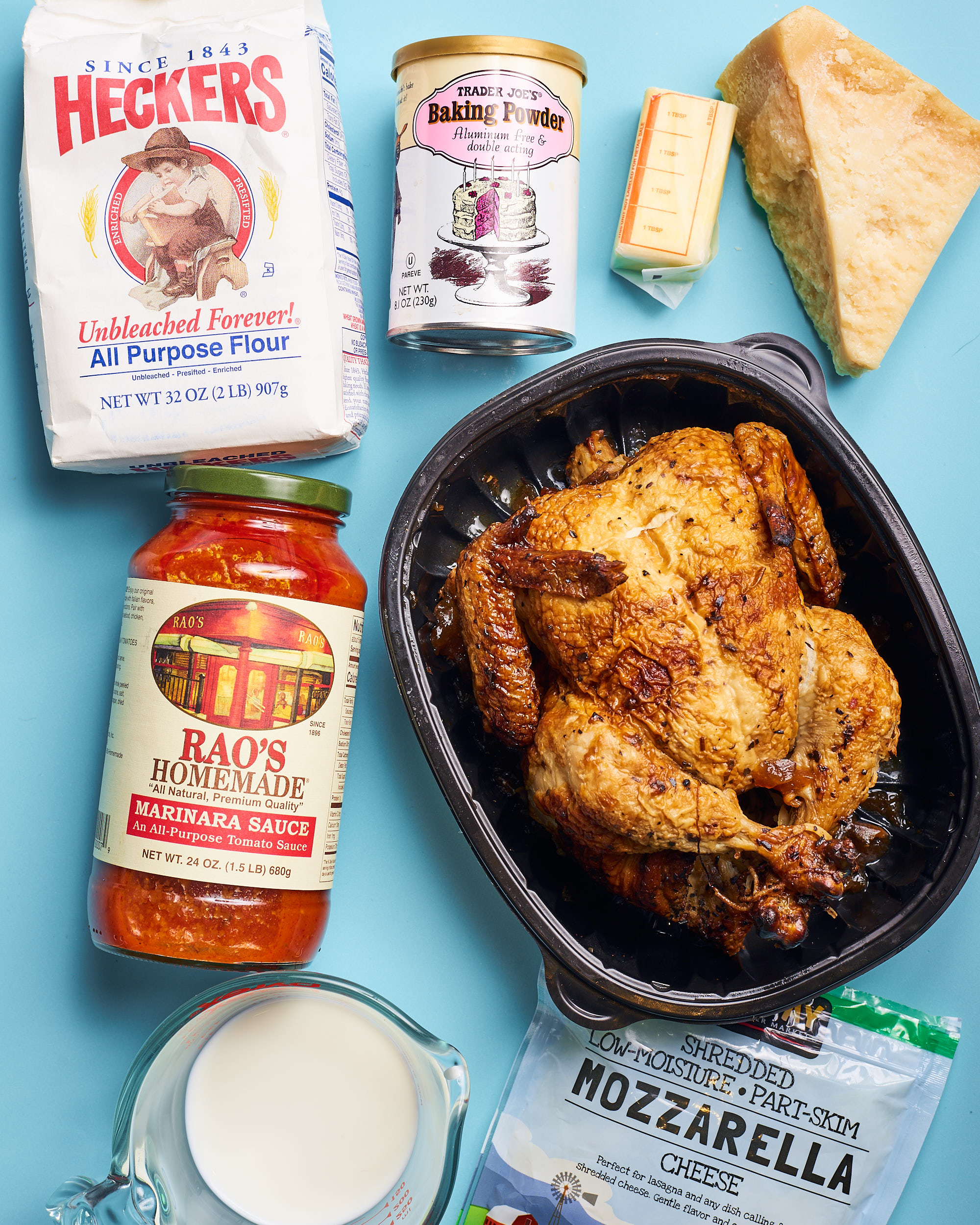 A Family Classic with Ultra-Streamlined Prep
Chicken Parmesan was not something I grew up eating. My mom was a true believer in the gospel of '90s-era low-fat cookery. The boneless, skinless chicken breasts that graced our dinner table were generally grilled, not breaded and fried.
My husband, however, grew up in a small New England town with strong Italian-American roots. His love of chicken Parm is the legacy he has passed down to our kids. New spins on red-sauce favorites are regulars I return to when I am in need of a weeknight slam dunk. (Because sometimes, you really just need that win at the end of a long day.)
Plenty of Flavor, Minimal Dishes
I'm always on the hunt for things that will make busy weeknights a little easier — and smart grocery shortcuts definitely fit that bill. This dish relies on two: a whole rotisserie chicken and a jar of marinara sauce.
And I almost always have both stocked in my kitchen. A rotisserie chicken is a given, and most grocery stores now sell inexpensive versions. Sauce-wise, any brand will work, but I reach for Raos; its deep, long-simmered flavor is one that I've yet to find in any other brand (and one that Kitchn's staff agrees is the best on the shelf). With the time I've saved there, I also have a few extra minutes to stir together a quick batch of homemade biscuits to top the dish.
Topped with melty mozzarella and those flaky, Parmesan-flecked biscuits, this all-in-one dish hits all of those crispy, cheesy, sauce-smothered notes of the classic chicken dinner.
Easy Homemade Biscuits That Deliver
Biscuits can seem intimidating if you've never made them, but I promise that these are a truly simple mix of pantry ingredients that will give you a huge return. They're drop-style, which means you don't even have to mess around with rolling out dough and searching for cookie cutters. Using real butter and Parmesan cheese gives you a biscuit that's so much more deliciously satisfying than the "pop" from opening a tube of dough.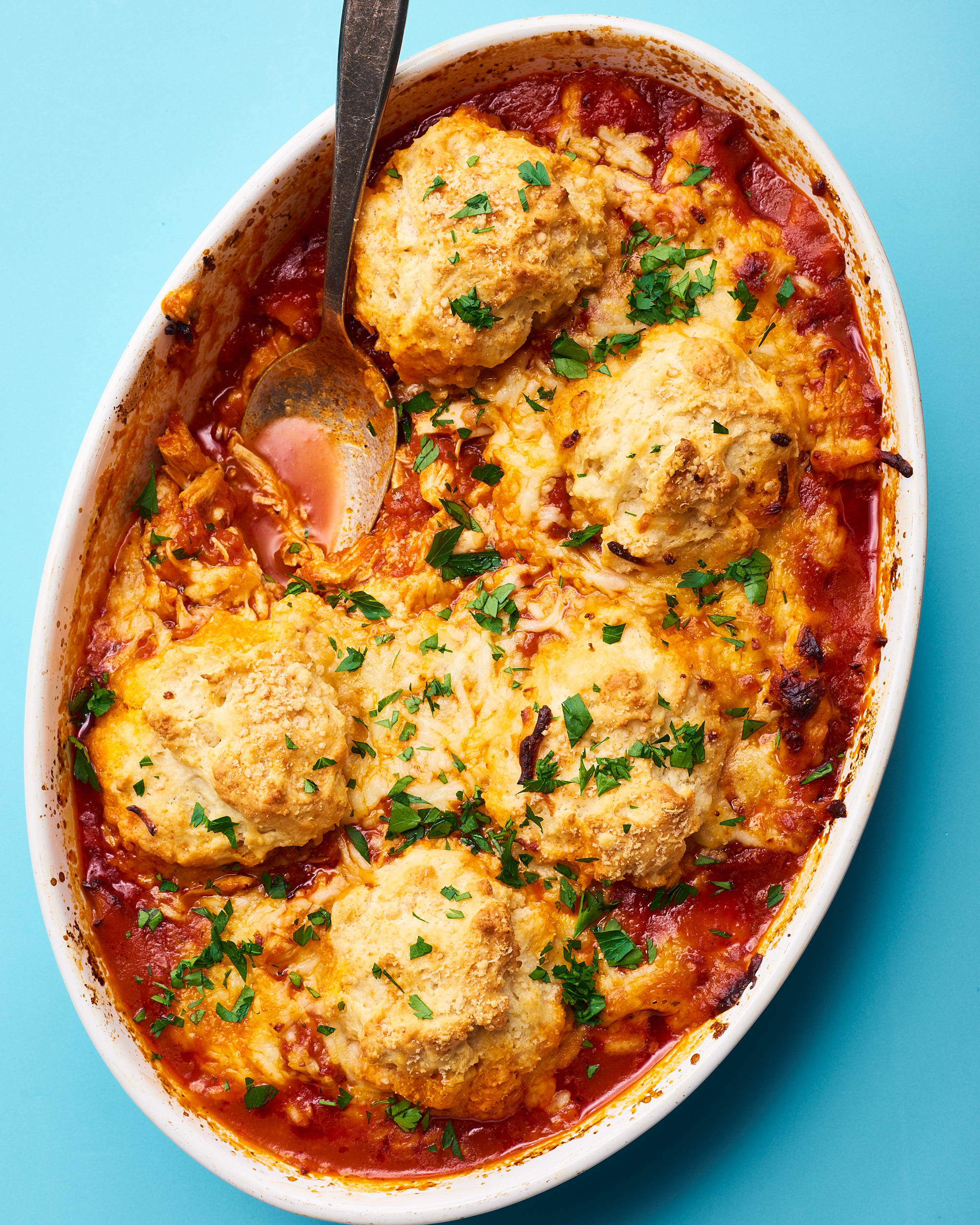 Pro Tip: Switch Up the Order for Even Better Biscuits
Make the biscuit topping first, then stash it in the fridge while you toss together the chicken base. Extra-cold biscuit ingredients helps ensure both tender middles and a crusty exterior — which is exactly what you want crowning all that saucy chicken.
What's your family's miracle meal? Share in the comments below!
Chicken Parmesan Biscuit Bake
Ingredients
1

cup

all-purpose flour

1

teaspoon

baking powder

1/8

teaspoon

kosher salt

4

tablespoons

cold unsalted butter, cut into small cubes

3 to 4

cups

cooked, shredded chicken (from 1 rotisserie chicken)

1

(24-ounce) jar

marinara sauce, such as Rao's

1

cup

low-moisture, part-skim shredded mozzarella cheese

1/4

cup

plus 1 tablespoon finely grated Parmesan cheese, divided

Scant 1/2

cup

whole milk
Instructions
Arrange a rack in the middle of oven and heat to 450°F. Meanwhile, whisk the flour, baking powder, and salt together in a medium bowl. Add the cubes of butter. Stash the bowl and a fork or pastry blender in the freezer for a few minutes to keep things cold while you prep the chicken.

Place the chicken and sauce in a 2-quart oven-safe dish and stir until evenly combined. Sprinkle with the mozzarella. Set aside while you finish the biscuit topping.

Retrieve the biscuit bowl from the freezer. Use the cold fork or pastry blender to cut the butter into the flour until about the size of peas. Use a spatula to stir in 1/4 cup of the Parmesan. Pour in almost all of the milk and gently fold it into the dry ingredients. If the mixture is still a bit dry, add more milk 1 teaspoon at a time until it holds together.

Using 2 spoons or an ice cream scoop, drop the biscuit dough in 8 spoonfuls (about 1 1/2 heaping tablespoons each) evenly over the chicken mixture. Sprinkle with the remaining 1 tablespoon Parmesan.

Bake until the biscuits are deeply golden brown and cooked through, 20 to 25 minutes.
Recipe Notes
Storage: Pack up the biscuits separately from the chicken mixture so they don't soak up all the sauce and get soggy. Refrigerate in an airtight container up to 4 days.
Source: Read Full Article