Recipe: Quick Drop Biscuits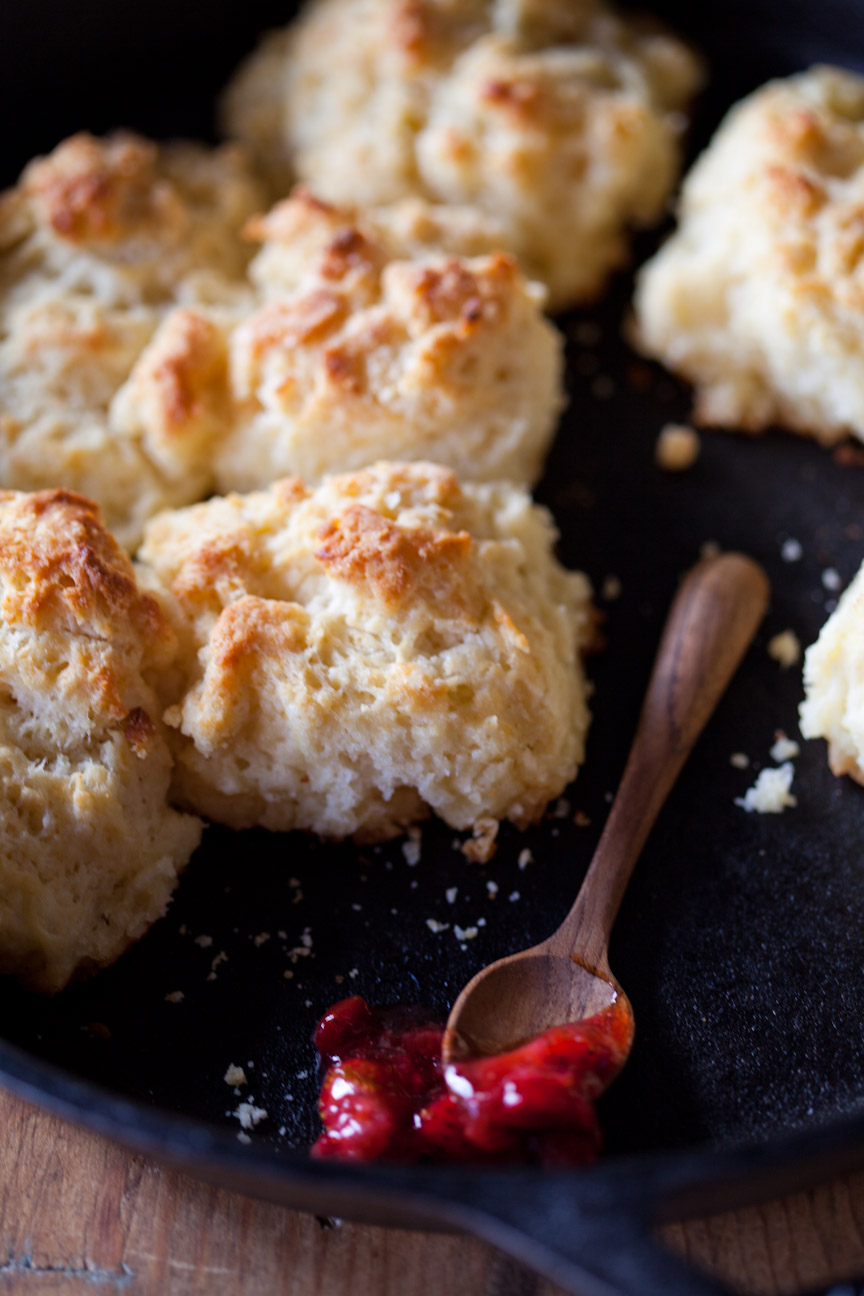 What recipes do you know by heart? I can tick off a few key recipes that are so automatic to me that I can make them without thinking. This is one of them: the most glorious and easy drop biscuits that bake up cloud-fluffy and butter-crisp in a cast-iron skillet. They bake in twelve minutes flat, may I add. This is perfectly reasonable to do on a weeknight when you want a homemade touch with soup from the grocery hot bar, or on a weekend morning for a jam-smeared treat with your omelet.
This recipe is a gift from Sara Kate, Kitchn founder and my co-author on The Kitchn Cookbook — our labor of love and James Beard Award-winning cookbook that came out in 2014. Even though we don't like to admit it, all of us cookbook authors have our favorite recipes, and when it comes this book, this is mine.
This is a little treasure of a recipe — and I can say so since I didn't write it! Sara Kate and I went back and forth in developing and testing the recipes in this book and this is all hers. I have made these biscuits scores of times; my husband gets greedy just thinking about them, and my kids tear them into pieces and dip them in jam. They are practically the perfect biscuit for the home cook, and it's high time we shared them with you here.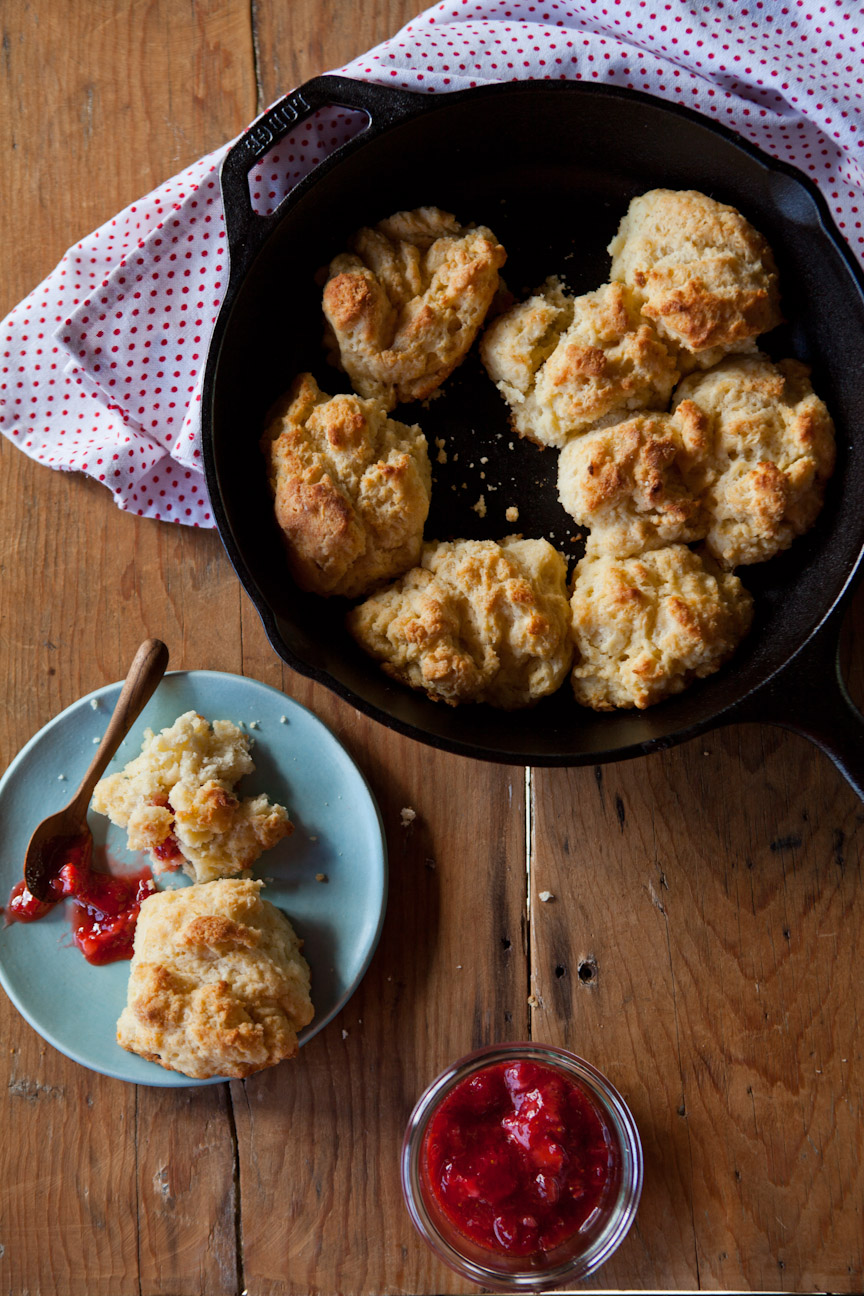 Sara Kate's Drop Biscuit Recipe
This is Sara Kate Gillingham's recipe (originally published in The Kitchn Cookbook) and it comes from a strong memory Sara Kate has of her parents making breakfast. Mom would make Bisquick drop biscuits in her family's cast-iron skillet, and her dad would make a "special drink," a very 1970s blender creation involving raw eggs and instant coffee. She has lived to tell the tale, but she has decided to share only the biscuits with you, in a from-scratch version. To evoke Mama Gillingham's touch, dust the tops with cinnamon sugar just before popping them in the oven.
Quick Drop Biscuits
Ingredients
1/2

cup

cold unsalted butter plus 1 tablespoon

2

cups

unbleached all-purpose flour

1

tablespoon

baking powder

1

teaspoon

salt

3/4 to 1

cup

whole milk
Optional Biscuit Toppings
1/4

cup

melted unsalted butter

1/2

teaspoon

sugar

1/4

teaspoon

ground cinnamon
Instructions
Heat the oven to 450F. Grease a cast-iron skillet or round cake pan with 1 tablespoon of the unsalted butter.

Sift the flour, baking powder, and salt into a large mixing bowl. Transfer to the bowl of a food processor and pulse in the cold butter, or in the same mixing bowl cut in 1⁄2 cup cold butter using a pastry cutter or two knives.

Add the milk and mix gently until a soft dough forms.

Drop the dough by large spoonfuls into the greased pan, nestling the biscuits close together. If desired, pour the melted butter over the top, mix together the sugar and cinnamon, and sprinkle it over the butter.

Bake for about 12 minutes, or until the tops are lightly browned. Serve hot with butter and jam.
Recipe Notes
These biscuits will keep in an airtight container for 2 days.
To reheat, wrap biscuits in foil and heat in a 300°F oven or toaster oven for 5 minutes.
Reprinted from The Kitchn Cookbook by Sara Kate Gillingham and Faith Durand. Copyright © 2014. Property of Clarkson Potter, a division of Penguin Random House, LLC.
Source: Read Full Article