The Problem with Joanna Gaines' Chicken Pot Pie Recipe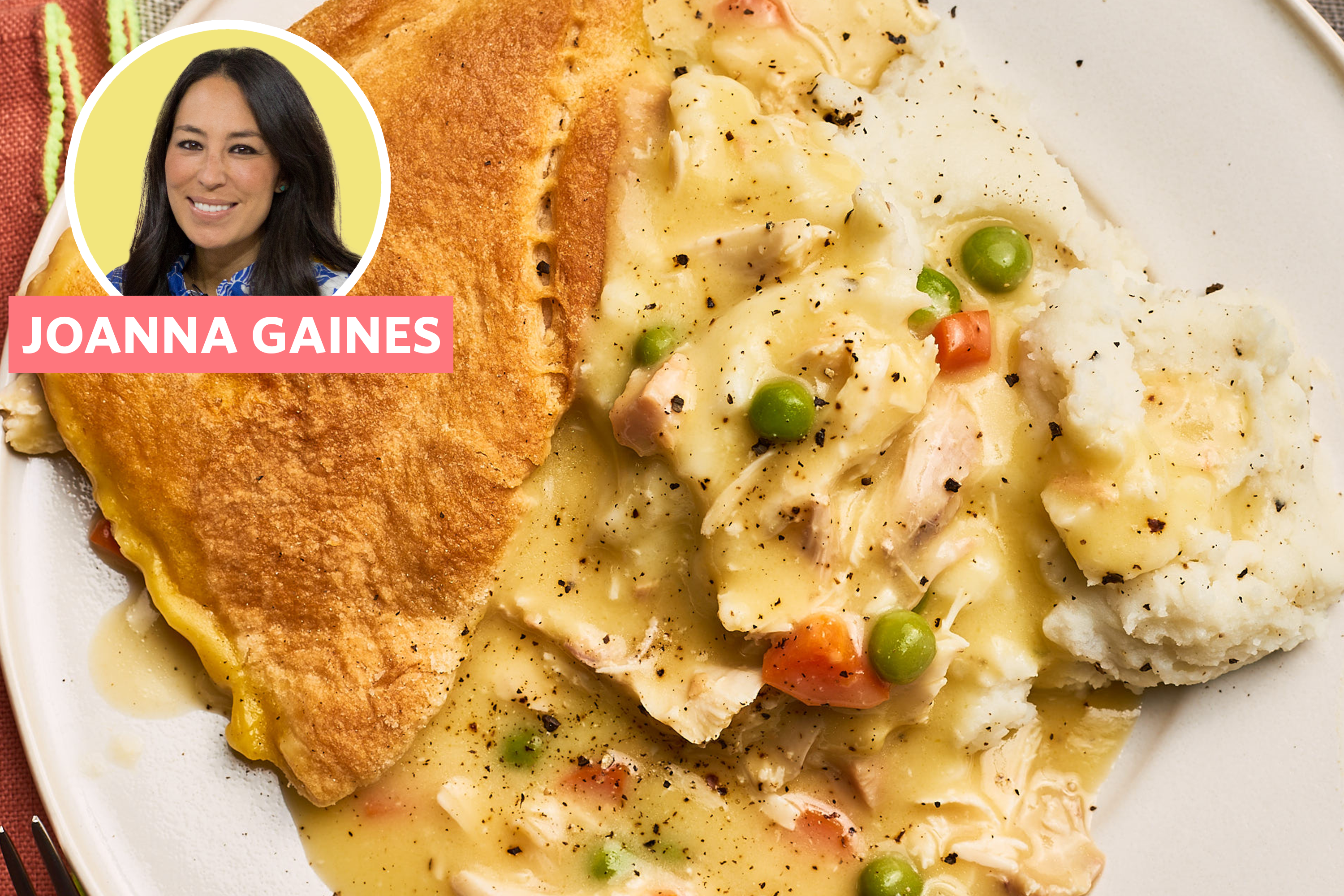 Chicken Champions: All month long, Kitchn is battling off the four classic chicken recipes everyone needs this time of year: pot pie, soup, roast chicken, and showstopper chicken. (It's our version of March Madness: Chicken Edition!) Here's Joanna Gaines' take on our battle: chicken pot pie.
Beyond bringing shiplap into living rooms across the country, Joanna Gaines has also made her mark on kitchens everywhere, especially after the release of her top-selling cookbook, Magnolia Table, last year. And after noticing plenty of buzz around her chocolate chip cookies, I wanted to know more — so I started digging into dinners. What better dish to discover her recipe style than classic chicken pot pie?
This chicken pot pie has been a family favorite from the start: Joanna has been cooking it since she was a newlywed. Among the four famous pot pie recipes I tested, Joanna's chicken pot pie stands out in three ways: the topping, the filling consistency, and an intriguing serving suggestion. I went into the kitchen to see if the Gaines' family recipe would become my new family favorite recipe, too.
Get the recipe: Joanna Gaines' Chicken Pot Pie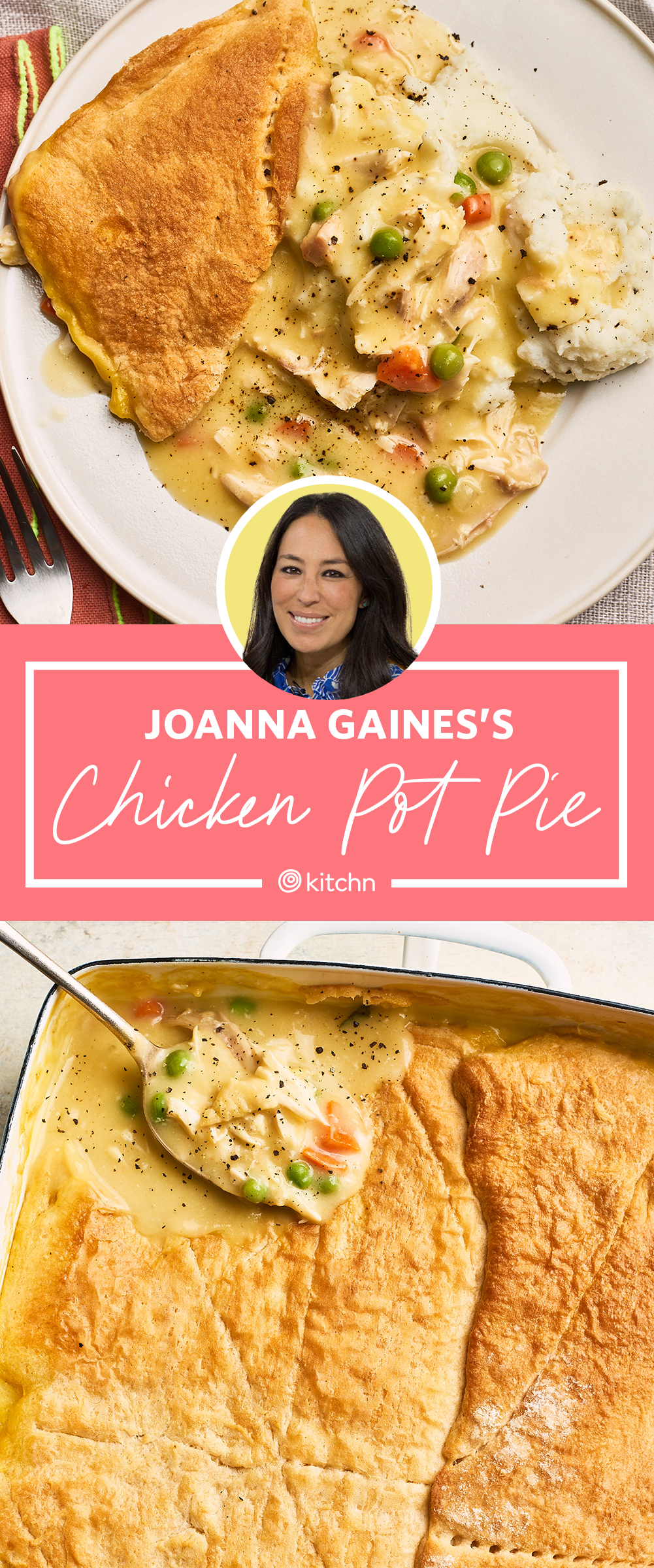 How to Make Joanna Gaines' Chicken Pot Pie
Joanna's method begins with the same step as every other chicken pot pie I tested: by sautéing vegetables. A sprinkle of flour and a generous pour of broth (8 cups!) comes next in addition to two large cans of condensed cream of chicken soup. You'll bring the soup to a simmer, then add shredded, cooked chicken (I used the meat from one rotisserie chicken) and frozen peas.
Joanna calls for a 3-inch-deep 9×13-inch baking dish. I don't have a deep-dish casserole of that size so I substituted a standard (2-inch-deep) 9×13-inch Pyrex baking dish. I transferred as much of the filling (which, notably, was thin and soupy due to all that liquid) into the baking dish as I could, but had to leave a significant amount of filling in the pot.
The pie is topped with the ultimate supermarket shortcut: a sheet of crescent roll dough. (You'll use 2 cans' worth and will have leftovers, which Joanna says you can bake on their own or discard.) You'll bake at 375°F until the dough is browned and the filling bubbles, then serve in a shallow dish over a mound of mashed potatoes.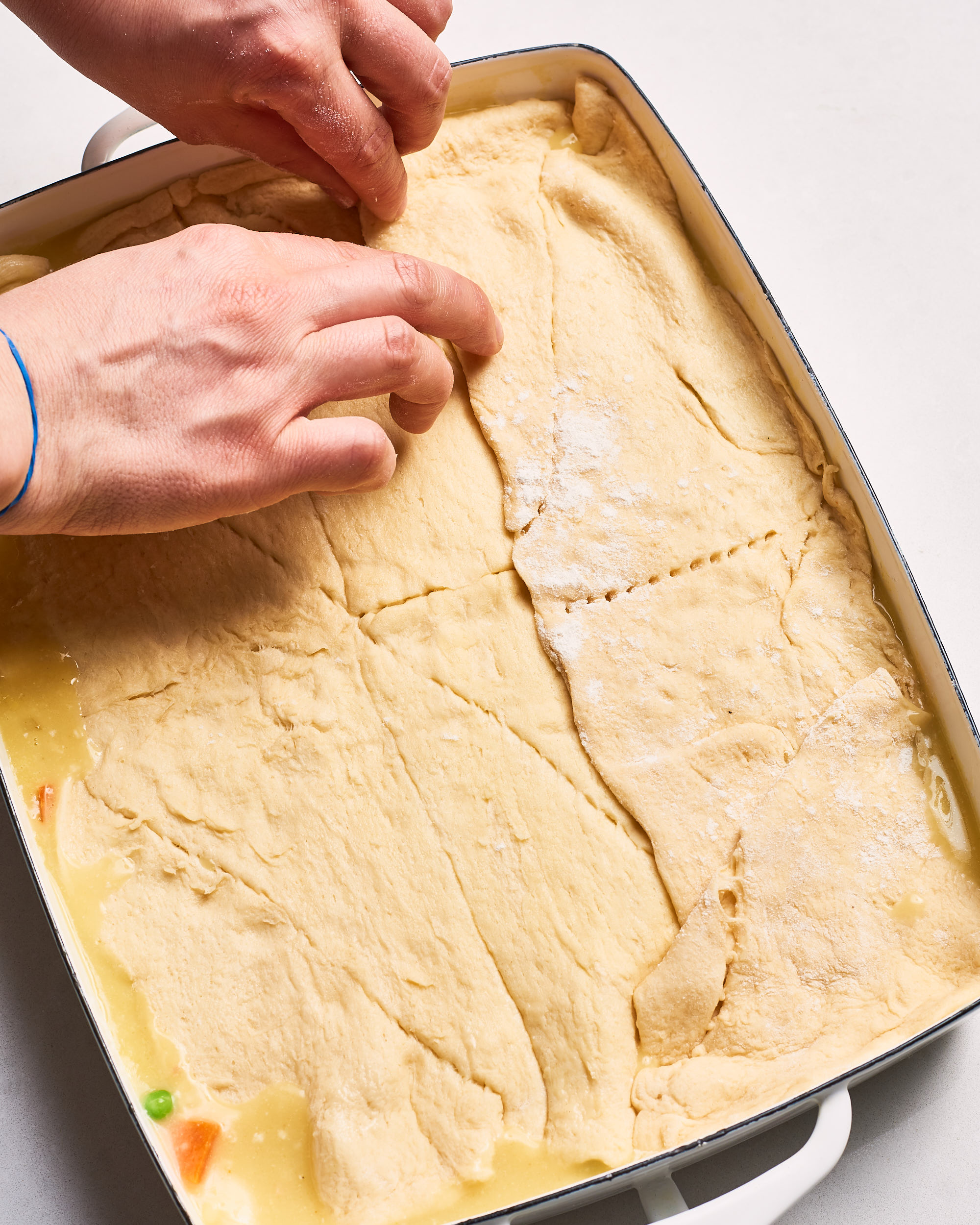 What I Thought of Joanna Gaines' Chicken Pot Pie
I'll admit that just with reading the ingredient list and procedure, I was skeptical about this recipe from the start. First, where are the vegetables? The scant 1/4 cup of onion is optional, paired with a mere 4 carrots and 1 cup of peas that all but disappear in the sea of broth. To that end, Joanna describes the pie as having "a somewhat soupy consistency," but that was quite the understatement between the pair of large condensed soup cans and 8 cups of broth.
Usually when condensed soup is included in a recipe, it's to shortcut the step of thickening. So why would Joanna include 1/4 cup of flour (which in no way could begin to thicken the amount of liquid added)? Conversely, if making a homemade gravy with butter, flour, and broth, why add the condensed soup — a flavor that dominates? I had several questions, to say the least.
To put it mildly, I didn't love this pot pie at all. The liquid overload overpowered the final dish. I found myself chasing small bits of chicken, carrot, and peas with my spoon in an attempt to fish out a satisfying bite. The flavor was lacking overall, tasting mainly of condensed soup. The crescent roll topping was slightly sweet with a distinctly canned aftertaste. (Which might not have been a problem if not also paired with condensed soup.) Finally, serving over a bed of mashed potatoes makes some sense given the soupy consistency of the filling, but it also felt unnecessary and excessive to me.
But! If you have a tender place in your heart for the chicken pot pie scooped onto your cafeteria lunch tray, then this is the pie for you. Below are my suggestions on how to improve this recipe.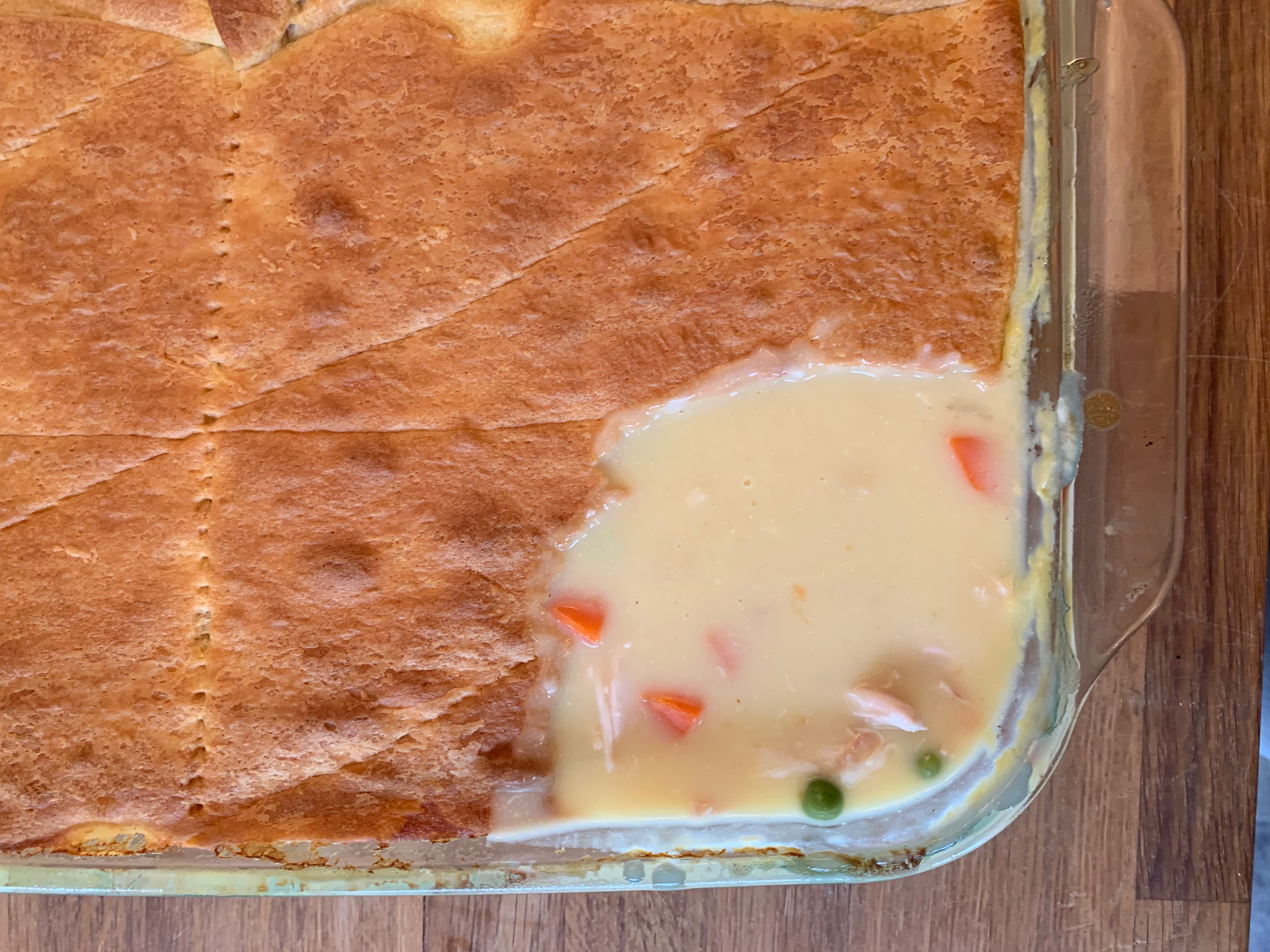 If You Make Joanna Gaines' Chicken Pot Pie …
1. Reduce the liquid. Keep the nostalgic flavor that you can only get from condensed soup but use a single, small (10.5-ounce) can of condensed soup and reduce the broth to 4 cups. You'll still get the cafeteria-style flavor but with a thicker, more gravy-like consistency that should fit in a large cast iron skillet or a standard baking dish instead of a specialty dish.
2. Increase the amount and size of vegetables. Sure, the name is chicken pot pie, but the amount of chicken is not the problem — it's the lack of hearty vegetables. Use 1 whole, diced onion, and don't consider it optional. This pie is the perfect time to use a bag of frozen mixed vegetables. They'll add color and flavor to the filling without requiring any extra prep.
3. Add some herbs. When there are so many premade elements in a dish like this, adding herbs is a good way to make it feel homemade. Use a few teaspoons of fresh parsley, thyme, or rosemary (whatever you've got in your fridge!) or rub the dried version of those same herbs between your fingers before sprinkling them into the stew.
4. Use just 1 can of crescent roll dough. If you make the suggested changes, you'll be able to fit the filling into a smaller baking vessel (either a baking dish or cast iron skillet). As a result, you'll only need to use 1 can of crescent roll dough.
Overall Rating: 2/10
This version is essentially condensed chicken soup topped with canned crescent roll dough — and, as written, the watery consistency is more soup than pie. I won't be making it again.
Get the recipe: Joanna Gaines' Chicken Pot Pie
Read More About This Chicken Pot Pie Showdown
Who Wins the Title of Best Chicken Pot Pie Ever?
Recipe Review: Pioneer Woman's Chicken Pot Pie
Recipe Review: Carla Hall's Chicken Pot Pie
Recipe Review: Reader's Choice, Smitten Kitchen's Chicken Pot Pie
Source: Read Full Article