Trader Joe's Wacky New Freeze-Dried Grapes Will Surprise You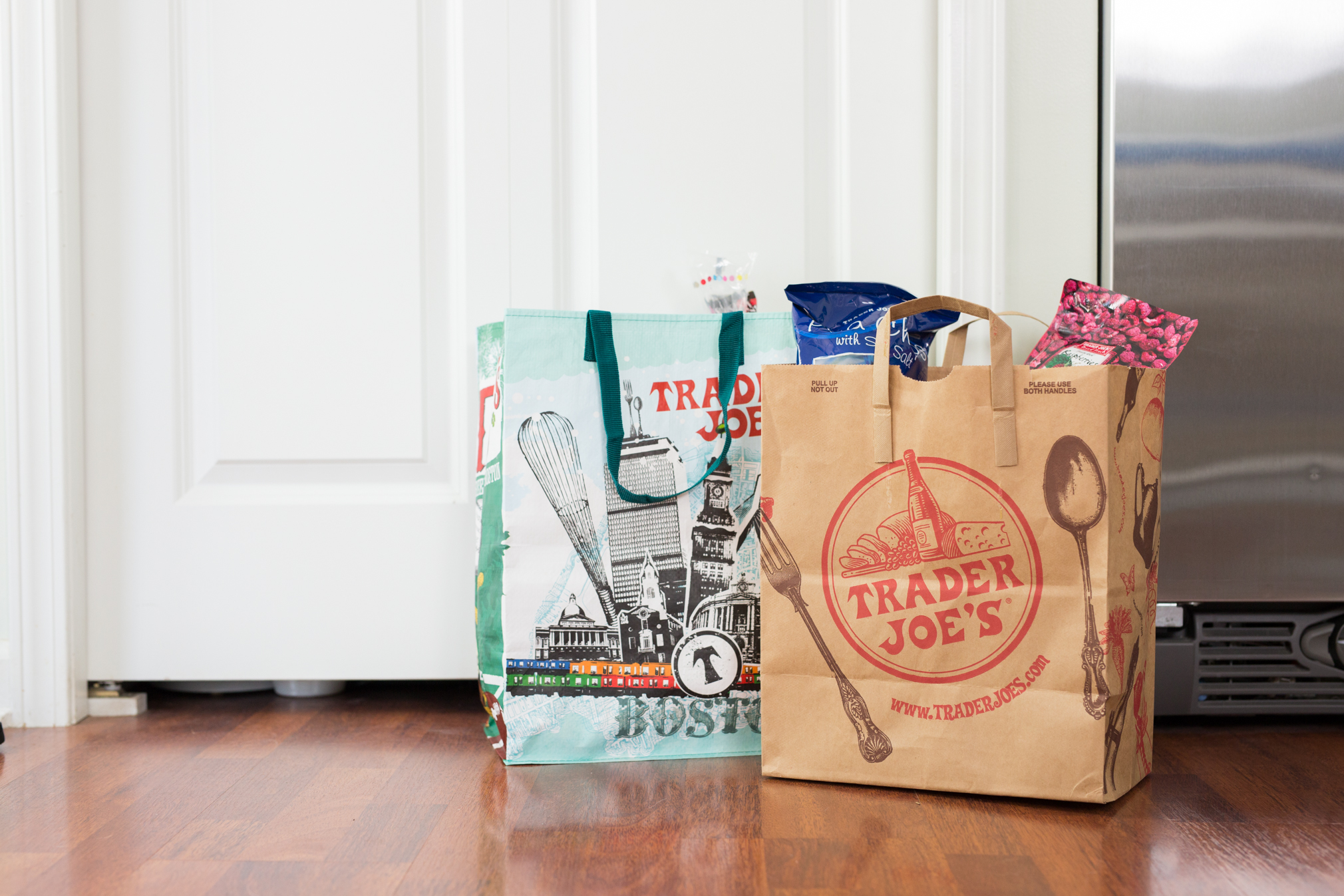 Walk through the aisles of Trader Joe's and you'd be hard-pressed to pick the single wackiest grocery item. There's the Carrot Cake Spread! The Pancake Bread! The Pickle Popcorn! And on a recent trip, I found yet another contender right there on the end cap with the other new items: Freeze-Dried Red Seedless Grape Slices.
Huh? I was intrigued and had to buy them.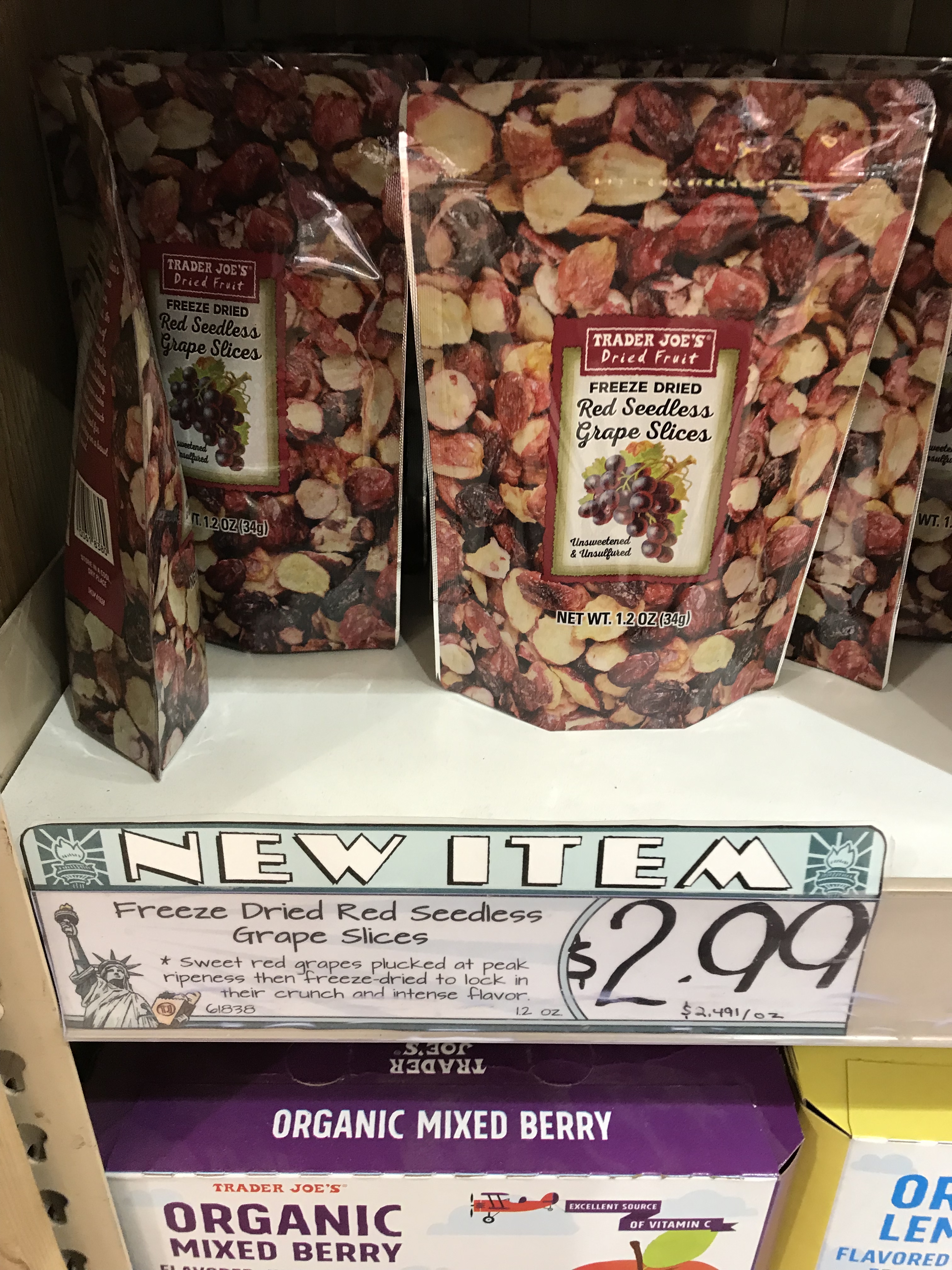 Carrot Cake Spread, Pancake Bread, and Pickle Popcorn (the latter, depending on who you ask) sound delicious — albeit weird — right off the bat. Most of Trader Joe's groceries do, obviously by design. (You're not gonna sell many groceries if they don't appeal to people's taste buds!) But Freeze-Dried Red Seedless Grape Slices? Seems like something that doesn't need to exist. The packaging is a hard sell, too. What am I even looking at? Are those nuts? Raisins? Cracker Jacks? Won't these just be raisins?
I was dubious, which says a lot because I love red grapes. To the point that I will fight anyone who says that green grapes are better than red ones.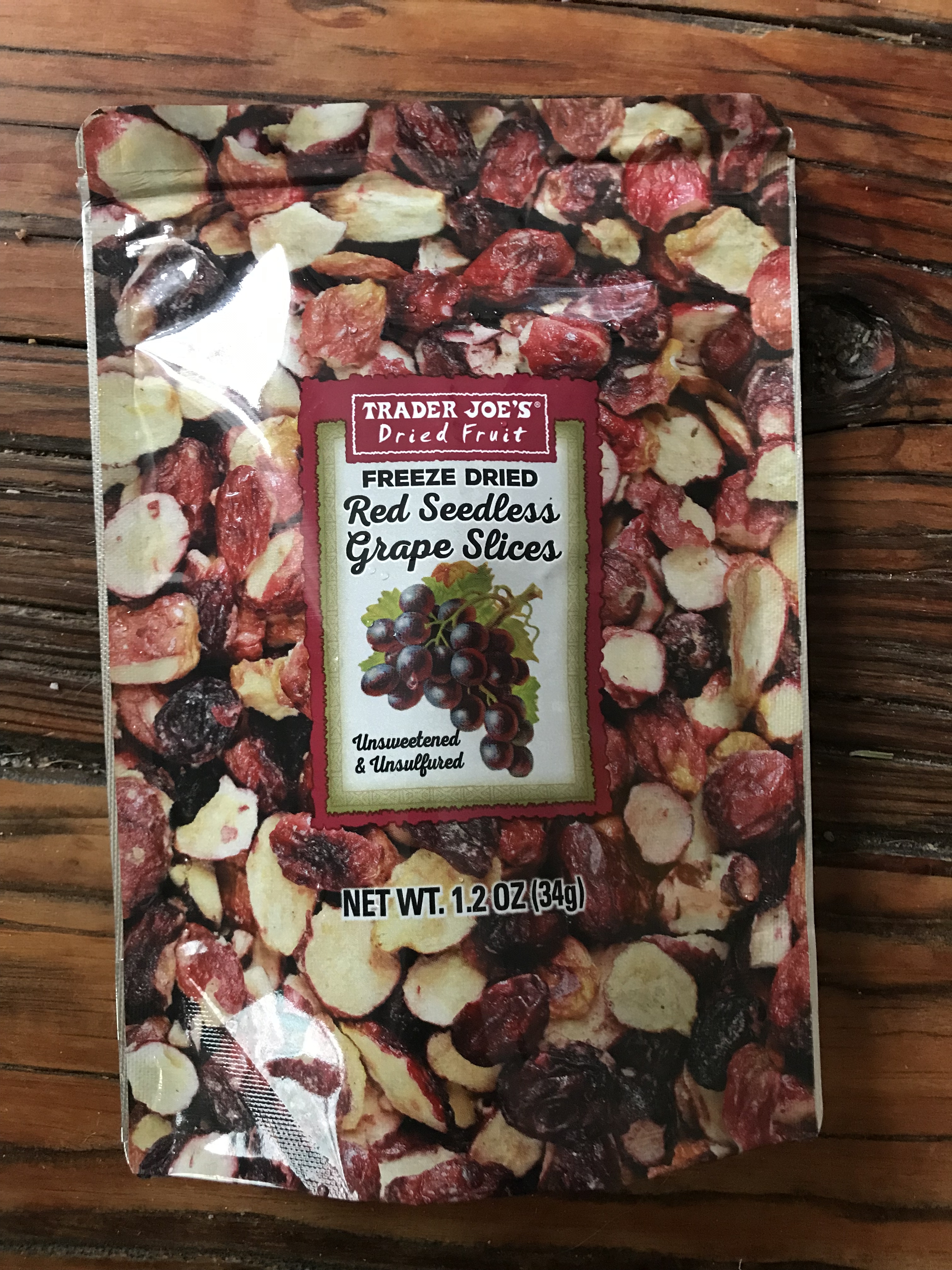 I paid the $2.99 (and the additional 30-plus dollars I rang up) and went home to give the package a closer look.
On the back it says this: "Trader Joe's Freeze-Dried Red Seedless Grape Slices are made from ripe, flavorful fruit. In fact, 6 ounces of grapes are dried to fill each bag like the one you are holding. These grapes make a quick snack and are ideal for sprinkling on a bowl of cereal."
Fun! I was holding six ounces of grapes in a 1.2-ounce bag! This will be a cool party fact to share with my husband when he gets home, I thought to myself. (It's a treat to be married to me.)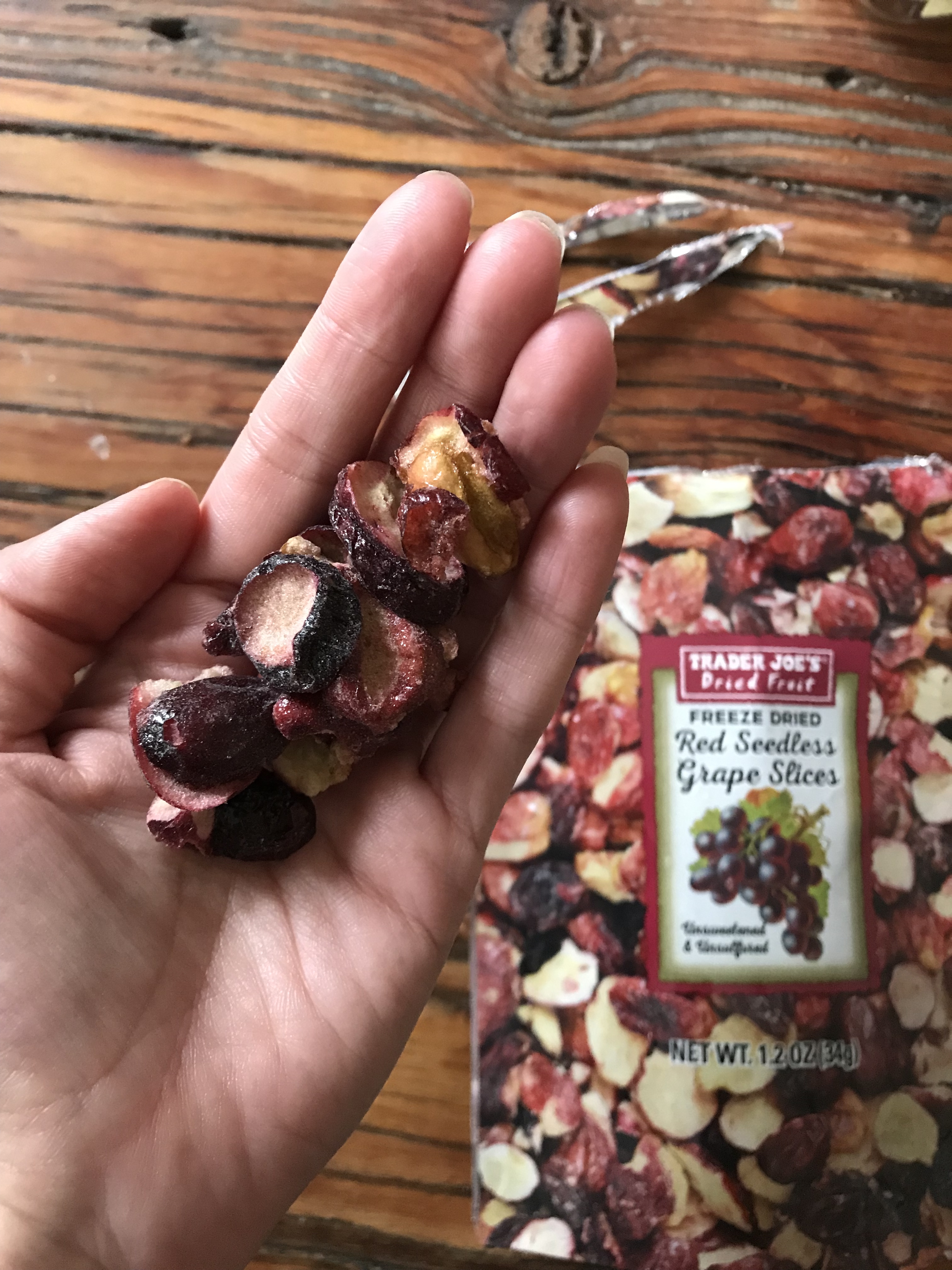 Inside the bag, you'll find some single grape slices by themselves and a bunch of clusters, which form during the freeze-drying process. Upon looking at these clusters, you might think that there's some sort of syrup or caramel that holds them together, but the only ingredient in the entire bag is red seedless grapes. (Six ounces of them!)
I popped a single slice in my mouth and the texture was what you'd expect — very similar to a freeze-dried strawberry. But then you get the flavor, which is very grape-y! Because, grapes. It wasn't raisin-y at all. It was so interesting! And I couldn't stop popping them in my mouth. I thought I was going to hate them or feel indifferent toward them (red grapes are perfect as is and don't need to be messed with), yet there I was — enjoying the crud out of these things.
Respectfully, I have to disagree with Trader Joe's, as I do not think that they'd be good on top of a bowl of cereal. That's what freeze-fried (or regular!) strawberries are for! I do, however, think these would be good on top of yogurt. And I really do like them as a snack. For the most part, I think I'd rather have fresh, juicy grapes, but if you maybe haven't been to the store in a while or you want something you can easily keep in your purse or in a desk drawer, this pouch is a good bet.
Keep it weird, Trader Joe's!
Have you tried these? What'd you think?
Source: Read Full Article