Berry-Oatmeal Bake
Level:

Easy

Total:

1 hr 10 min
Prep:

5 min

Inactive:

15 min

Cook:

50 min
Yield:

Serves 6

Nutrition Info

Nutritional Analysis

Per Serving

Calories

270 calorie

Total Fat

10 grams

Saturated Fat

3.5 grams

Cholesterol

45 milligrams

Sodium

140 milligrams

Carbohydrates

41 grams

Dietary Fiber

4 grams

Protein

6 grams

Sugar

25 grams
Ingredients
Oatmeal
Topping
Directions
Try this cooking class now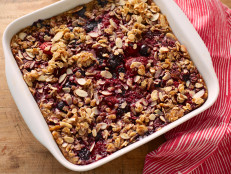 Try this cooking class now
Watch Class
Preheat the oven to 350 degrees F. Grease a 2-quart baking dish or 8-inch square baking pan with the butter.
For the oatmeal: Stir together the oats, sugar and 1/8 teaspoon salt in a large bowl. Whisk together the almond milk, egg, vanilla and almond extract in a medium bowl. Pour the milk mixture into the oat mixture and stir well to combine.
For the topping: Stir together the almonds, oats, sugar, butter, flour, cinnamon and 1/8 teaspoon salt in a medium bowl until evenly combined.
To assemble: Pour the oatmeal into the prepared baking dish. Arrange the berries (including any juices) over the oatmeal. Sprinkle with the topping. Bake until lightly browned and just set, about 50 minutes. Let cool on a rack for 10 to 15 minutes. Serve warm with a dollop of yogurt or a splash of milk if using.
Source: Read Full Article