How To Make the Best, Easiest Slow Cooker Corned Beef and Cabbage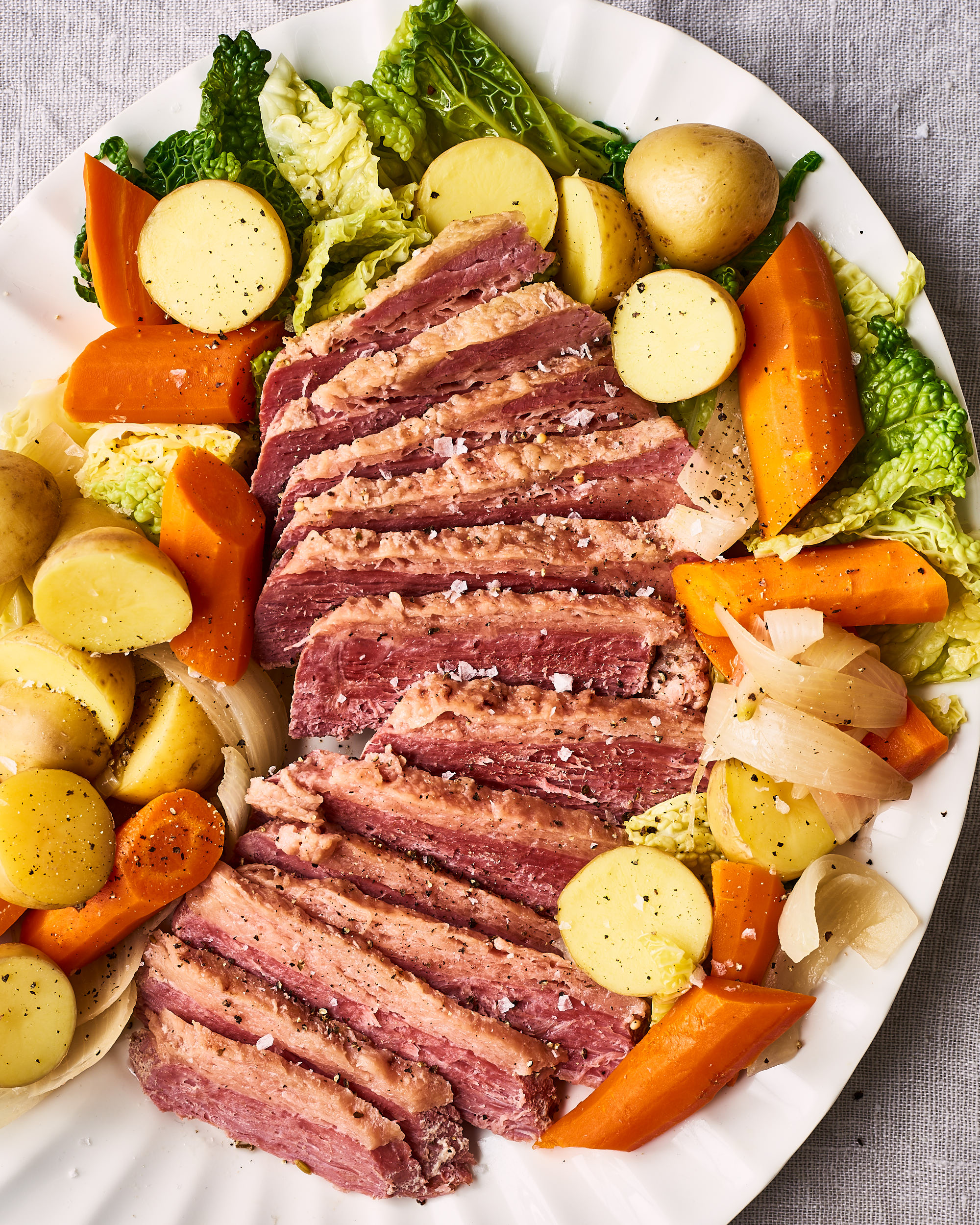 I don't cook corned beef often (maybe once or twice a year), so because it feels new every time, I always end up stressing. But this year, I discovered the smarter, easier route to perfect corned beef and cabbage: my slow cooker.
This slow cooker corned beef and cabbage is cooked in a happy brine of pickling spices, beer, and a little salt and sugar, making it the best (and easiest!) corned beef and cabbage you can make.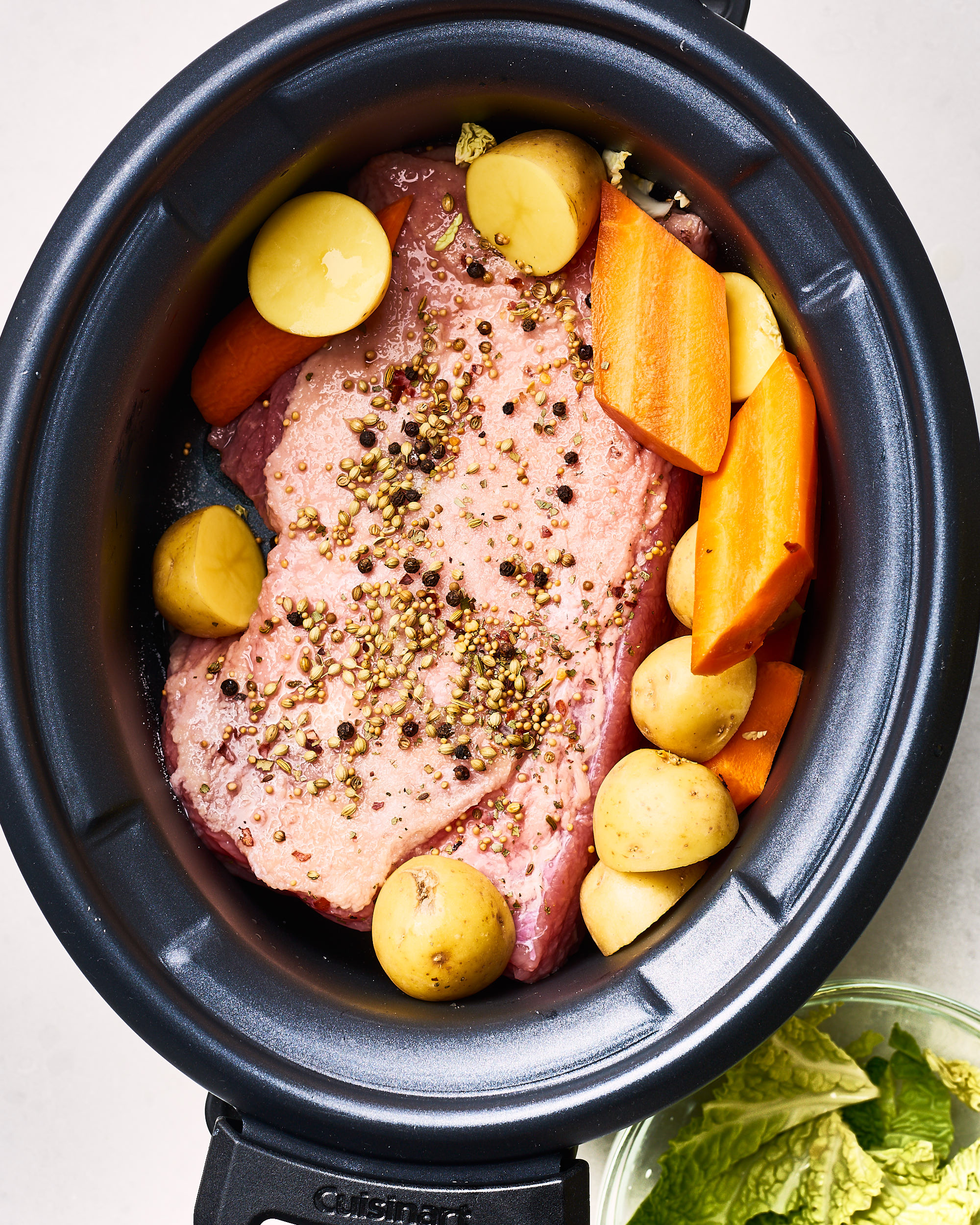 Why Make This Corned Beef and Cabbage?
It's almost entirely hands-off. There are a lot of ways to cook corned beef (in a Dutch oven, the pressure cooker, etc.), but the slow cooker reigns supreme. You get to set it and forget it, and it cooks the meat low and slow without scorching the cooking liquid.
It's packed with flavor. Recipes that claim you can simply simmer your corned beef in water will leave you with flavorless beef and vegetables. Instead, toss the brine packet that comes with the beef and use your own pickling spices (you can make your own or buy fresher store-bought spices), sugar, and a little salt to make a flavorful brine. A lager adds even more depth, but you can use beef broth if you want to skip the alcohol.
What's the Best Cut of Beef for Corned Beef and Cabbage?
Corned beef is made from brisket, and is sold in flats, points, or whole briskets. While there is some debate about whether flat or point is better for corned beef, I prefer a point cut, which has more marbling and fat. You can always trim the fat after cooking.
Look for a three-pound cut with a nice fat cap. You'll want to buy your beef already corned — corning is a pickling process that takes special salt and several days (up to a full week), so let your butcher do it for you.
How Do I Cook Corned Beef and Cabbage in the Slow Cooker?
Read more: A Beginner's Guide to Corned Beef and Cabbage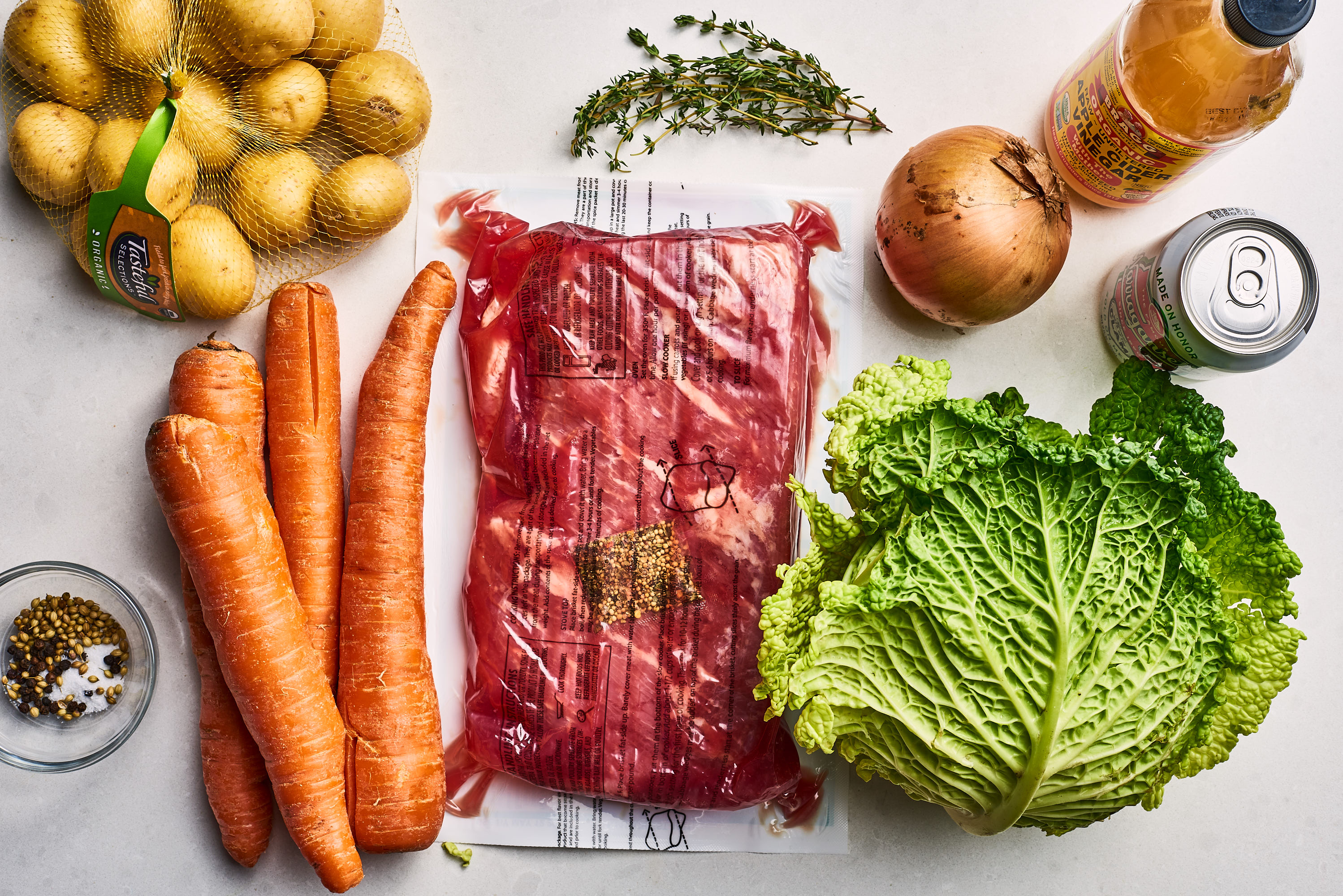 How Do I Serve Corned Beef and Cabbage?
To be perfectly frank, my favorite part of cooking corned beef is turning the leftovers into hash. But for a traditional presentation, slice the tender beef thinly — cut across the grain of the beef, like you would a steak — and serve it with the vegetables and grainy mustard.
Our favorite use for leftover corned beef: Classic Corned Beef Hash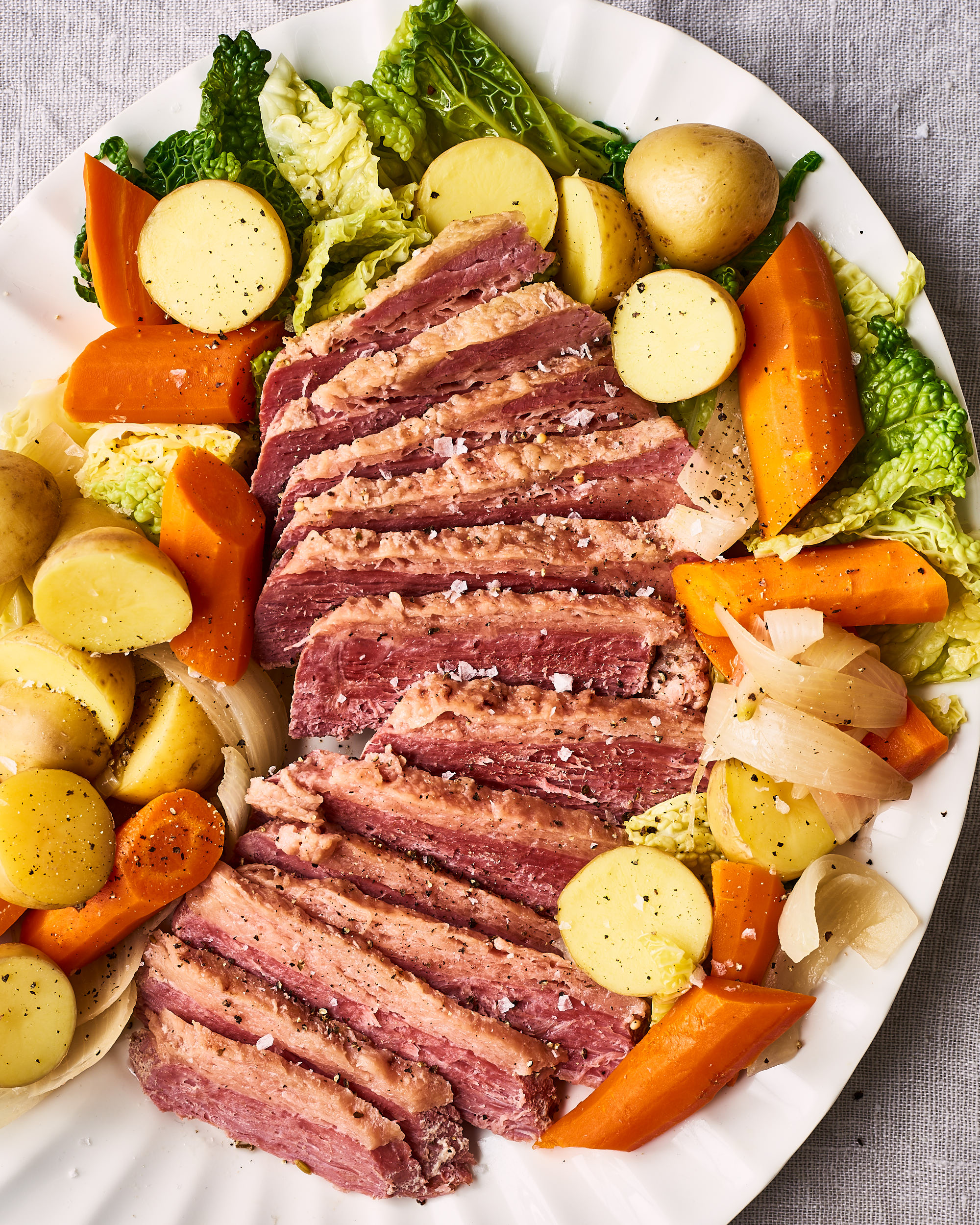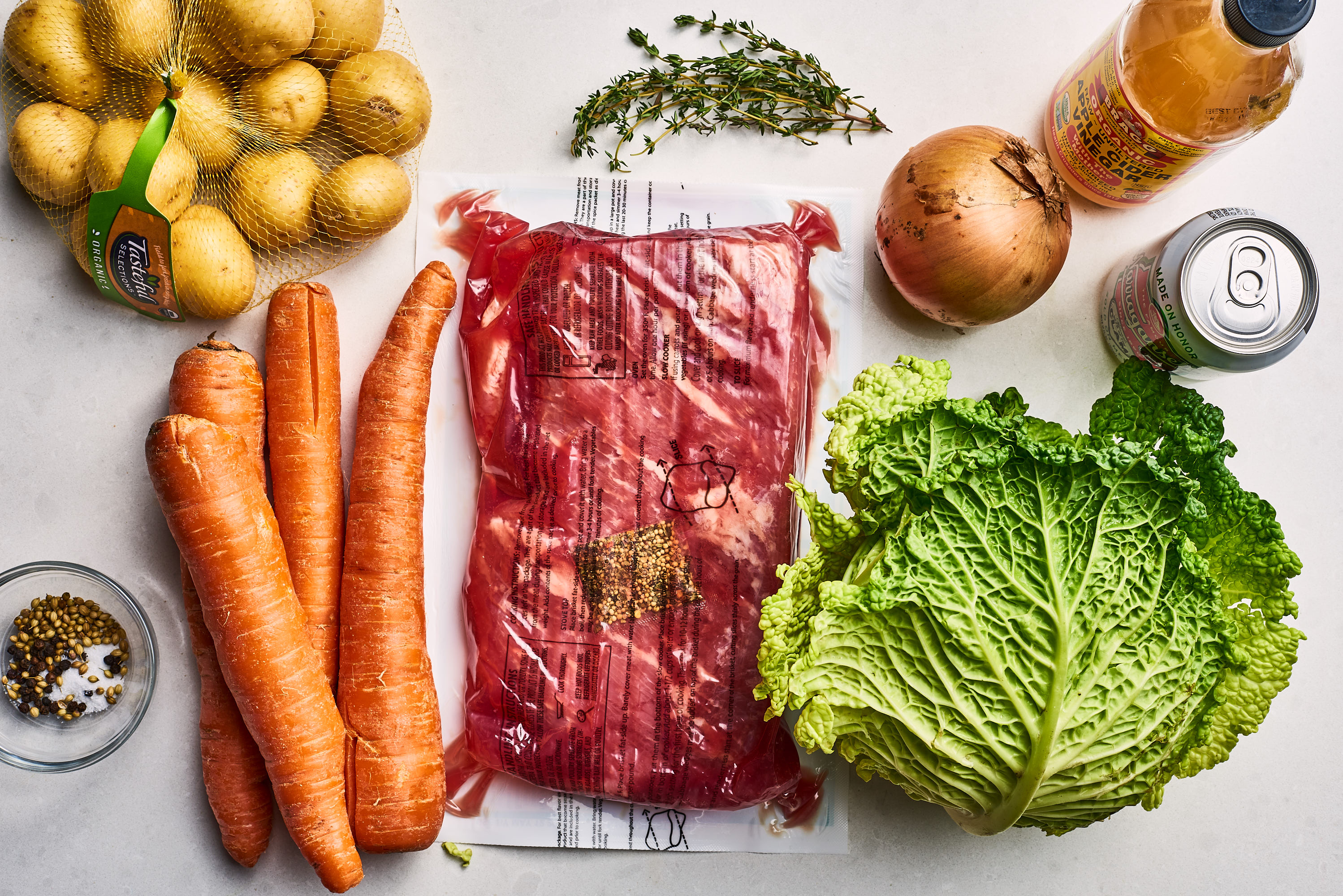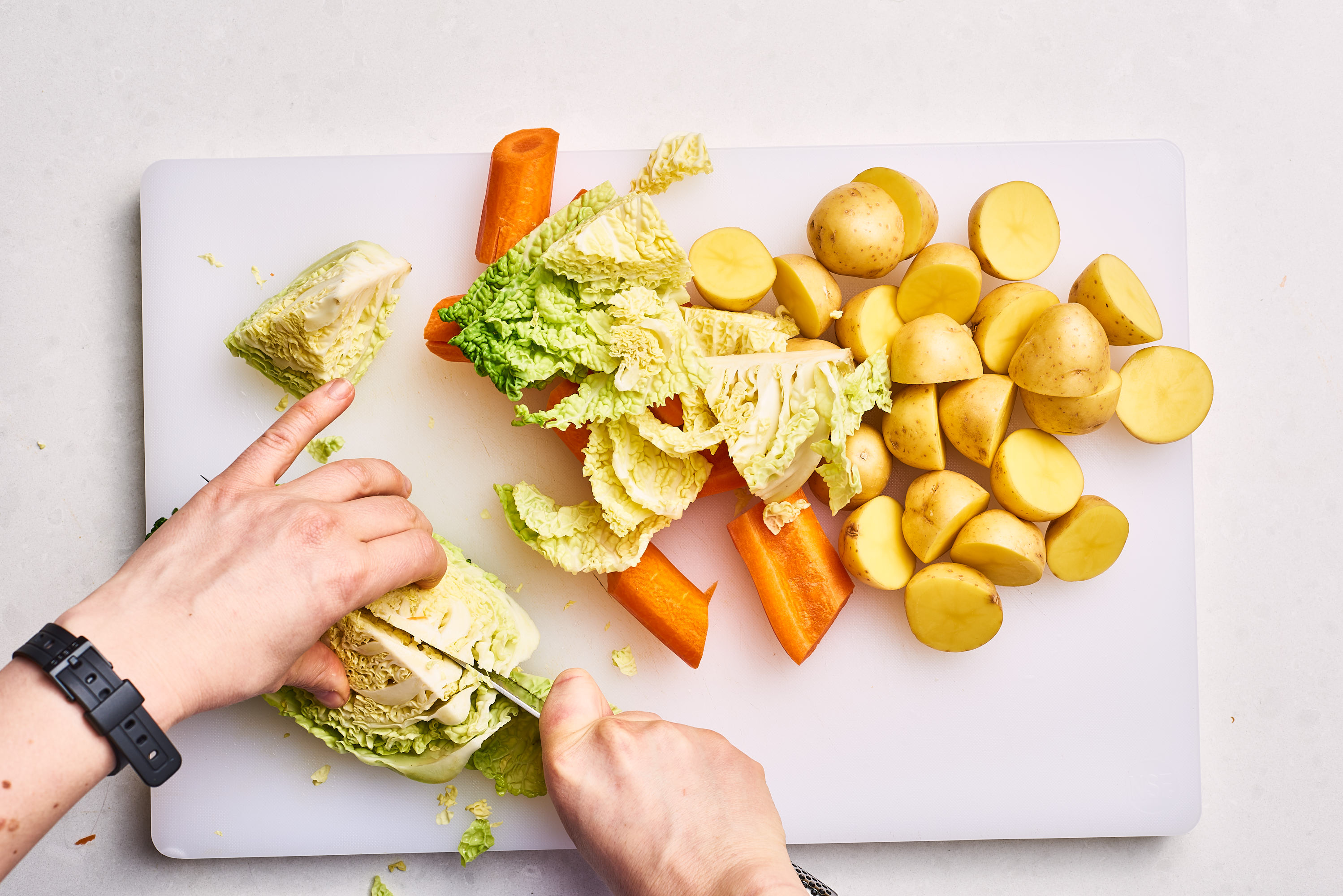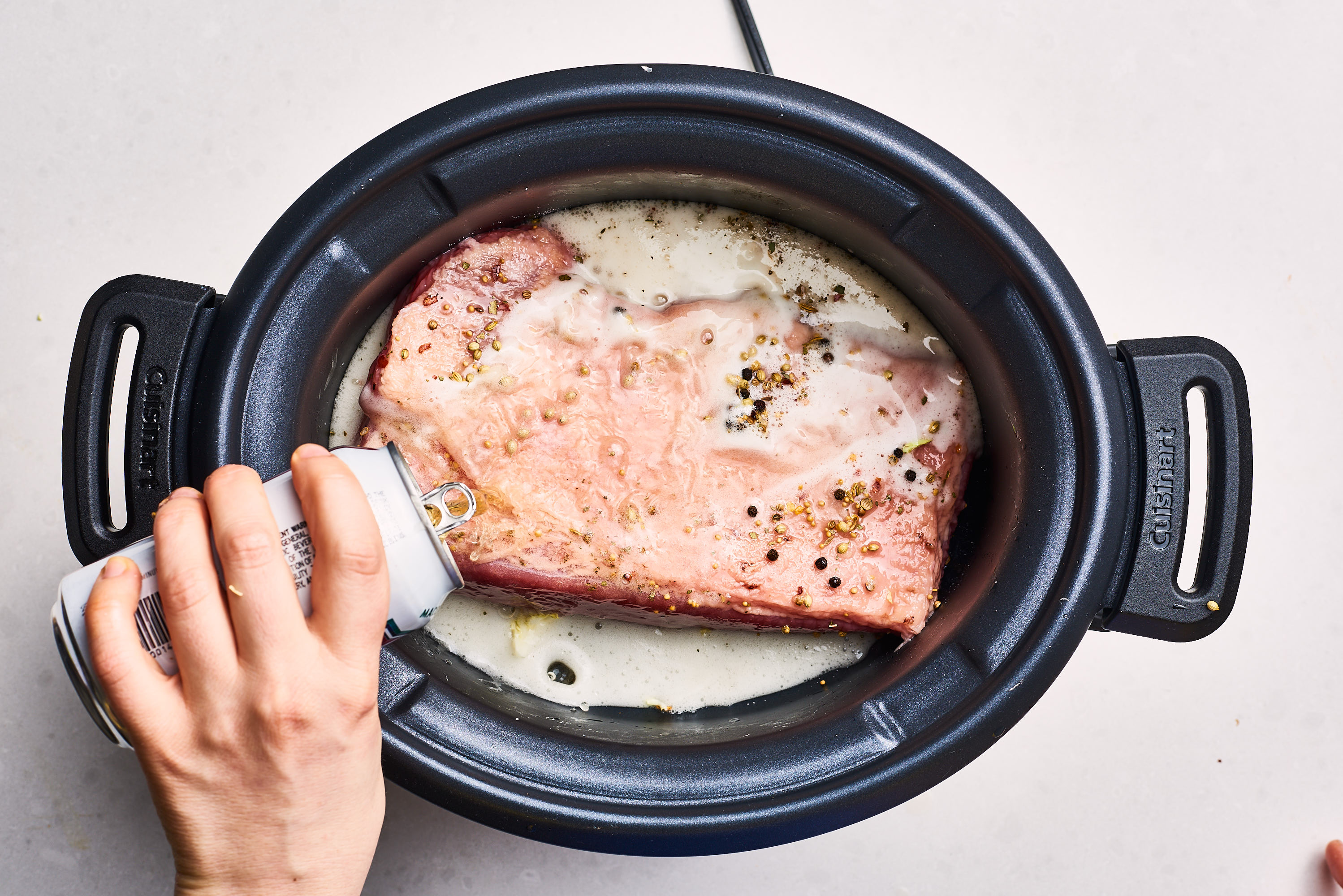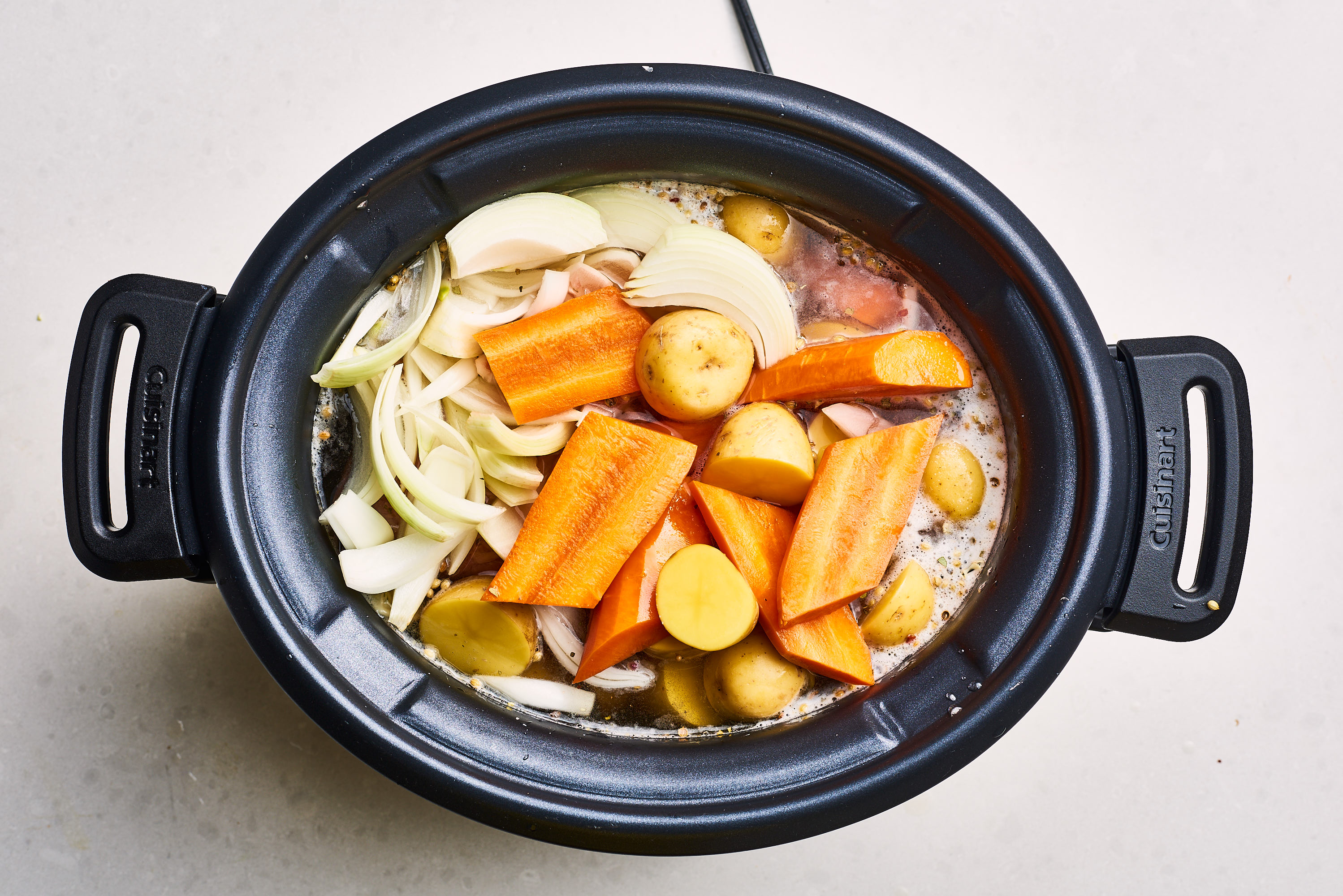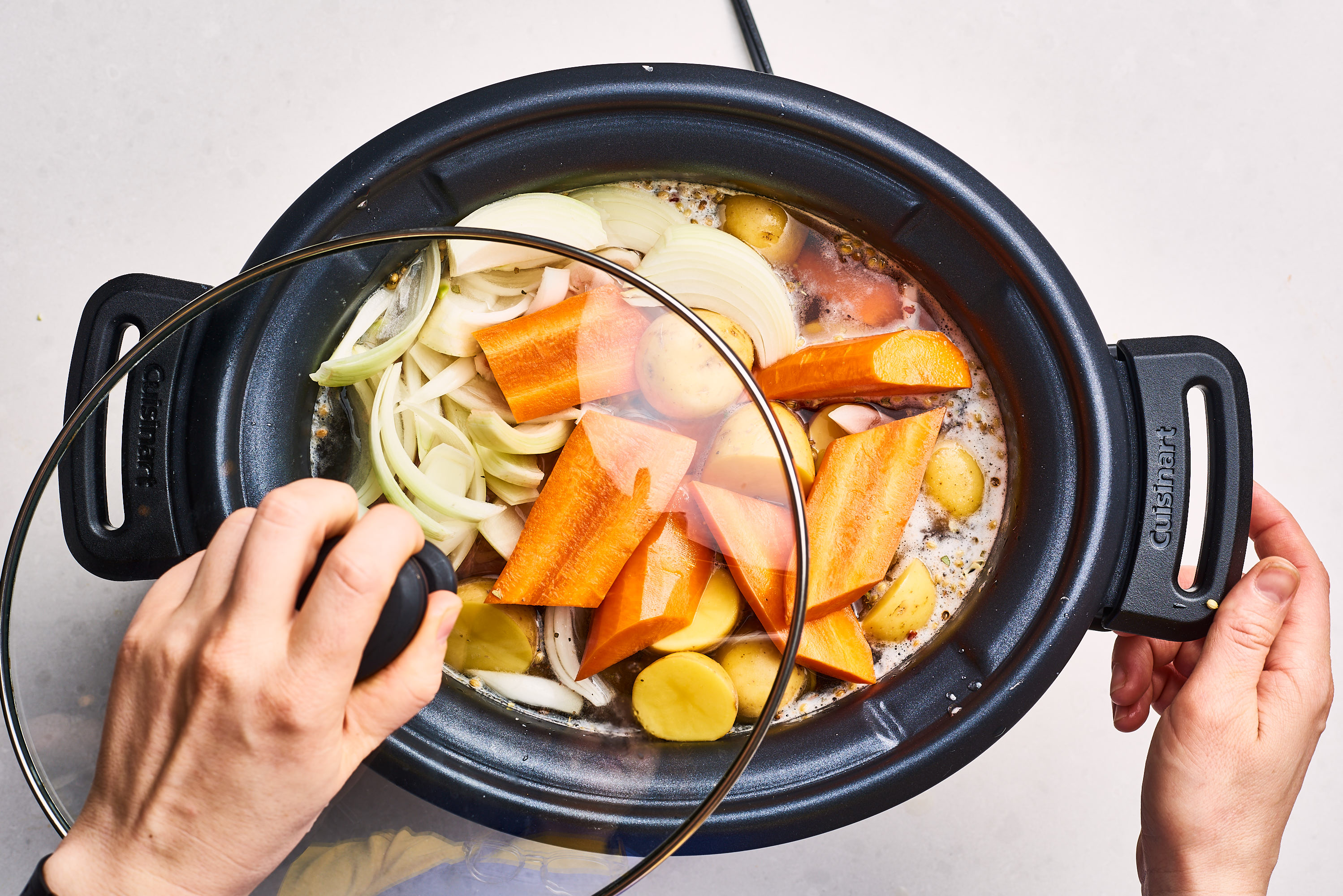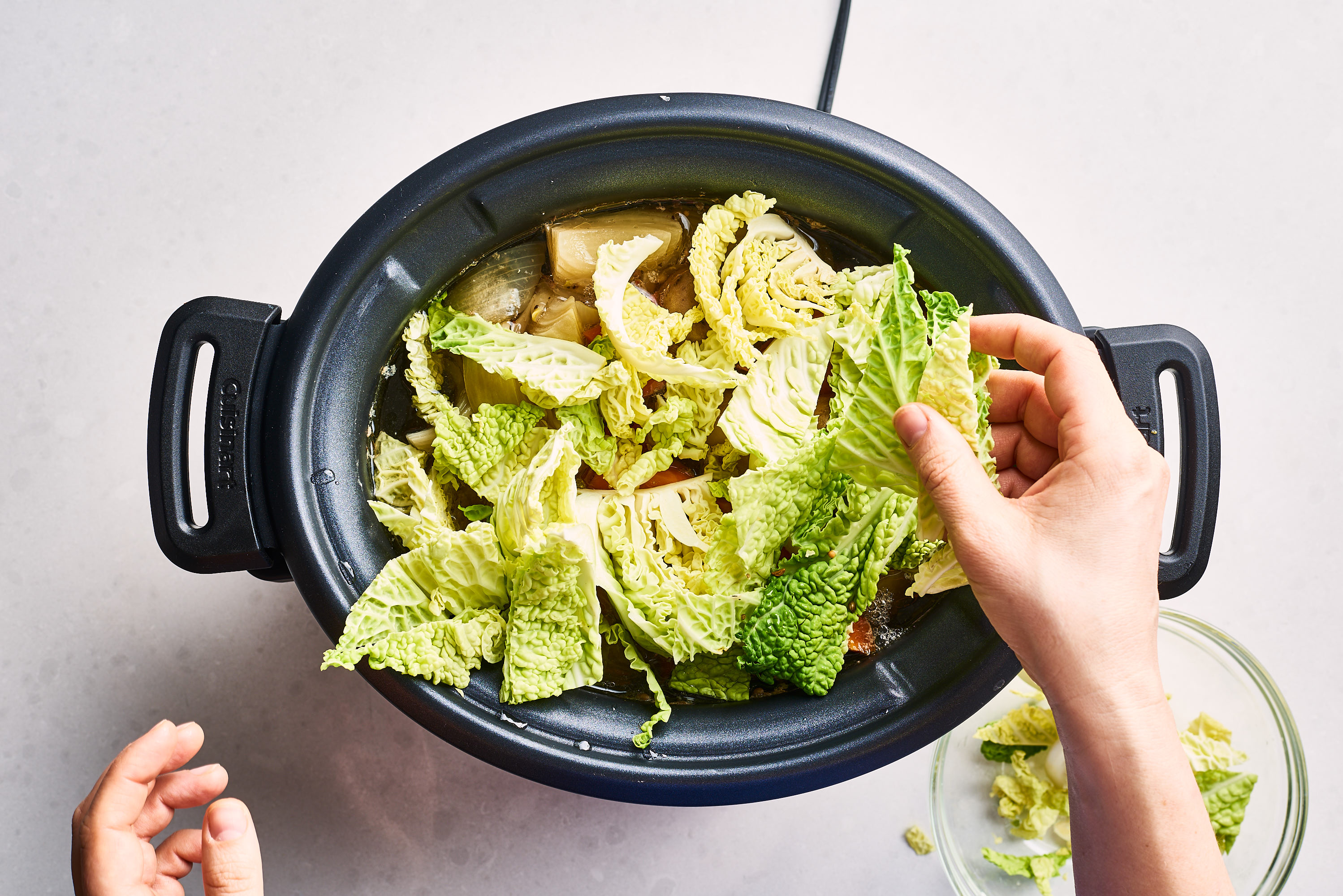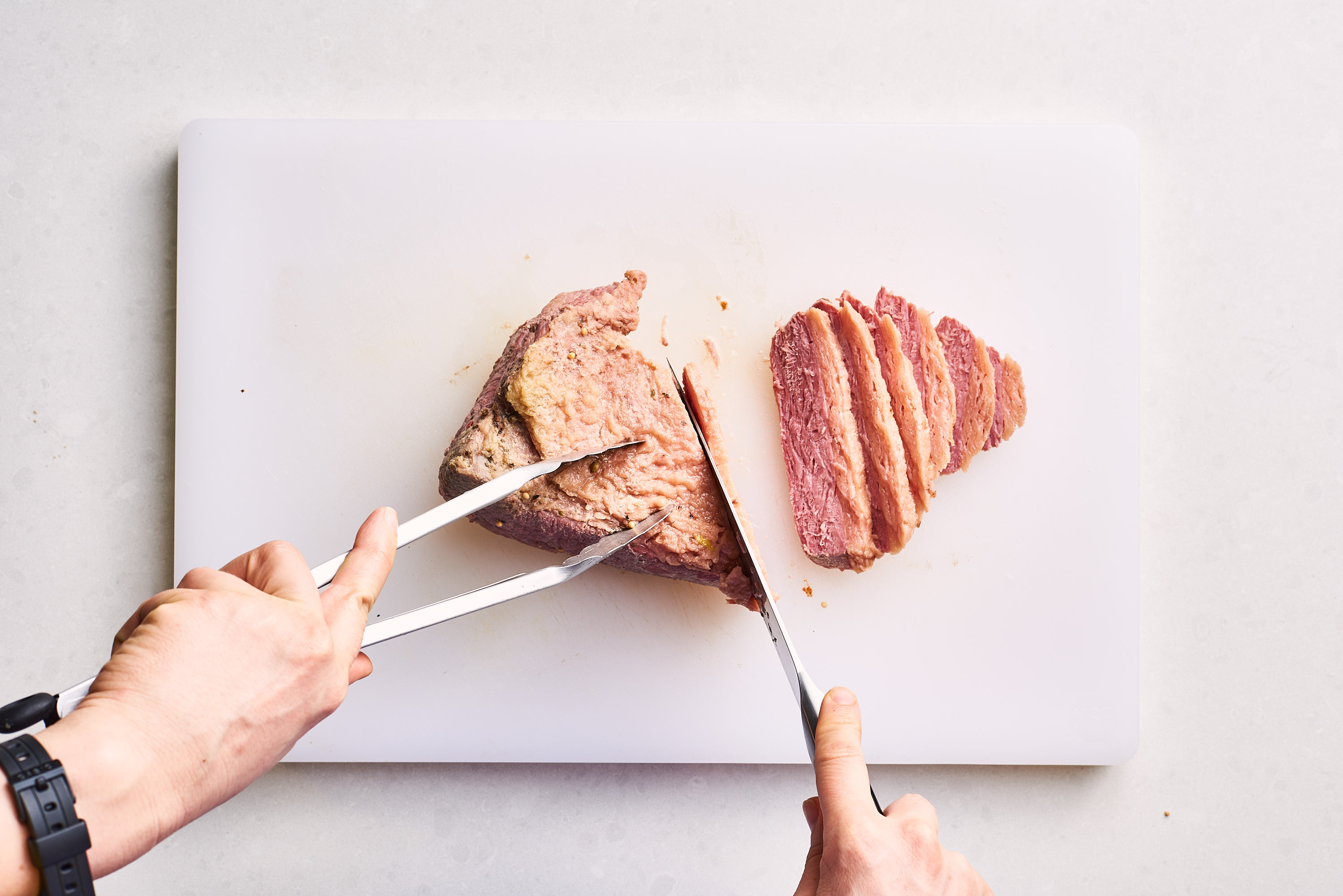 Slow Cooker Corned Beef and Cabbage
Ingredients
1

(3-pound) corned beef brisket

1

tablespoon

pickling spices

2

teaspoons

granulated sugar

1/2

teaspoon

kosher salt

1

(8-ounce) bottle

lager or brown ale

6 to 8

cups

water

1

tablespoon

apple cider vinegar

4

large carrots, peeled and cut into 2-inch pieces

1

pound

small waxy potatoes, such as Yukon golds, halved if larger than 1-inch

1

small yellow onion, cut into 1-inch thick wedges

3

sprigs

fresh thyme

1

pound

savoy cabbage (about 1/2 small head), cut into 1-inch wedges
Equipment
6-quart or larger slow cooker
Measuring cups and spoons
Chef's knife and cutting board
Vegetable peeler
Slotted spoon
Instructions
Preheat the slow cooker. Set your slow cooker to the LOW setting to preheat while you prepare the vegetables.

Cover the brisket with the seasoning and cooking liquid. Place the brisket fat-side up in the slow cooker. Sprinkle the pickling spices, sugar, and salt over the brisket. Pour in the beer, followed by enough water just to cover the brisket. Add the vinegar and stir gently to combine.

Layer the vegetables over the brisket. Scatter the carrots, potatoes, onions, and thyme over the brisket.

Cover and cook for 8 to 10 hours on LOW or 4 to 5 hours on HIGH. Cover the slow cooker and cook until the brisket and vegetables are just tender, 8 to 10 hours on the LOW setting or 4 to 5 hours on the HIGH setting.

Add the cabbage and cook for 45 minutes longer. Place the cabbage on top of the brisket and cooking liquid and continue cooking until tender, about 45 minutes more.

Slice the corned beef and serve. Use tongs to remove the brisket from the cooking liquid to a clean cutting board. Slice thinly across the grain. Use a slotted spoon to scoop up the vegetables and serve with the brisket.
Recipe Notes
Storage: Leftovers can be refrigerated in an airtight container for up to 5 days.
Source: Read Full Article