How To Make Weeknight-Friendly Chicken Tortilla Soup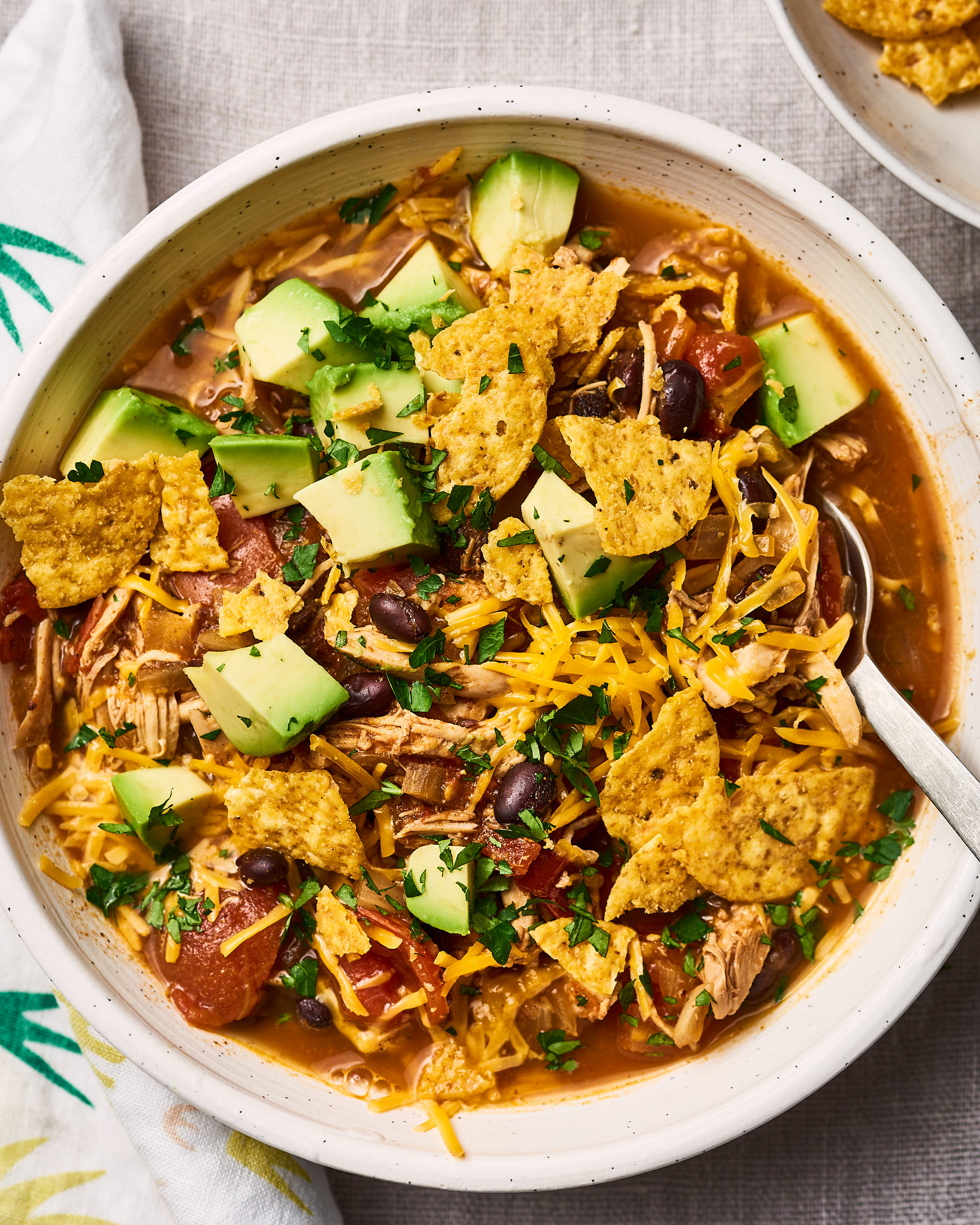 Chicken tortilla soup, with its spicy tomato broth, crunchy tortilla chips, and gooey cheese, has long been one of my favorite dishes to order at Mexican restaurants. I never even thought to make it at home because, frankly, I thought it was fussy.
But boy was I wrong. Once you know the basics, it's all too easy to make chicken tortilla soup at home — even on a busy Monday night. Here's my favorite way to do it.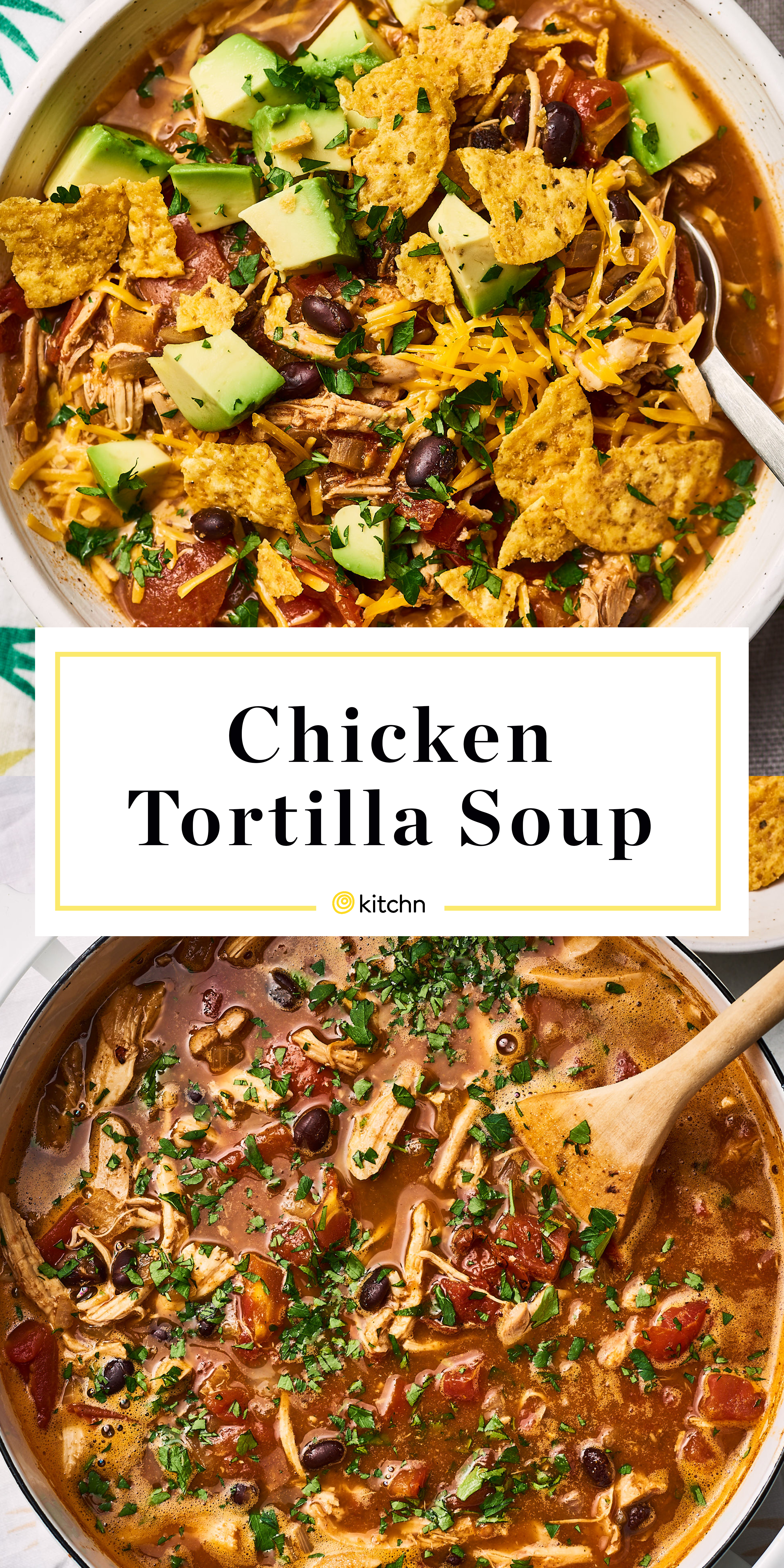 Why Make This Chicken Tortilla Soup?
1. It's fast. Thanks to a little help from the grocery store, this soup is ready in under an hour. Instead of cooking the chicken yourself, start with a rotisserie chicken. The juicy meat can be easily shredded to form the base of this soup.
2. It makes use of smart shortcuts. A can of fire-roasted diced tomatoes lends a smoky flavor, which really beefs this soup up while keeping the ingredient list short (no need to pull out every spice in the cabinet).
3. It can be as mild or as spicy as you like. We're providing a range for the chili powder, because everyone likes their own level of spice. Use the lesser amount if you've got kids or prefer a mildly spicy soup. Opt for the full 3 tablespoons if you'd like a soup that packs a nice (but not unbearable) punch.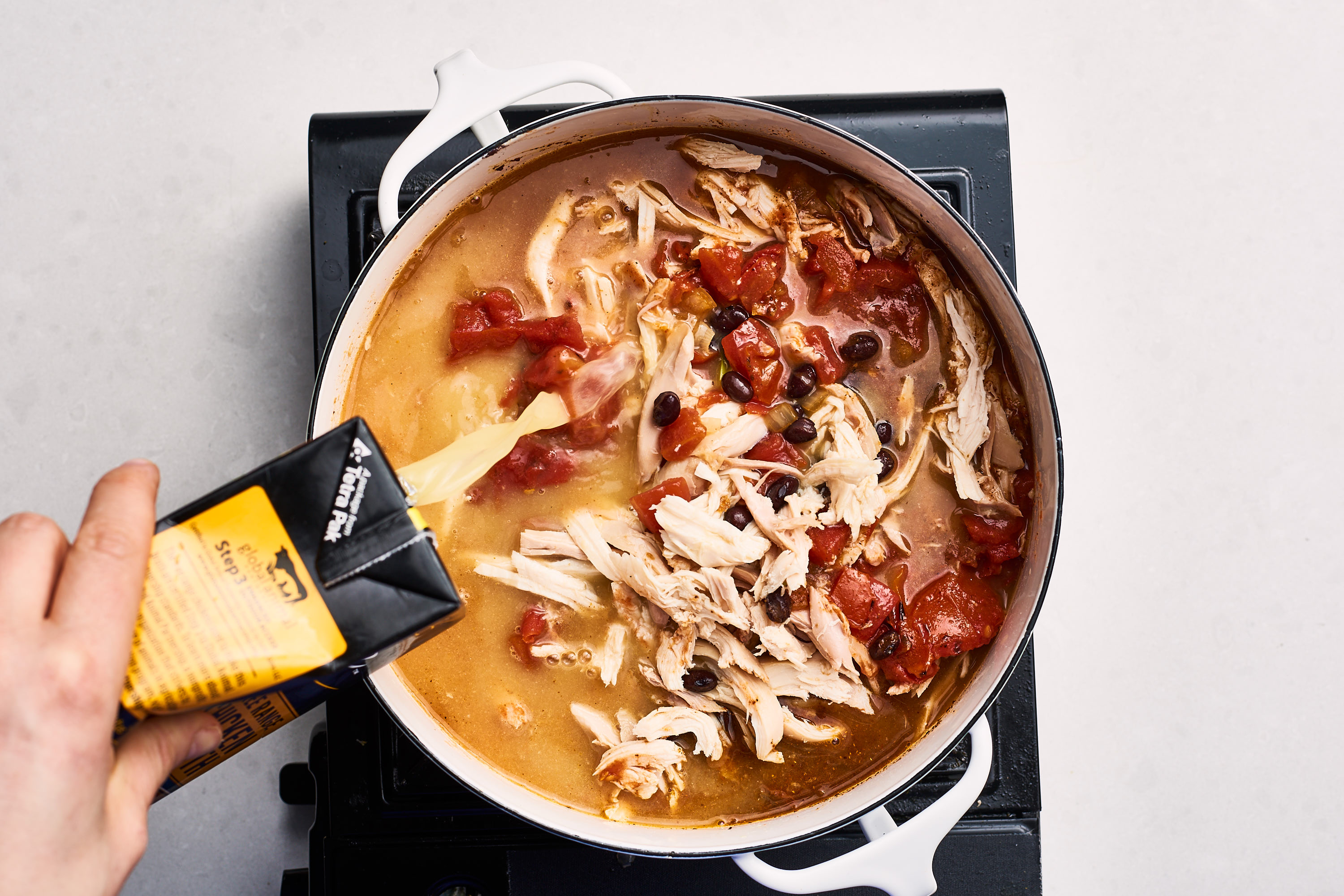 Can I Adjust the Recipe Based on What I Have on Hand?
Yes! While this soup is perfect as is, it's also very well-suited to be fiddled with. Swap in pinto or kidney beans for the black beans, or use leftover cooked chicken if you have some in the fridge. If you'd like to bulk it up further, add a few big handfuls of frozen corn (it will defrost in the simmering pot). Toss in a can of fire-roasted diced green chiles to bump up the smoky flavor.
How Do I Serve Chicken Tortilla Soup?
You have options: Crushed tortilla chips, diced avocado, shredded sharp cheddar cheese, and chopped fresh cilantro are all great toppings. Regardless of whether you pick one or all, prepare them while the soup simmers. That way, as soon as it's ready, you can dig in.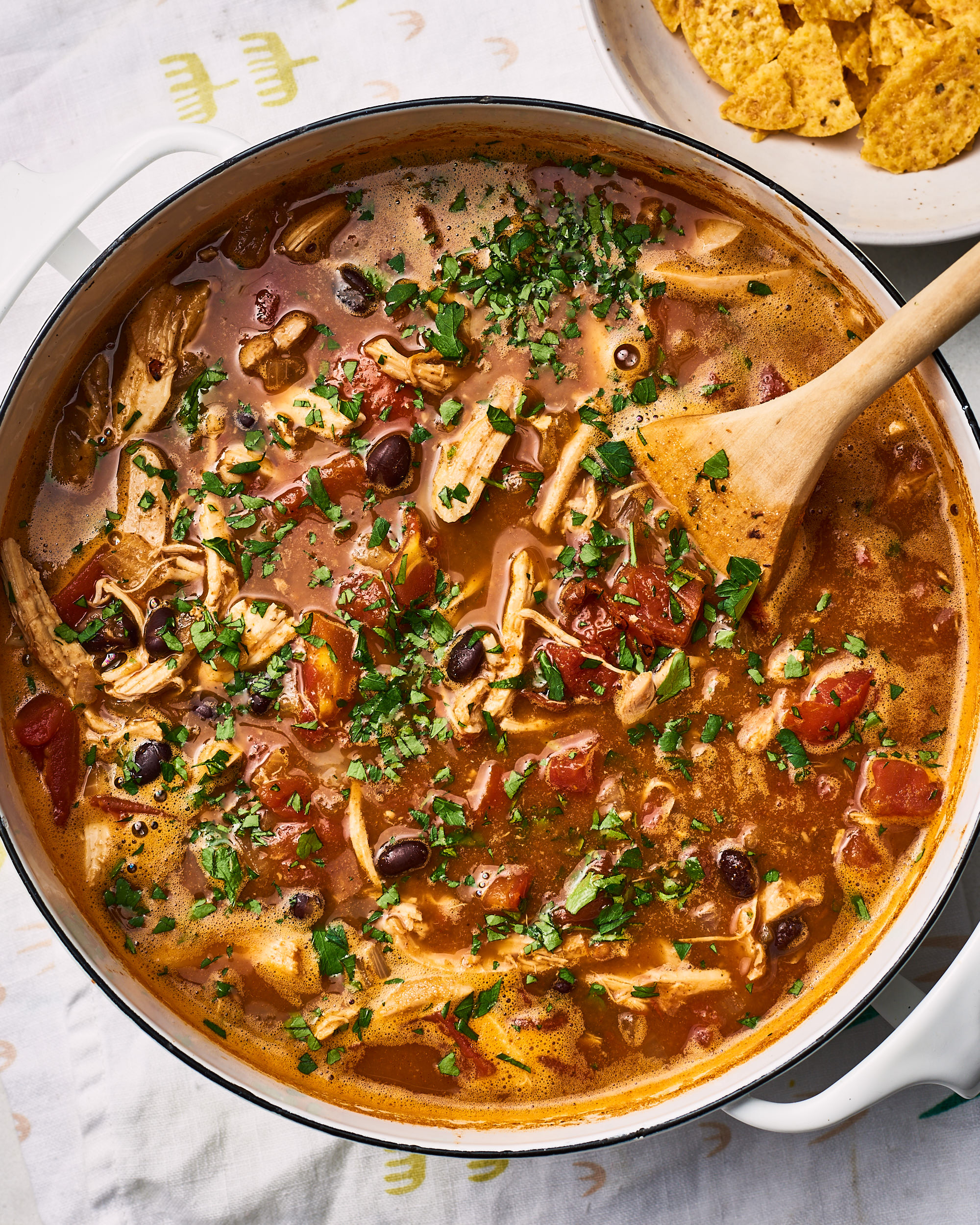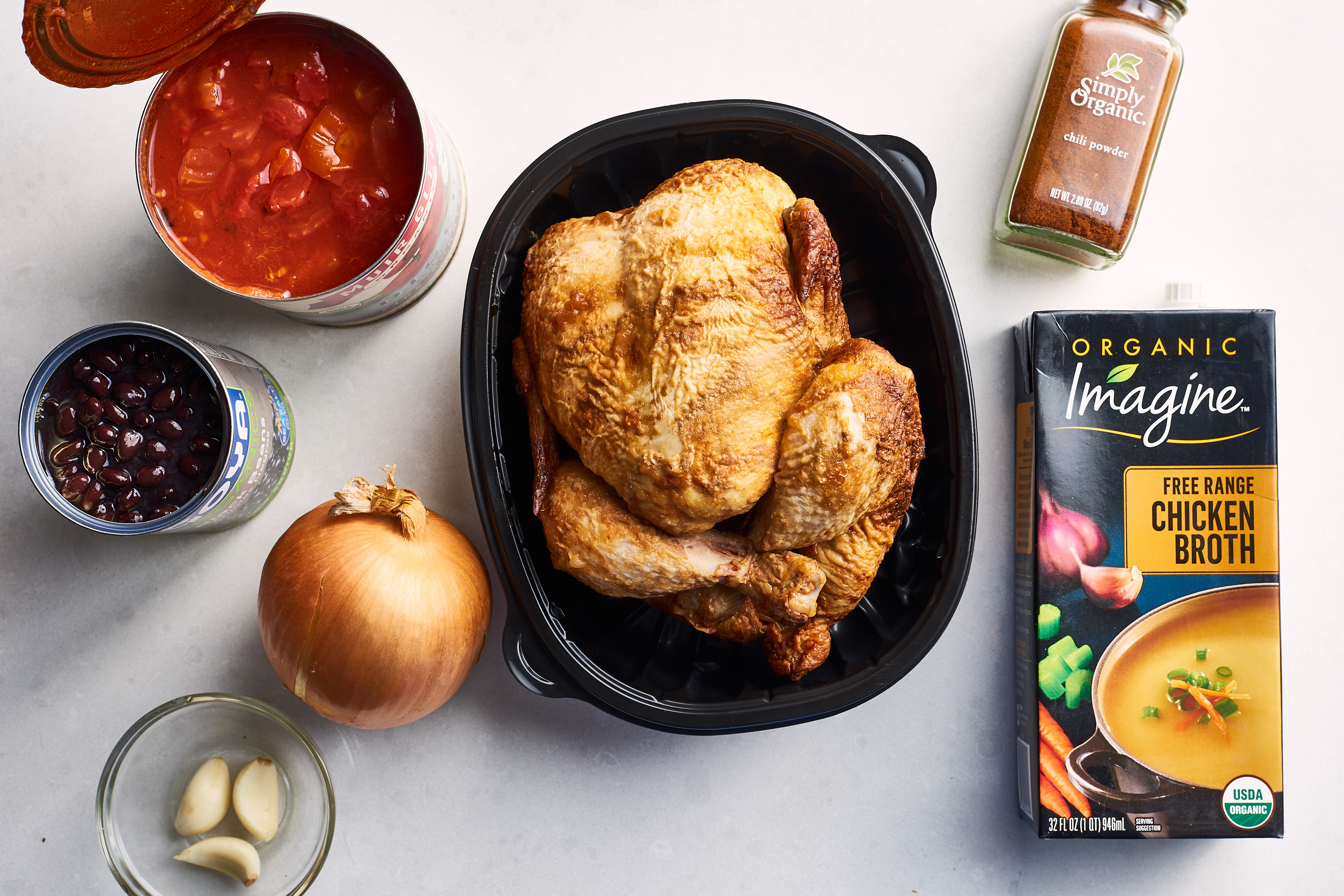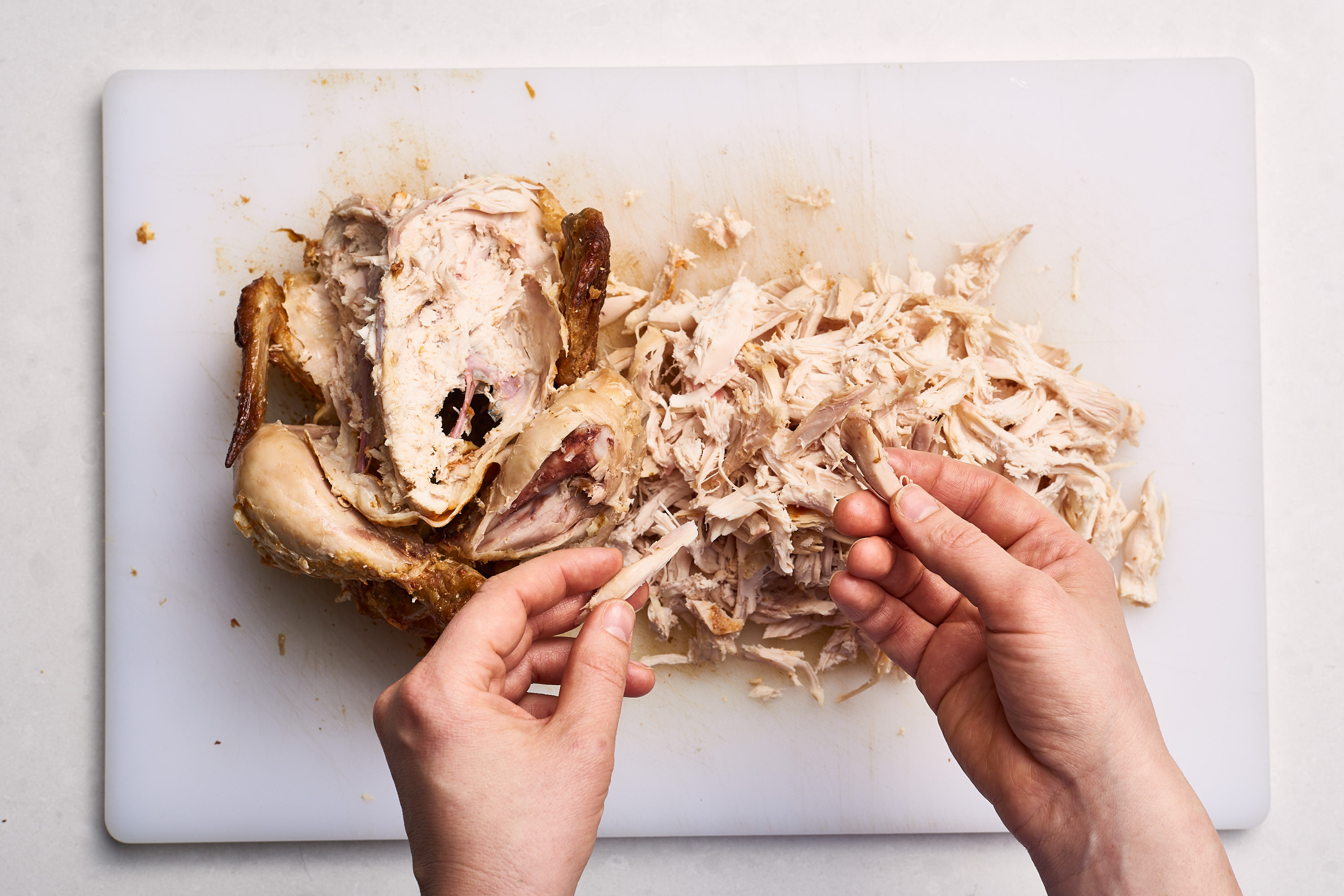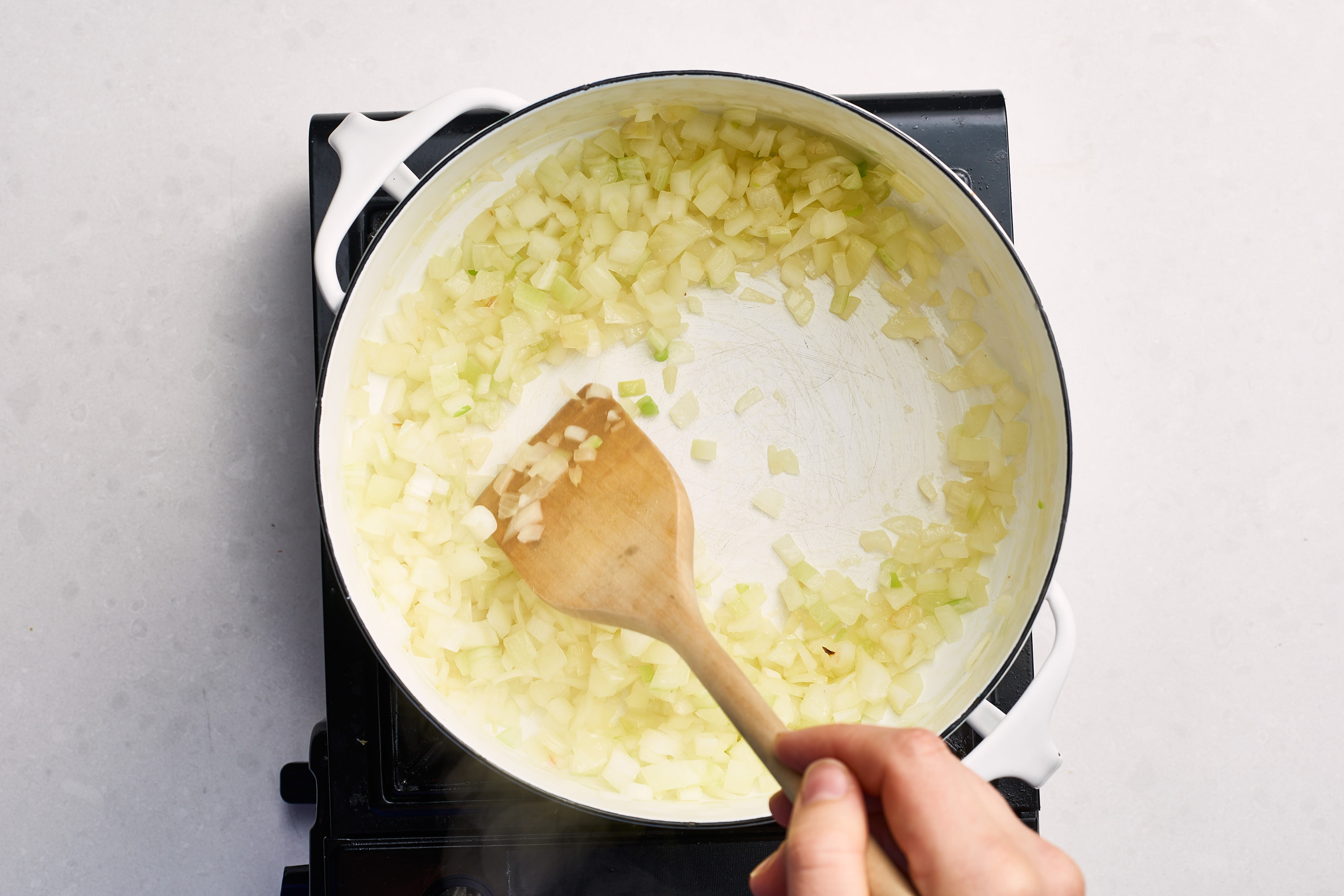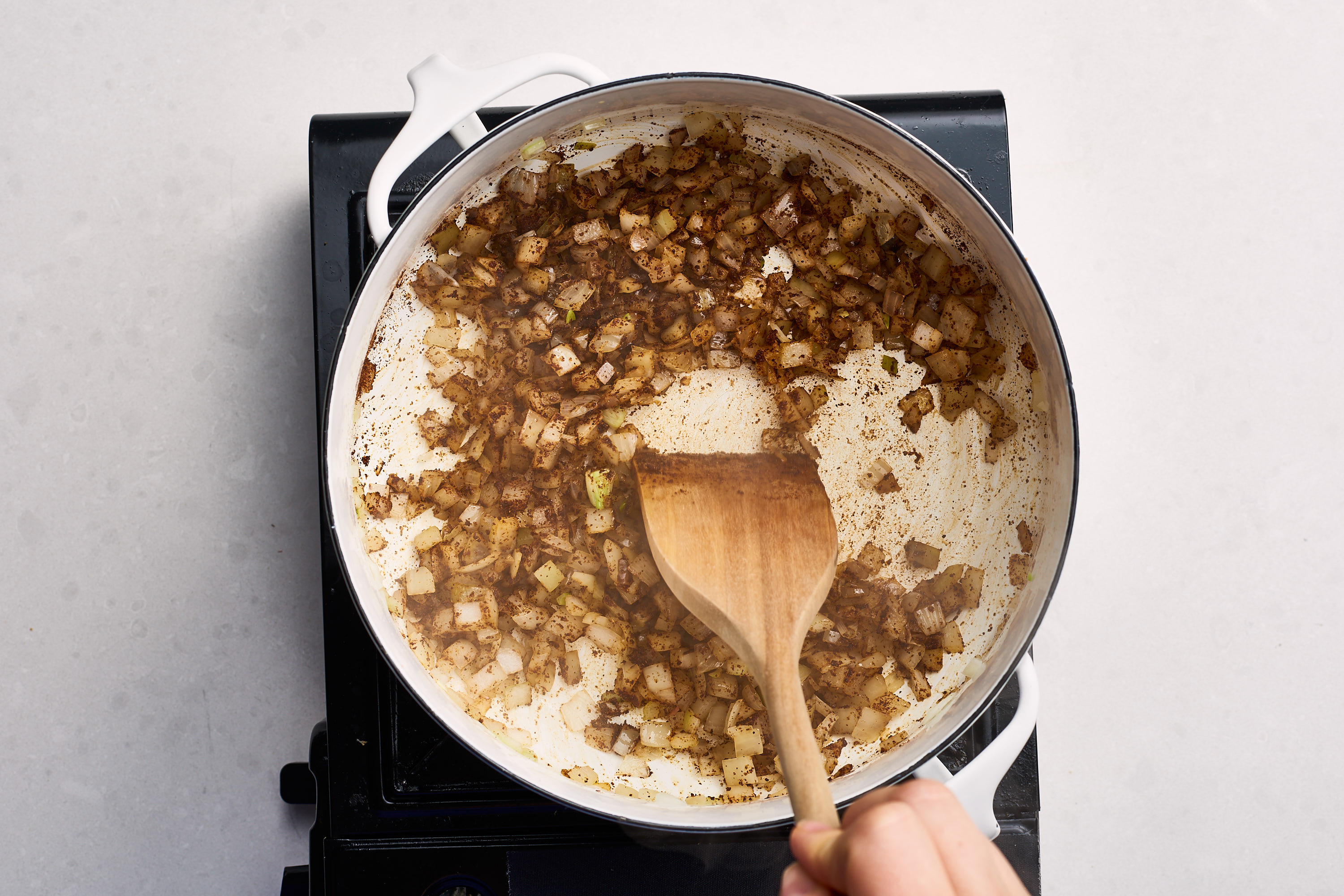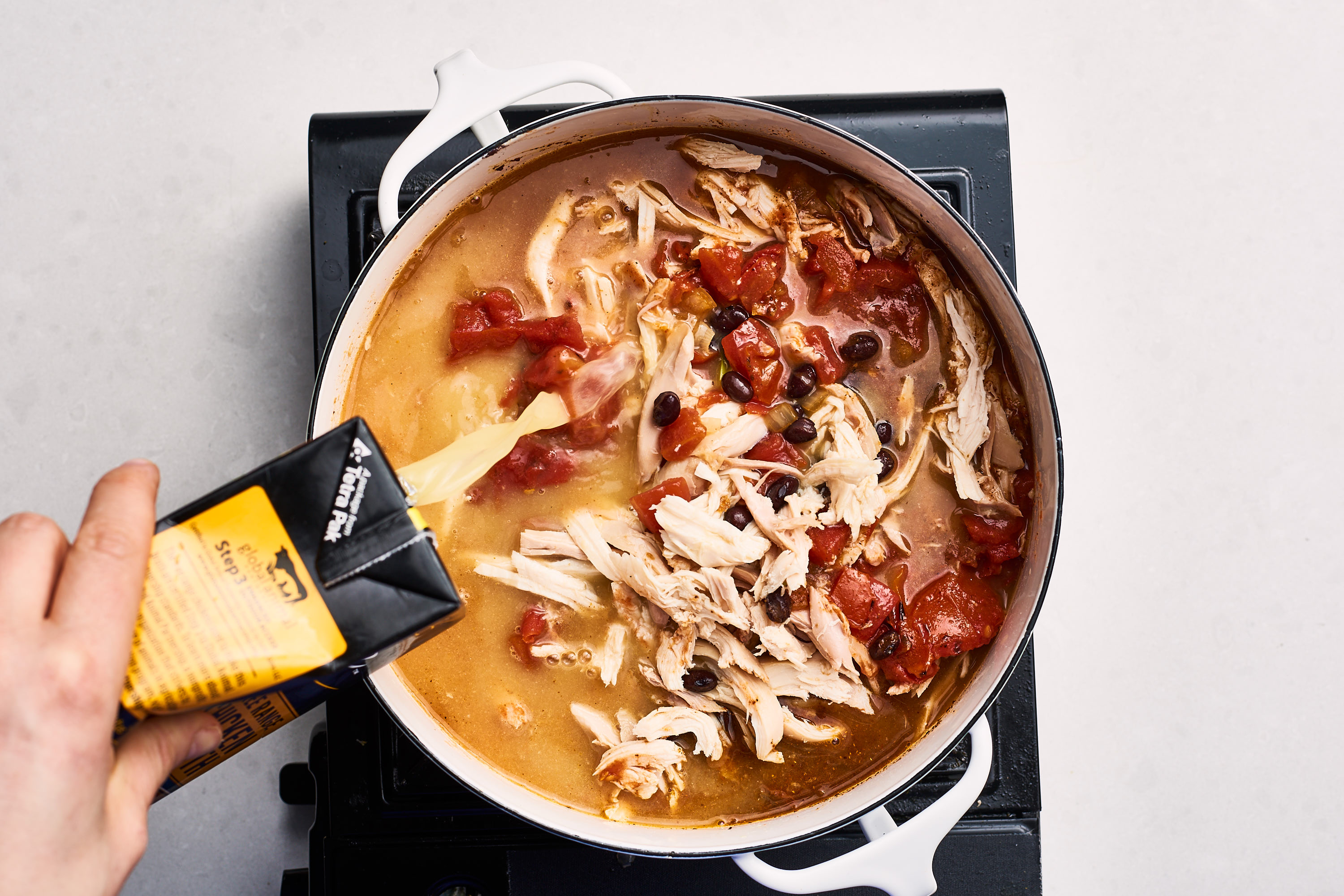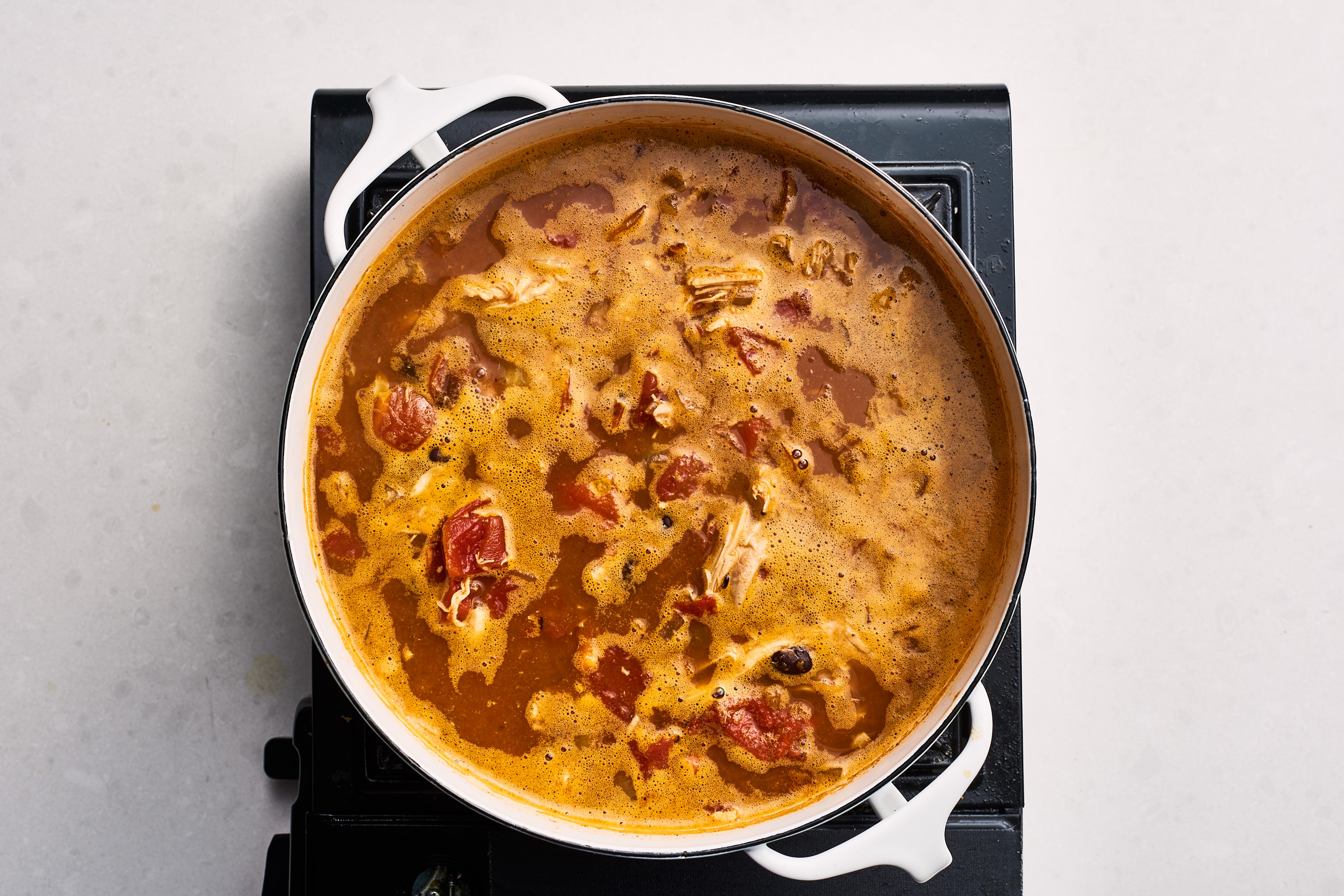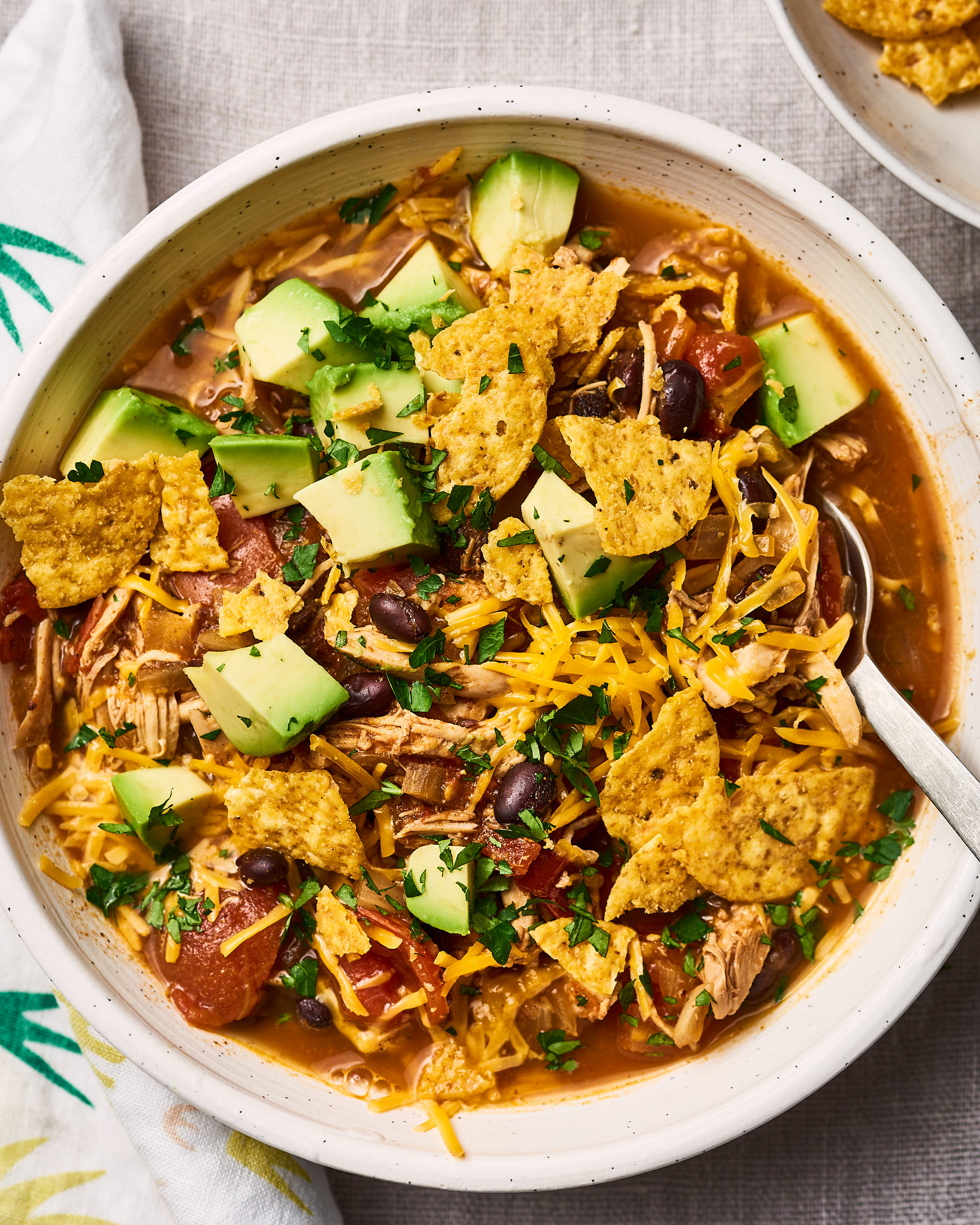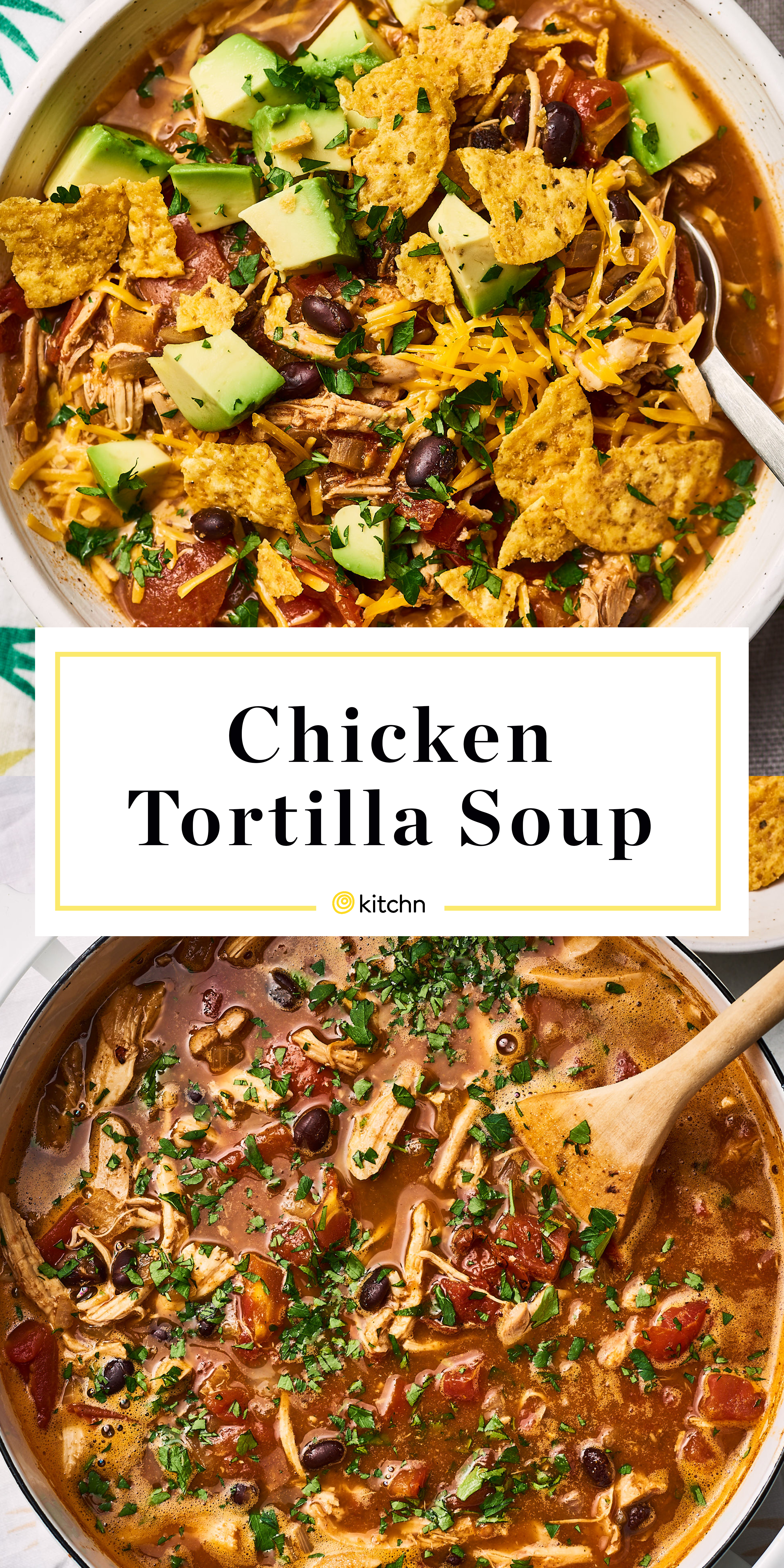 How To Make Weeknight-Friendly Chicken Tortilla Soup
Ingredients
1

(2-pound) plain rotisserie chicken

2

tablespoons

olive oil

1

medium yellow onion, diced

3

cloves

garlic, minced

2 to 3

teaspoons

chili powder, depending on spice preference

1

teaspoon

kosher salt, plus more to taste

1/4

teaspoon

freshly ground black pepper, plus more to taste

4

cups

(32 ounces) low-sodium chicken broth

1

(28-ounce) can

or 2 (14.5-ounce) cans fire-roasted diced tomatoes

1

(15-ounce) can

black beans, drained and rinsed

Topping options: crushed tortilla chips, diced avocado, shredded sharp cheddar cheese, chopped fresh cilantro, and lime wedges
Equipment
Chef's knife and cutting board
Measuring cups and spoons
Liquid measuring cup
Can opener
Colander
5 1/2-quart or larger Dutch oven
Wooden spoon
Instructions
Shred the rotisserie chicken. Use your hands to pull away the meat from the rotisserie chicken and shred it into bite-sized pieces. You'll have about 4 cups of shredded meat. Discard the carcass.

Sweat the onion. Heat the oil in a 5.5-quart or larger Dutch oven over medium heat until shimmering. Add the onion and cook, stirring occasionally, until translucent and softened, about 5 minutes.

Add the spices. Add the garlic, chili powder, salt, and pepper, and cook until fragrant, about 1 minute.

Add the remaining ingredients. Add the broth, tomatoes and their juices, beans, and shredded chicken. Stir to combine.

Simmer for 15 minutes. Bring to a boil then reduce the heat to maintain a simmer. Simmer gently uncovered for 15 minutes to allow for flavors to meld. Taste and season with salt and pepper as needed.

Serve with toppings. Serve in bowls topped with crushed tortilla chips, diced avocado, shredded sharp cheddar cheese, and chopped fresh cilantro, if desired.
Recipe Notes
Storage: Leftovers can be stored in an airtight container for up to 5 days in the refrigerator or frozen for up to 3 months.
At Kitchn, we know how important it is to find recipes that are worth your time. That's why every tutorial — like this one — features recipes that have been tried and tested by our team of developers and at-home cooks from across the country. Questions or feedback for us? Say hello: [email protected].
Source: Read Full Article