Caramel Apples
Total:

1 hr 30 min

(includes setting time)

Active:

30 min
Ingredients
2 cups sugar
1/4 cup light corn syrup 
1/2 cup heavy cream 
2 tablespoons unsalted butter 
1/2 teaspoon pure vanilla extract 
Kosher salt 
6 medium very crisp apples (such as Honeycrisp, Red Delicious, Pink Lady or Granny Smith), well washed and dried  
Nonstick cooking spray, for the parchment 
Directions
Try this cooking class now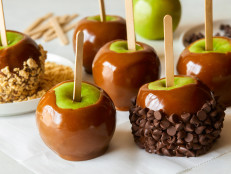 Try this cooking class now
Watch Class
Special equipment:
Add the sugar, corn syrup and 1/2 cup water to a small saucepan over medium-high heat. Stir a few times before the sugar begins to boil to combine the ingredients. Attach a candy thermometer to the inside of the pan and bring the syrup to a boil. Cook until the syrup begins to turn an amber color, then swirl the syrup to even out the color. Continue to cook until the syrup is a deep amber and the thermometer reads between 375 and 380 degrees F, then remove from the heat. Carefully pour in the cream and gently whisk to combine. Stir in the butter, vanilla and a pinch of salt until smooth. Keep off the heat but keep the thermometer attached to the pan.
Pierce the apples through the stem ends about halfway through with candy apple sticks. Line a baking sheet with parchment and lightly spray with nonstick cooking spray.   
When the temperature of the caramel reads around 190 degrees F, dip an apple, using the stick as a handle and swirling to coat completely. Allow excess caramel to drip off the bottom and use a spatula to help remove any large amount of caramel, as it will pool around the apple when you set it down to cool on the lined baking sheet. Repeat with the remaining apples, gently heating the caramel on the stovetop over low heat, stirring, if it gets too thick for dipping. Allow the caramel to set and cool completely before serving or wrapping apples, about 1 hour. (See Cook's Note.)
Cook's Note
To add toppings, dip apples in mini chocolate candies, shredded coconut, crushed cookies or chopped nuts immediately after coating with caramel.
Source: Read Full Article