Crispy Parmesan Roast Chicken
Total:

2 hr 20 min

Active:

20 min
Ingredients
1 teaspoon minced fresh thyme, plus 3 large sprigs
1 teaspoon minced fresh rosemary, plus two large sprigs
Kosher salt and freshly ground black pepper 
1 lemon, cut into 4 wedges
1 medium onion, cut into 6 wedges
1 head garlic, cut in half crosswise through the center
2 medium carrots, thinly sliced
One 3 1/2-to-4-pound whole chicken
2 tablespoons extra-virgin olive oil
1/3 cup freshly grated Parmesan
Directions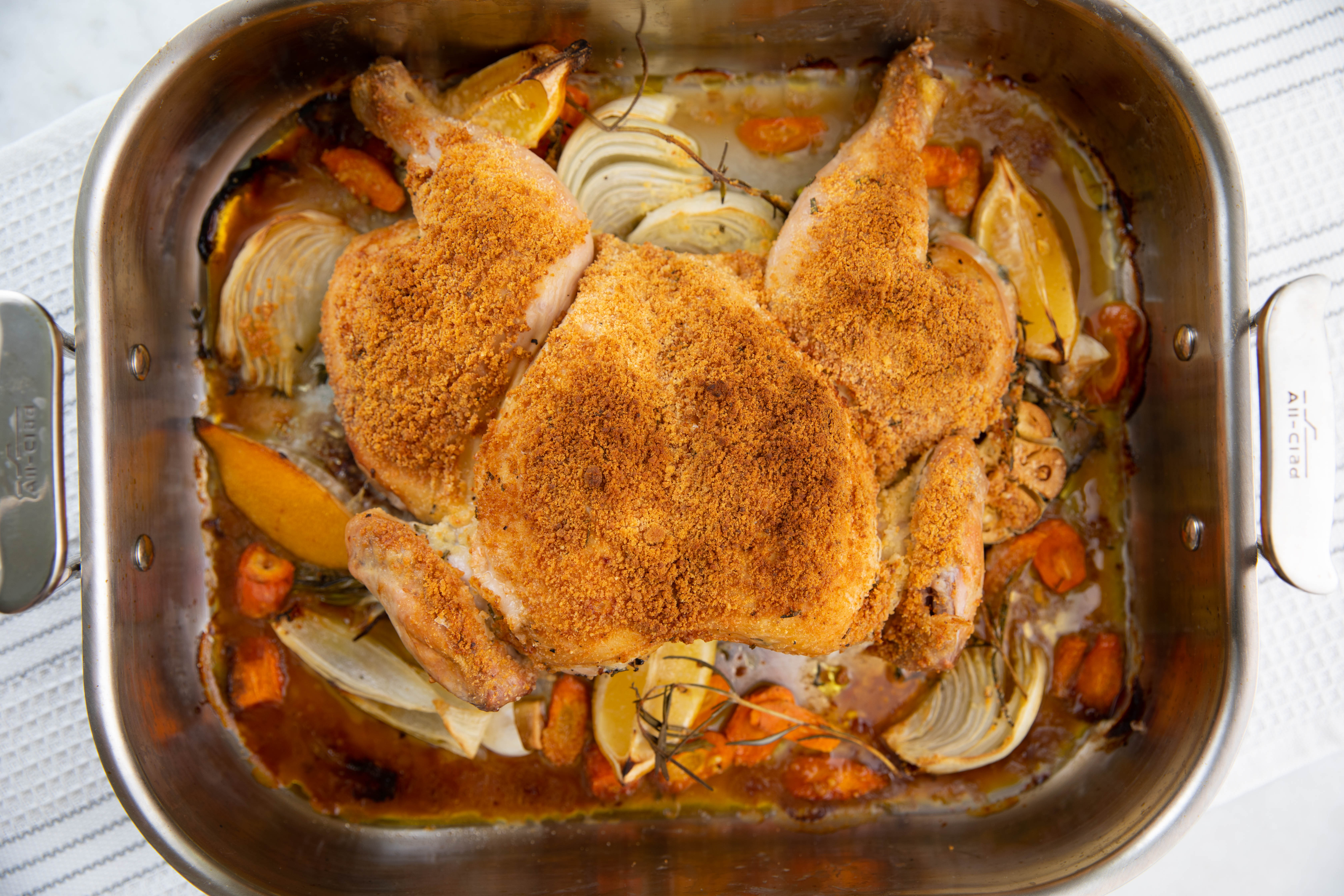 Combine the minced thyme, minced rosemary, 1 tablespoon salt and 1/4 teaspoon pepper in a small bowl. Scatter the herb sprigs, lemon and onion wedges, garlic and carrots in a 9-by-13-inch baking dish.
Pat the chicken dry with paper towels. Using poultry shears, cut along both sides of the backbone to remove it. Open the chicken breast-side up and press firmly in the center of the breast to flatten. Sprinkle the salt mixture over both sides of the chicken. Place the chicken on top of the aromatics in the baking dish, tucking the wing tips under, and let sit at room temperature for 1 hour.   
When ready to roast, position a rack in the upper third of the oven and preheat to 425 degrees F.  
Drizzle the chicken with the olive oil and sprinkle all over with the Parmesan. Roast until an instant-read thermometer inserted into a thigh reaches 165 degrees F, about 45 minutes. Remove from the oven and let the chicken rest for 15 minutes before carving. Serve on a platter with the roasted carrots, lemon, onion and garlic.
Source: Read Full Article