Every Single Summer Salad Recipe You'll Ever Need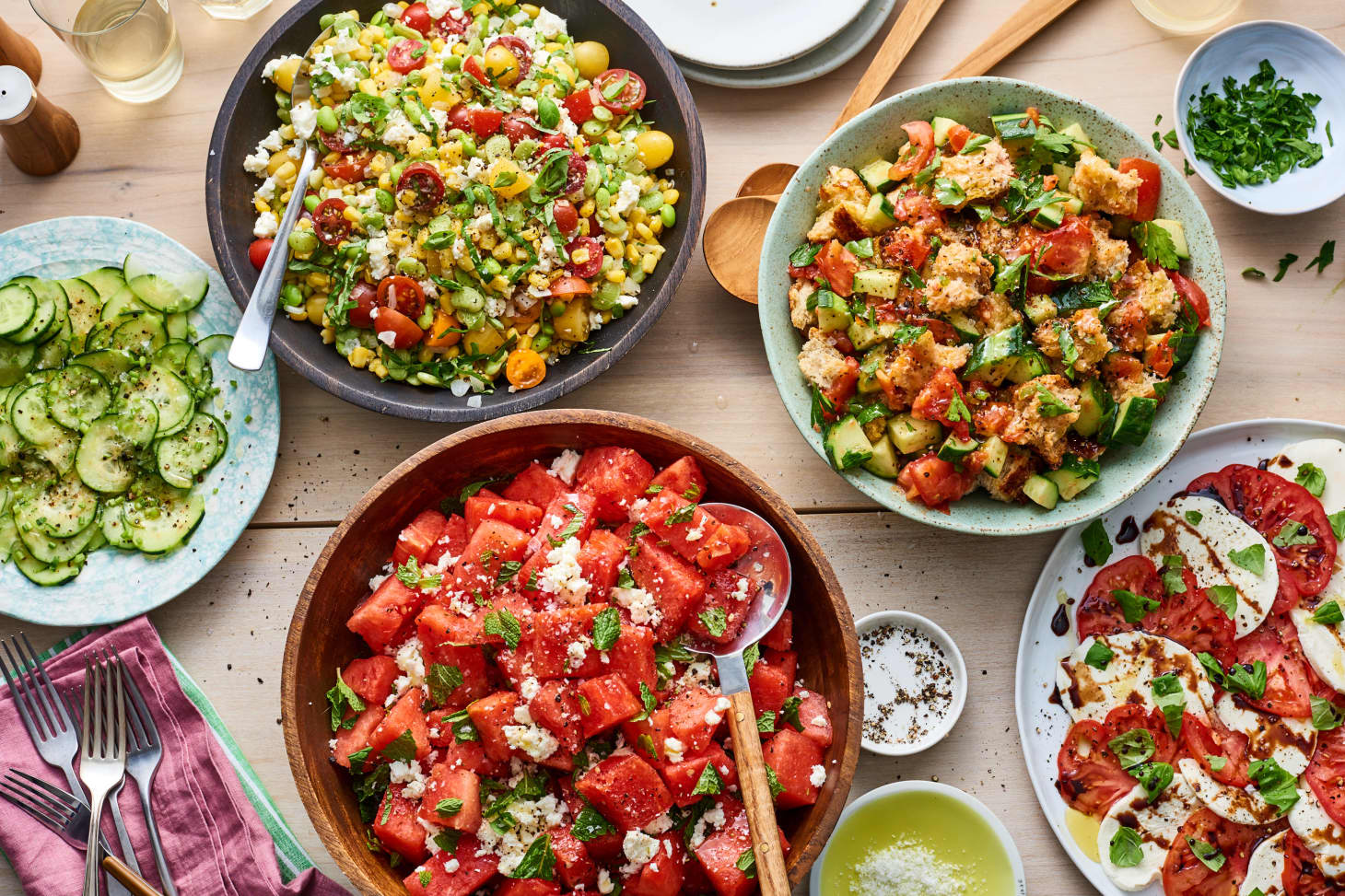 If you ask me, there isn't a more satisfying, delicious, or easy way to take advantage of the bounty of summer produce at our fingertips than with a big ol' salad. Truly, there is a salad for all occasions or any vegetables you picked up at the farmers market or received in your weekly CSA box.
From summer classics that highlight the season's superstars (like cucumber, corn, and tomato salads) and potluck favorites, to tangy slaws and can't-miss fruit salads, we've got them all right here.
Cucumber Salads
The Easiest Tangy Cucumber Salad
Sour Cream and Dill Cucumber Salad
Pineapple-Cucumber Salad
Cucumber Caprese Salad
Herbed Smashed Cucumbers
Spicy Korean Cucumber Salad
Chilled Lemon-Dill Cucumber Noodles
Saucy Chili-Garlic Cucumber Noodles
Chilled Cucumber Noodles with Sesame Dressing
Corn Salads
Esquites (Mexican Corn Salad)
Fresh Corn Salad with Tomato, Basil, and Feta
Summer Corn Salad
Corn and Zucchini Salad with Chives
Succotash Salad
Tomato Salads
Tomato Salad with Red Onion, Dill and Feta
Heirloom Tomato Salad with Pomegranate-Sumac Dressing
Tomato Chickpea Salad
Tomato and Feta White Bean Salad
How To Make Easy Caprese Salad with Balsamic Glaze
Avocado Caprese Salad
Tangy Slaws
How To Make Classic Creamy Coleslaw
Tangy Cabbage and Jalapeño Slaw
Kohlrabi and Carrot Slaw
Peanut, Carrot and Cabbage Slaw
Sesame Ginger Slaw
Easy Taco Slaw
Tri-Color Slaw with Lime Dressing
Shredded Cabbage and Sweet Potato Slaw
Tangy Carrot Slaw
Cilantro-Jalapeño Jicama Slaw
Crunchy Cabbage & Ramen Noodle Salad
Kale Slaw
Napa Cabbage & Kale Coleslaw with Creamy Miso-Ginger Dressing
Panzanella Salads
How To Make Panzanella (Italian Bread Salad)
Flank Steak Panzanella
Greek Panzanella
Panzanella with Mint and Anchovy
Spicy Panzanella Salad
Fruit Salads
Esquites-Inspired Watermelon Salad
Berry Pineapple Fruit Salad
Mango and Papaya Fruit Salad
Red Fruit Salad with Lemon-Vanilla Bean Syrup
Easiest Summer Fruit Salad
Rainbow Fruit Salad
Tropical Fruit Salad With Creamy Lime Sauce
Cantaloupe Salad with Basil, Fresh Mozzarella & Onions
Potato Salads
How To Make the Best Classic Potato Salad
Potato Salad with Yogurt, Arugula, and Dill
Bacon-Lovers' Potato Salad
Potato Salad with Lemon Tahini & Dill Dressing
Cheezy Potato Salad
Buttermilk Ranch Potato Salad
Mixed New Potato Salad with Basil and Shallots
Southern Smashed Potato Salad
Smoked Trout & Potato Salad with Buttermilk Vinaigrette
Red Potato Salad with Scallions & Radishes
Tomato & Mozzarella Potato Salad with Lemon-Buttermilk Dressing
Miso Potato Salad with Yellow Wax Beans
Bean and Lentil Salads
Three Bean Salad
Tomato and Feta White Bean Salad
Mung Bean Salad With Corn and Basil
White Bean & Roasted Vegetable Salad
Chilled Black Bean, Feta & Cucumber Salad
3-Bean Israeli Couscous Salad
Carla Hall's Black-Eyed Pea Salad with Hot Sauce Vinaigrette
Cold Lentil Salad with Cucumbers and Olives
Colorful Lentil Salad with Walnuts & Herbs
Grain Salads
Tex-Mex Quinoa Salad
Quinoa Tabbouleh
Tuna & Cucumber Quinoa Salad with Honey Mustard Vinaigrette
Quinoa and Black Bean Salad with Orange-Coriander Dressing
Summer Vegetable Grain Salad
Spring Grain Salad with Asparagus & Meyer Lemon
Farro Salad with Roasted Eggplant, Caramelized Onion, and Pine Nuts
Warm Beet and Farro Salad
Grain Salad with Tomatoes, Corn and Basil
Minted Summer Couscous with Watermelon and Feta
Couscous Salad with Cucumber, Red Onion & Herbs
Source: Read Full Article