Gooey Chocolate Salted Caramel Pretzel Brownie
Total:

2 hr 15 min

(includes cooling time)

Active:

25 min
Ingredients
Brownies:
Caramel:
Directions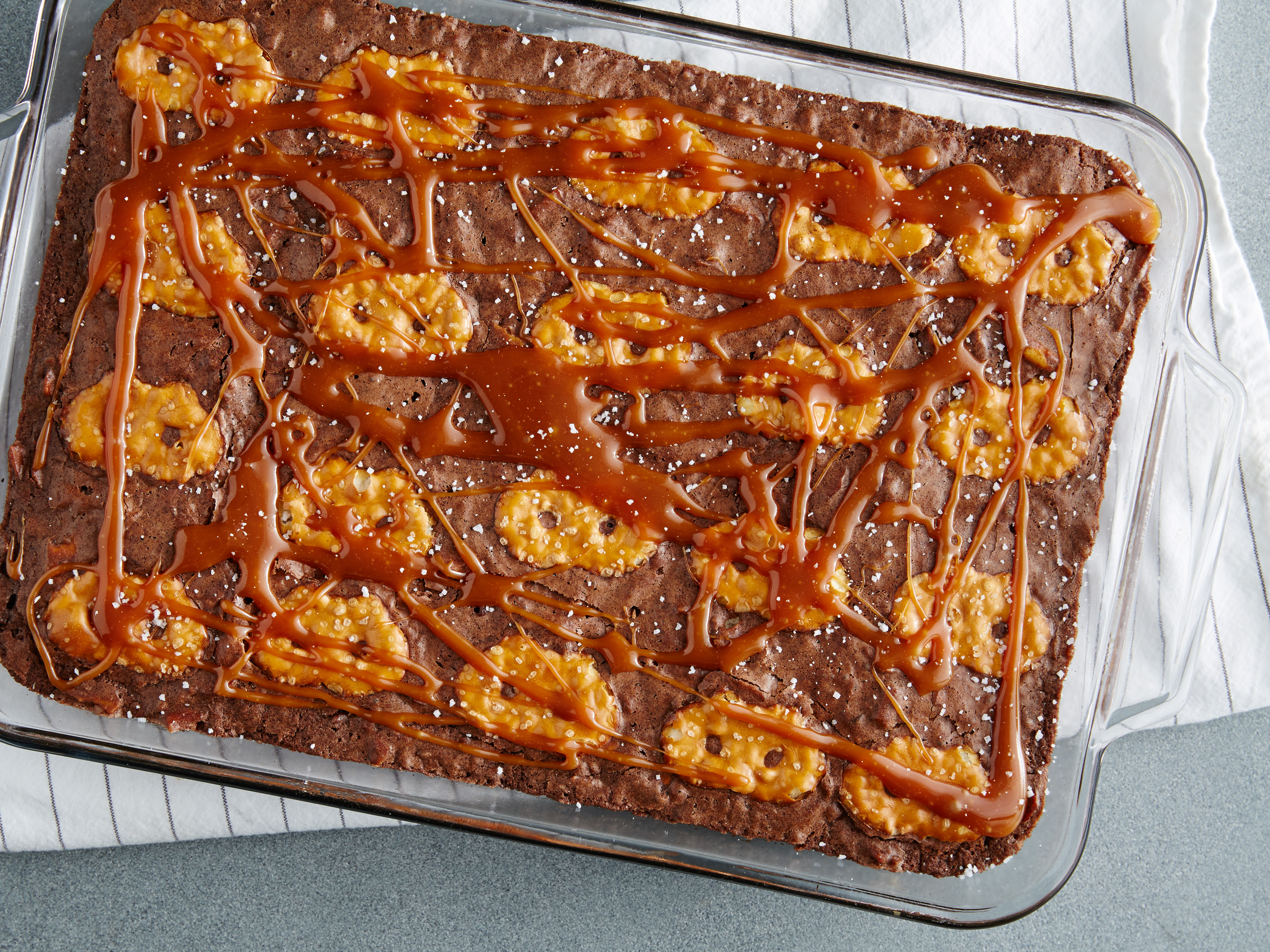 For the brownies: Preheat the oven to 325 degrees F. Spray a 9-by-13-inch glass baking dish with cooking spray.
Whisk together the brownie mix and cayenne in a large bowl. Add the vegetable oil, eggs and 1/2 cup water and stir until just combined; do not overmix. Stir in the crushed pretzels. Spread the mixture in the prepared dish and top with the whole pretzels in a 4-by-5 grid. Bake until the brownies are puffed and a tester inserted about 2 inches from the edge comes out with a few crumbs, 55 minutes to 1 hour. Let cool on a rack.
For the caramel: Put the sugar in a small saucepan, drizzle with 2 tablespoons water and set over medium heat. Cook, without stirring, until the sugar melts. Continue to cook, swirling the pan occasionally so the edges don't burn, until the sugar syrup is a dark amber, about 8 minutes.
Whisk in the butter, then the cream. Return to a simmer, just to combine, then remove from the heat. Whisk in the vanilla. Pour the caramel into a spouted glass measuring cup and let cool until the mixture is thick enough to drizzle, 3 to 4 minutes.
Drizzle the caramel over the brownies and sprinkle lightly with the coarse salt. Let cool completely in the baking dish before cutting into squares, each with a whole pretzel on top. Serve topped with whipped cream.
Source: Read Full Article