Orzo Salad
Prep:

10 min

Inactive:

20 min

Cook:

10 min
Ingredients
4 cups chicken broth
1 1/2 cups orzo
1 (15-ounce) can garbanzo beans, drained and rinsed
1 1/2 cups red and yellow teardrop tomatoes or grape tomatoes, halved
3/4 cup finely chopped red onion
1/2 cup chopped fresh basil leaves
1/4 cup chopped fresh mint leaves
About 3/4 cup Red Wine Vinaigrette, recipe follows
Salt and freshly ground black pepper
Red Wine Vinaigrette:
1/2 cup red wine vinegar
1/4 cup fresh lemon juice
2 teaspoons honey
2 teaspoons salt
3/4 teaspoon freshly ground black pepper
1 cup extra-virgin olive oil
Directions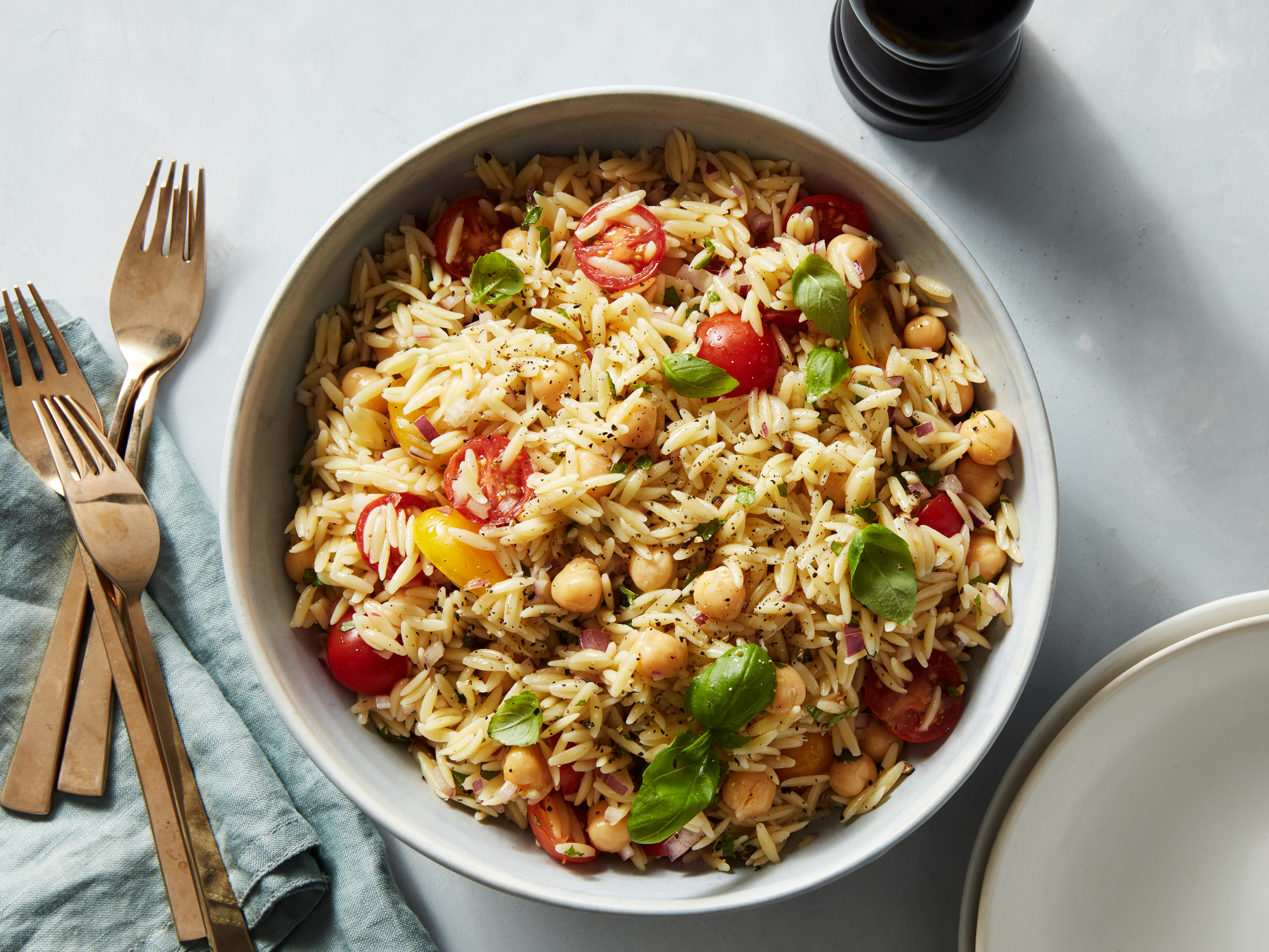 Pour the broth into a heavy large saucepan. Cover the pan and bring the broth to a boil over high heat. Stir in the orzo. Cover partially and cook until the orzo is tender but still firm to the bite, stirring frequently, about 7 minutes. Drain the orzo through a strainer. Transfer the orzo to a large wide bowl and toss until the orzo cools slightly. Set aside to cool completely.
Toss the orzo with the beans, tomatoes, onion, basil, mint, and enough vinaigrette to coat. Season the salad, to taste, with salt and pepper, and serve at room temperature.
Red Wine Vinaigrette:
Mix the vinegar, lemon juice, honey, salt, and pepper in a blender. With the machine running, gradually blend in the oil. Season the vinaigrette, to taste, with more salt and pepper, if desired.
Yield: 1 3/4 cups
Source: Read Full Article