Oven-Baked Short Ribs with Porter Beer Mop
Total:

3 hr 45 min

Active:

45 min
Ingredients
Ribs:
Porter Beer Mop:
Directions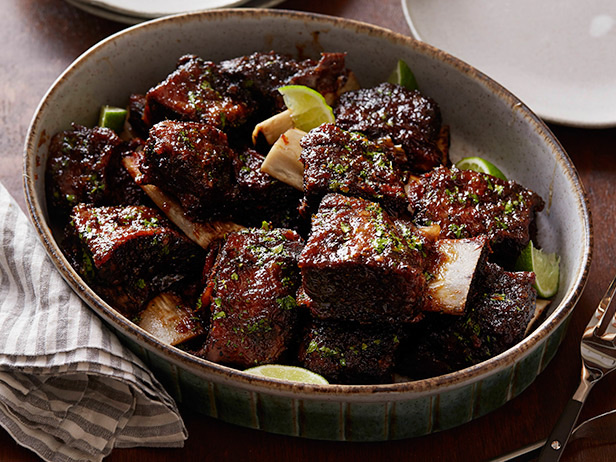 For the ribs: Preheat the oven to 325 degrees F.
Trim any gristle from the ribs and cut them into two-rib portions. Rub each piece with the salt, and sprinkle with the pepper and thyme. Arrange the ribs in a large roasting pan, add 1/4 cup water, the dried chiles and ginger, cover tightly and bake until tender when poked with a fork, about 3 hours.
For the porter beer mop: Meanwhile, in a food processor, combine the serrano chile, onions, ginger and salt, and process until smooth.
Heat a large saute pan over medium heat and add the butter. Add the onion mixture to the pan and cook, stirring often, until caramelized, a shade darker and fragrant, about 10 minutes. Add the porter, molasses, brown sugar and maple syrup, and cook at a simmer until the mixture thickens but is still saucy, 10 to 15 minutes. Add the cilantro, lime zest and juice and a bit of the pan juices.
To glaze the ribs, raise the oven temperature to 450 degrees F. (You may also glaze these ribs over a medium-hot grill.)
Brush the mop on both sizes of the ribs and roast, stopping to reapply the mop, until you've used it all and the ribs are coated with shiny black glaze, about 10 minutes.
Source: Read Full Article