Recipe: Vegetarian Stuffed Sweet Potatoes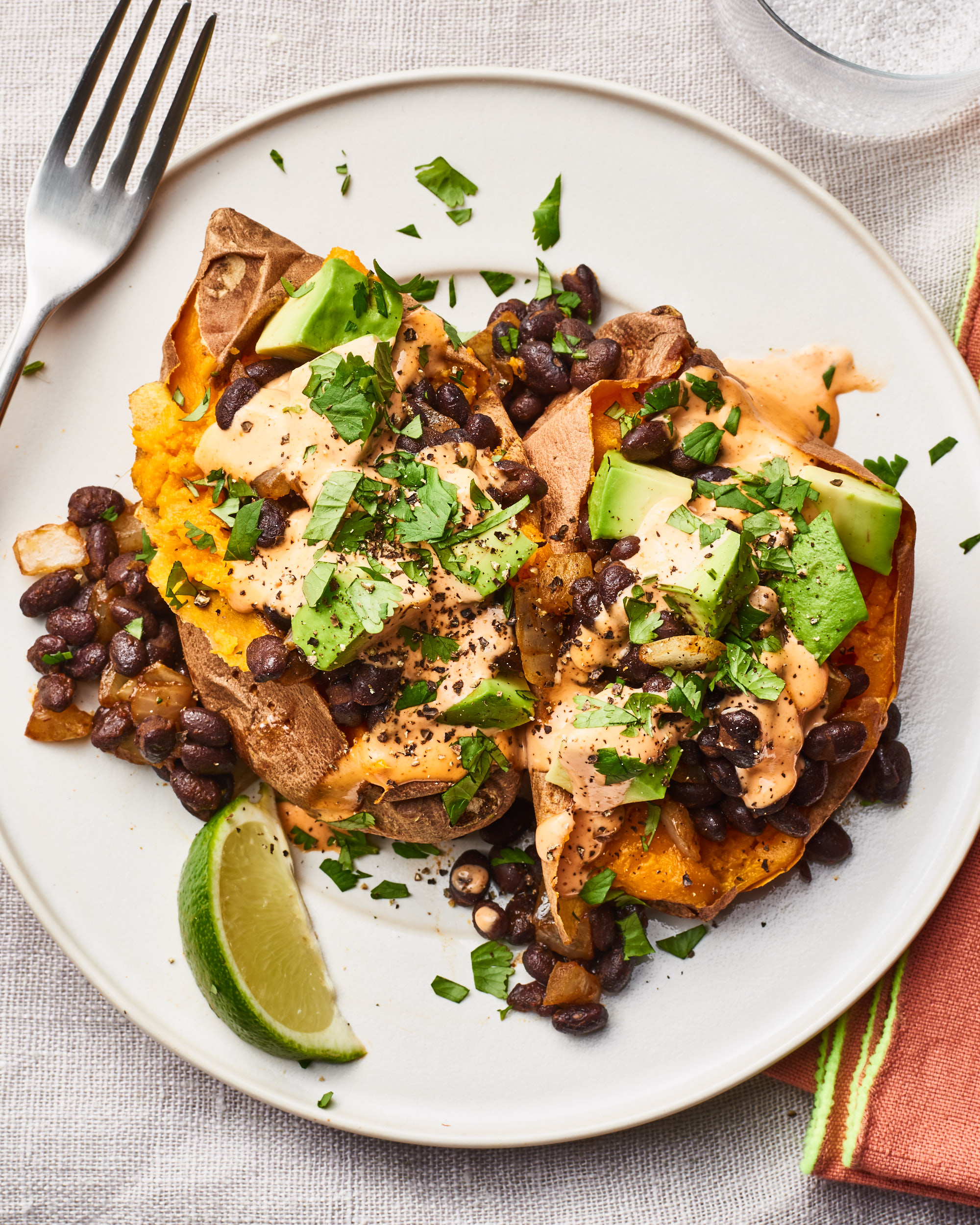 I enjoy sweet potatoes so much that I'd happily make a one-ingredient dinner out of them (cue a giant plate of sweet potato fries, please). But we all know balance is a good thing, and a little protein plus some savory flavor can transform the humble sweet potato into one incredible main.
These stuffed sweet potatoes are exactly what I want to eat all of the time. They're vegetarian, but don't feel like a compromise to meat-eaters (which is a big plus when you've got a carnivore in the family). They're budget-friendly, thanks to just a short list of simple ingredients. And they're extra wholesome — full of feel-good ingredients that satisfy but won't weigh you down.
One Smart Ingredient Makes These Stuffed Sweet Potatoes Stand Out
A lot of stuffed sweet potato recipes call for so many ingredients that they end up feeling fussy for something that's supposed to be pretty modest. This recipe, however, is one I can get behind. You'll need just a few basic ingredients, one of which transforms the dish into something special: a tiny can of chipotles in adobo.
A chopped chile and some of the can's sauce bring smoky heat to black beans, while a little more of the sauce kicks up plain Greek yogurt for a spicy chipotle yogurt. A little can goes a long way, too, since you don't need much of its contents to add flavor. Freeze the rest so you can put this easy dinner on repeat.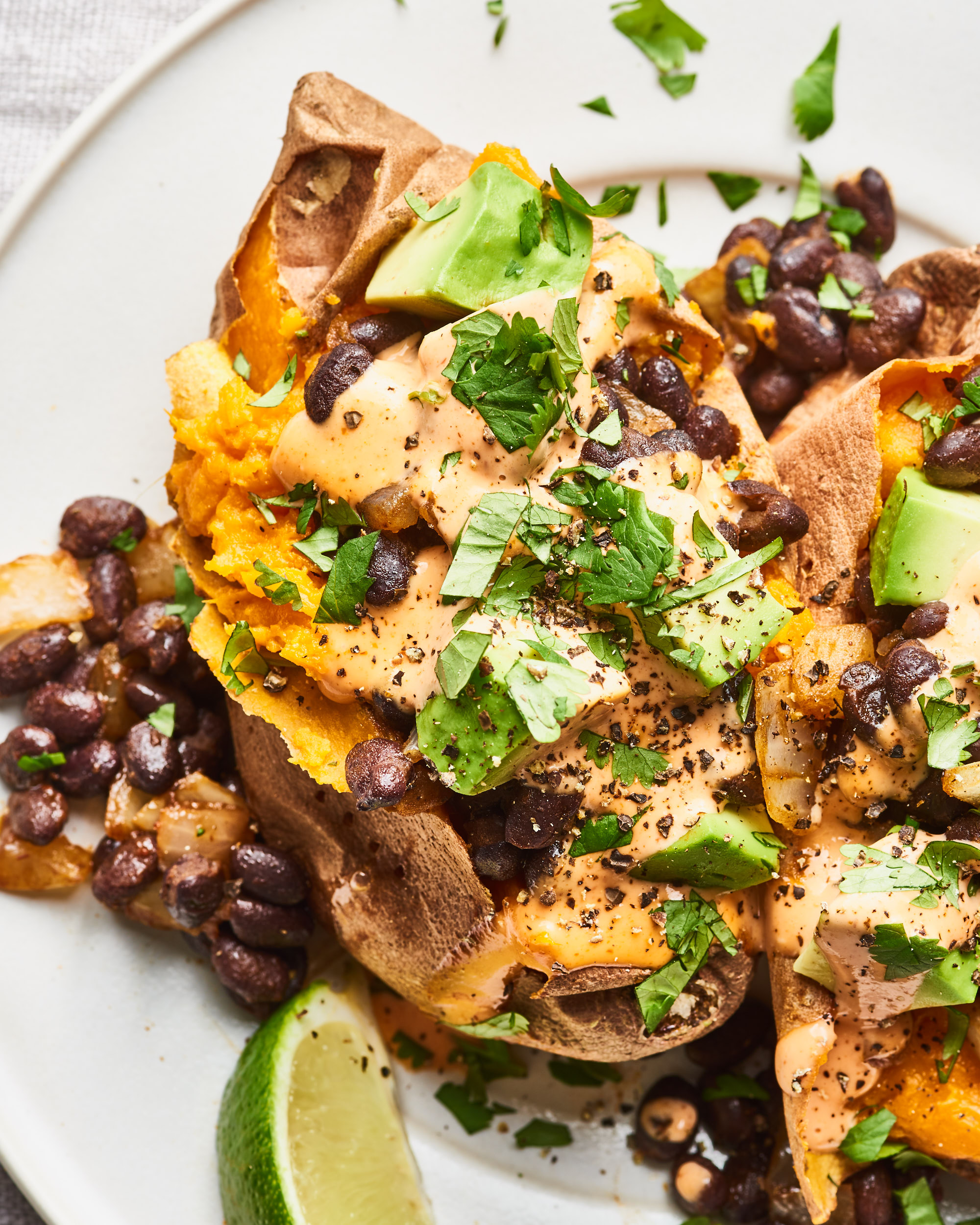 Vegetarian Stuffed Sweet Potatoes
Ingredients
4

large sweet potatoes (about 2 pounds total), scrubbed and patted dry

2

tablespoons

olive oil

1

small yellow or white onion, finely chopped

1/2

teaspoon

kosher salt

1

(15-ounce) can

black beans, drained and rinsed

1/4

cup

water

1

finely chopped canned chipotle in adobo chile

1

tablespoon

plus 2 teaspoons sauce from can of chipotles in adobo, divided

1

medium lime, halved, divided

1/2

cup

whole-milk plain Greek yogurt

1

medium avocado, diced

2

tablespoons

chopped fresh cilantro leaves and tender stems
Instructions
Arrange a rack in the middle of the oven and heat to 425°F. Line a rimmed baking sheet with aluminum foil. Prick each sweet potato in four or five spots with a fork. Place them on the baking sheet and bake until very tender, about 1 hour. Meanwhile, make the chipotle black beans.

Heat the olive oil in a large skillet over medium heat until shimmering. Add the onion and cook, stirring occasionally, until softened and translucent, 3 to 5 minutes. Stir in the salt.

Add the beans, water, chipotle chile, and 1 tablespoon of the adobo sauce. Cover and reduce the heat to maintain a simmer. Cook for 5 minutes. If there's any remaining water in the pan, simmer the mixture uncovered until evaporated. Remove from the heat, squeeze in the juice of half the lime, and stir to combine.

Make the chipotle yogurt by stirring the Greek yogurt and remaining 2 teaspoons adobo sauce together in a small bowl.

Once the sweet potatoes are cool enough to handle, cut them in half lengthwise, leaving the bottom intact. Create a pouch for the filling by gently pushing the ends of the sweet potato toward each other. Divide the black bean filling over the sweet potatoes. Top with diced avocado, chipotle yogurt, and chopped cilantro. Squeeze the remaining half of the lime over the sweet potatoes and serve.
Recipe Notes
Make ahead: The sweet potatoes can be baked a day ahead, stored in the refrigerator, and reheated in the microwave or oven before stuffing.
Storage: Leftovers can be stored in an airtight container in the refrigerator for up to 5 days.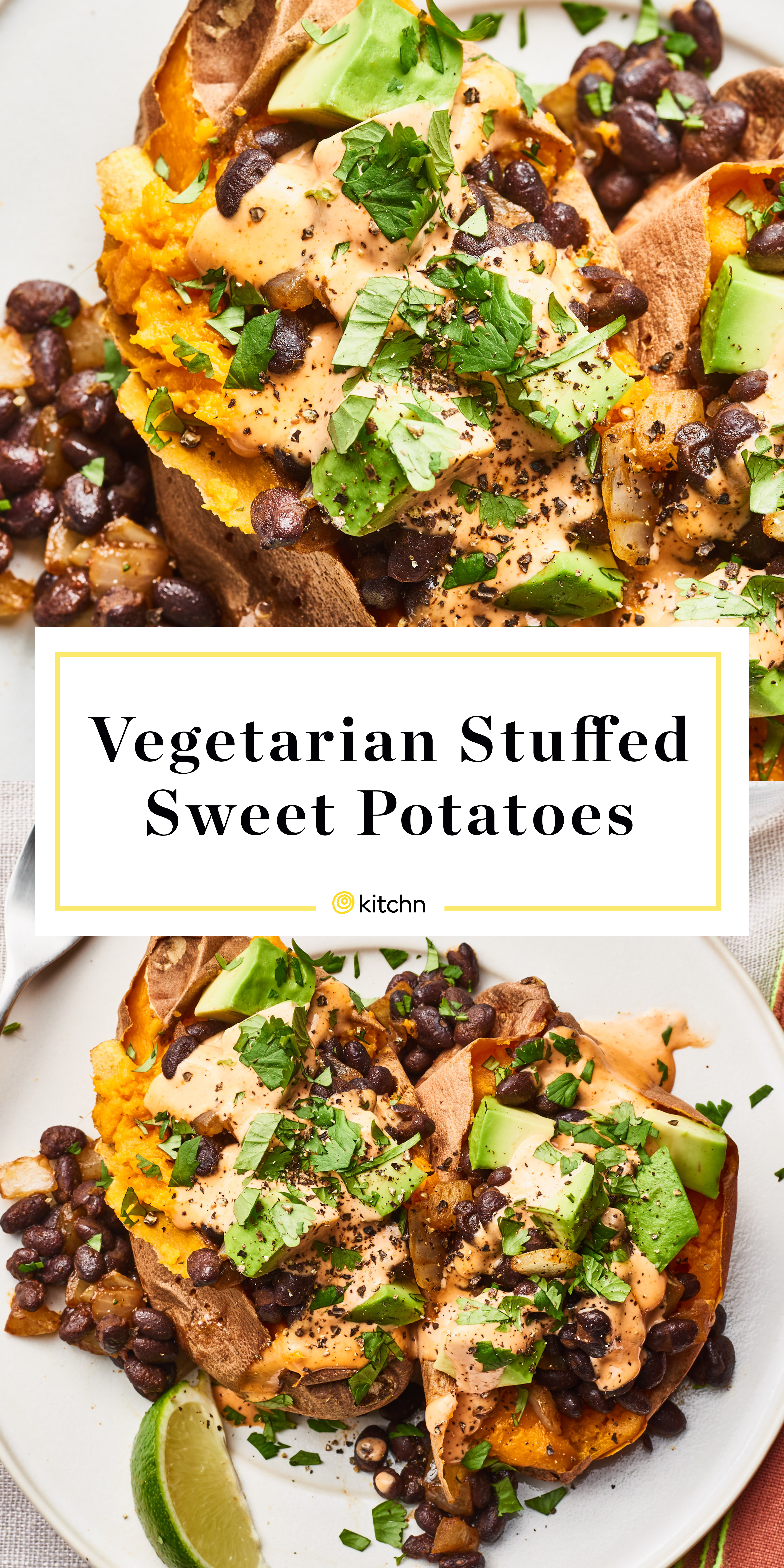 Source: Read Full Article