Spicy Braised Short Ribs with Polenta
Total:

3 hr 30 min

Active:

1 hr
Ingredients
Short Ribs:
Polenta:
Directions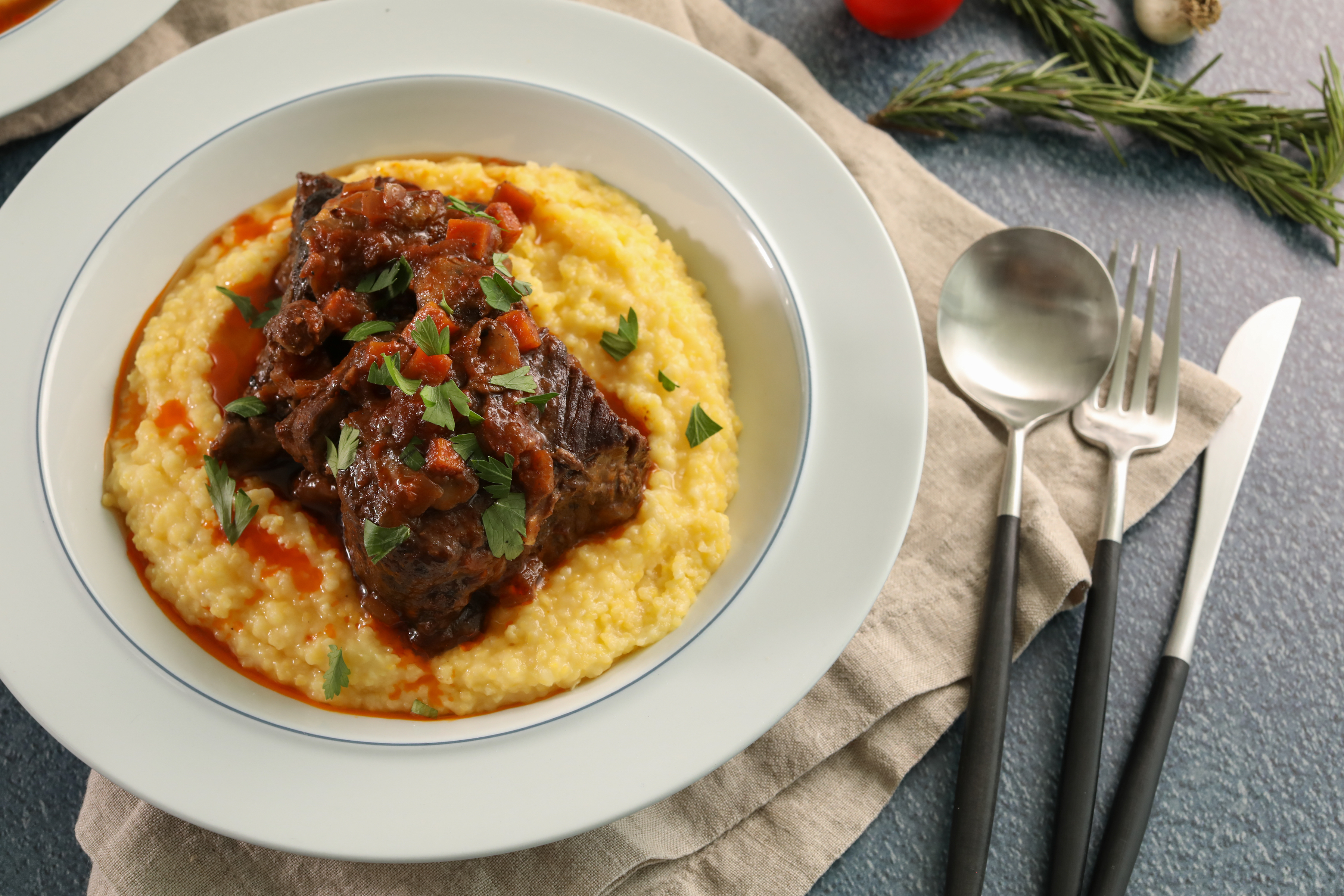 For the short ribs: Preheat the oven to 325 degrees F.
Heat the oil in a large heavy-bottomed pot or Dutch oven over medium-high heat. Sprinkle the short ribs generously with salt and pepper, then add them to the pot and brown on all sides until golden, about 8 minutes. Transfer to a plate.  
Add the mushrooms to the drippings in the pot and cook, stirring occasionally, until softened and all the water has cooked out, about 8 minutes. Add half the garlic and continue to cook, stirring frequently, until the mushrooms are crisp and golden and the garlic is softened, about 3 minutes more. Use a slotted spoon to transfer the mushroom mixture to a bowl; set aside.  
Reduce the heat to medium, add the carrot, onion, rosemary and remaining garlic to the pot and cook, stirring often and scraping up any browned bits from the bottom, until the onions and carrots are softened, about 5 minutes. Pour in the wine and bring to a boil. Cook until slightly reduced, about 3 minutes. Stir in the arrabbiata sauce and 2 cups water and return the short ribs to the pot. Bring to a boil, cover with a tight-fitting lid and transfer to the oven. Cook until the meat is fork-tender, about 2 1/2 hours. 
Remove the meat from the sauce and transfer to a plate. Set the sauce aside to let the braising liquid and fat separate, about 10 minutes, then skim off and discard the fat. Discard the rosemary sprig, stir in the reserved mushrooms and add salt and pepper to taste. If you prefer it spicier, add crushed red pepper as well. Return the short ribs to the sauce and keep warm over low heat. 
For the polenta: Meanwhile, bring the chicken broth to a boil in a medium saucepan over high heat. While whisking constantly, slowly pour the cornmeal into the hot liquid. Stir in 1 1/2 teaspoons salt. Lower the heat to a gentle simmer and cook, stirring frequently, until the cornmeal is creamy and no longer grainy, about 30 minutes. Remove from the heat and stir in the Parmesan and butter.  
Divide the polenta among 6 shallow bowls and top each with a short rib and some sauce. Sprinkle with the parsley.  
Source: Read Full Article