Spinach and Artichoke Stuffed Shells
Total:

1 hr 10 min

Active:

45 min
Ingredients
24 jumbo pasta shells (about 12 ounces)
10 ounces frozen chopped spinach, thawed, drained and squeezed dry 
One 14-ounce can artichoke hearts, drained and roughly chopped
1 cup whole milk ricotta 
8 ounces cream cheese, at room temperature
2/3 cup grated Parmesan
Kosher salt and freshly ground black pepper
1 cup half-and-half
1 cup shredded mozzarella
2 tablespoons olive oil
1/3 cup panko 
1/4 cup chopped fresh Italian parsley, optional
Directions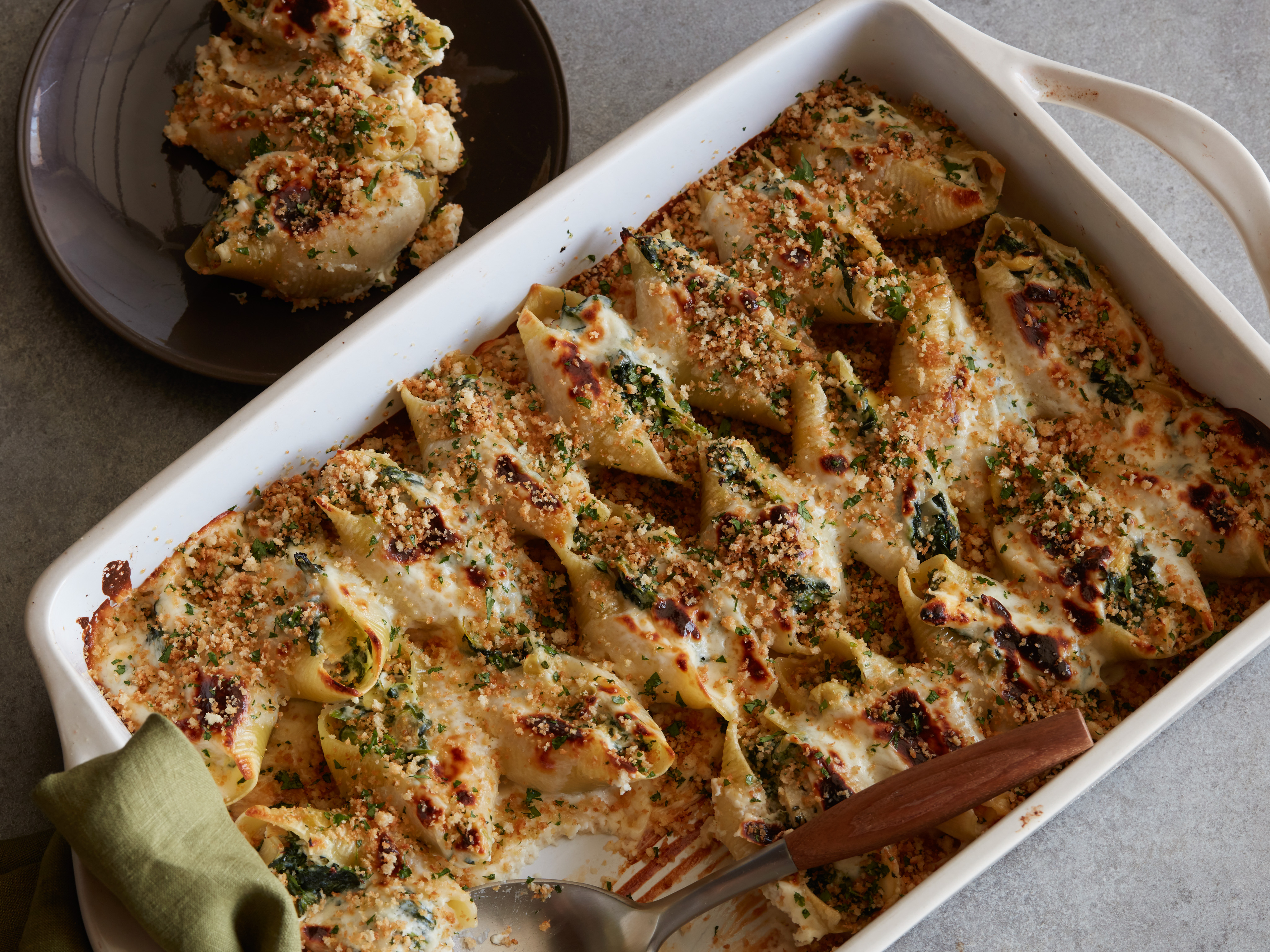 Cook the pasta to al dente according to the package directions. Drain and set aside. Preheat the oven to 425 degrees F.
Mix together the spinach, artichokes, ricotta, 4 ounces cream cheese, 1/3 cup Parmesan, 1 teaspoon salt and a few grinds of black pepper in a medium bowl. Whisk together the half-and-half, mozzarella, remaining 4 ounces cream cheese, remaining 1/3 cup Parmesan and 1 teaspoon salt in a medium microwave-safe bowl until smooth and combined. Heat in the microwave in 30-second increments, stirring between each, until warm and smooth, about 2 minutes. 
Spread 1/2 cup cheese sauce on the bottom of a 9-by-13-inch baking dish. Stuff a heaping tablespoon of the spinach mixture into each shell and arrange them in the baking dish seam-side up. Pour the remaining cheese sauce over the shells, cover with foil and bake until the cheese is melted and bubbling, 13 to 15 minutes. 
Meanwhile, mix the olive oil, breadcrumbs and parsley, if using, in a small bowl until well combined. Remove the foil from the baking dish and sprinkle the mixture over the shells. Bake until the breadcrumbs are golden brown and the cheese is bubbly, about 10 minutes. 
Source: Read Full Article