Stuffed Sloppy Joe Bombs
Total:

2 hr 10 min

(includes cooling and freezing times)

Active:

40 min
Ingredients
Directions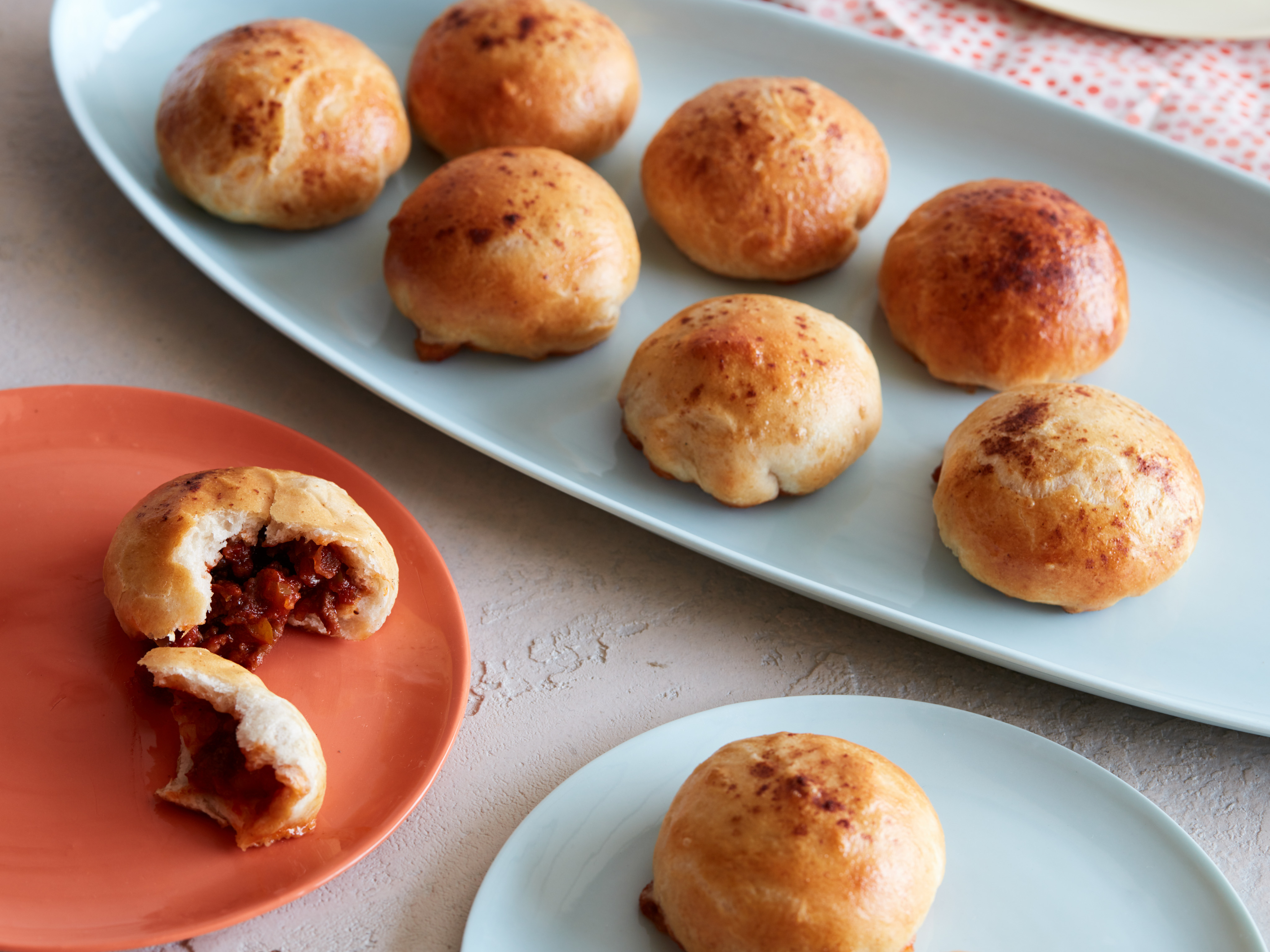 Special equipment:
Put the ground beef in a large nonstick skillet over medium-high heat. Cook the beef, stirring to break it up into the smallest pieces possible, until browned and dry, 3 to 4 minutes. Add the garlic, pepper and onion and cook, stirring, until slightly softened, about 4 minutes. Add the tomato paste and cook, stirring, for 1 minute. Add the ketchup, Worcestershire sauce, sugar, chili powder, dry mustard, paprika and 1/2 cup water and cook, stirring, until the sauce is reduced slightly, about 3 minutes. Let cool to room temperature.
Coat a 24-cup mini muffin tin with nonstick spray. Spoon 1 to 1 1/2 tablespoons of the sloppy joe filling into each of the muffin cups. Freeze until the filling is firm, at least 1 hour.
Preheat the oven to 375 degrees F. Working with one tube of biscuits at a time (so they stay cold), open and separate out the biscuit rounds. (You will need only 12 of the biscuit rounds for this recipe; reserve any remaining rounds for another use.) Using your fingers, gently split a round apart horizontally so you have 2 thinner rounds of dough. Lightly press each thin round into a 3 1/2-inch-wide circle, concentrating on the edge so that it is thinner than the middle. Place a frozen puck of sloppy joe meat filling in the center of each thin round and then fold the edges of the dough over the filling, pinching the dough together to cover completely. (If the meat begins to thaw too much, freeze it along with the dough for 15 minutes and then continue wrapping.) Repeat with the remaining frozen meat filling and 11 more biscuit dough pieces. 
Transfer the stuffed rounds seam-side down to a parchment-lined baking sheet. Brush each with the beaten egg and sprinkle with a pinch of paprika. Bake until golden brown on the outside and the meat inside is warmed through, about 20 minutes.
Source: Read Full Article