Super Summery Corn Gnocchi
Total:

45 min

Active:

45 min
Ingredients
Directions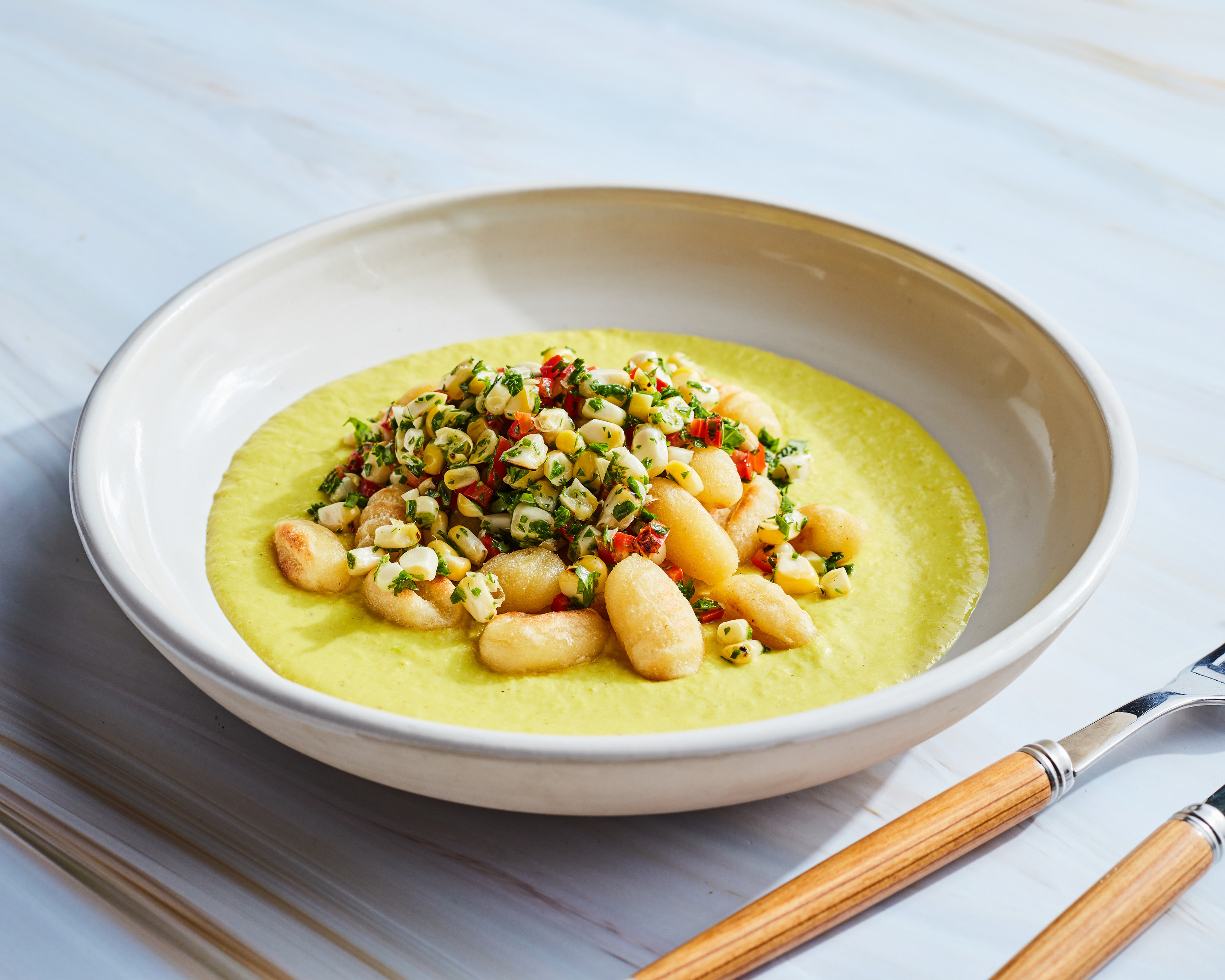 Preheat a grill for cooking at medium heat and lightly oil the grill grates. Grill the corn and chiles, turning every few minutes, until the corn is tender and browned in spots and the chiles are nicely charred, about 8 minutes for the corn and about 4 minutes for the chiles. Transfer to a cutting board and let cool slightly.
When they are cool enough to handle, stem and deseed the chiles (keep some of the seeds if you prefer a spicier dish). Finely chop the chiles and transfer to a medium bowl. Using a sharp chef's knife, cut the kernels off the corn cobs. Using the back of the knife, scrape along the cobs to release the starchy, milky liquid and any remaining kernels. Using a slotted spoon, transfer half the kernels to the same bowl as the chiles and set aside; keep the remaining half of the kernels and the corn "milk" separate. Bring a large pot of water to a boil.  
Meanwhile, heat 1 tablespoon of the olive oil in a medium saucepan over medium-high heat. Add the leeks, a pinch of salt and a couple grinds of pepper and cook, stirring occasionally, until tender, 3 to 4 minutes. Add the garlic, turmeric and coriander and cook until the garlic is tender and the spices are lightly toasted, 1 to 2 minutes more. Stir in the reserved corn kernels and corn "milk" and cook until warmed through. Stir in the broth, half-and-half and 1/2 teaspoon of salt, bring the mixture to a simmer and then remove from the heat.  
Use an immersion blender to puree the corn mixture into a very smooth and creamy sauce. Alternatively, transfer to a blender and blend on high speed until very smooth. Taste and adjust the seasoning with salt and pepper. Keep the corn sauce warm in the saucepan over low heat. 
When the water boils, salt it and cook the gnocchi according to the package directions. Drain well. Heat 2 tablespoons of the oil in a large nonstick skillet over medium-high heat. Place half the gnocchi in the skillet and cook, undisturbed, until golden brown, about 2 minutes. Use a spatula to flip the gnocchi and continue to cook until golden brown and crisp, about 2 minutes more. Transfer to a plate and cover with foil to keep warm. Repeat with the remaining gnocchi. 
Just before serving, stir the basil, parsley, vinegar and remaining 1 tablespoon oil into the reserved corn and chile mixture until combined. Season with a pinch of salt and pepper. Spoon the corn sauce into 4 shallow dinner bowls and place the crispy gnocchi on top. Garnish with the corn and chile salad. 
Source: Read Full Article