The Famous Fudge Bottom Pie Comes with Mystery, Rivalry, and the Story of a Great Chef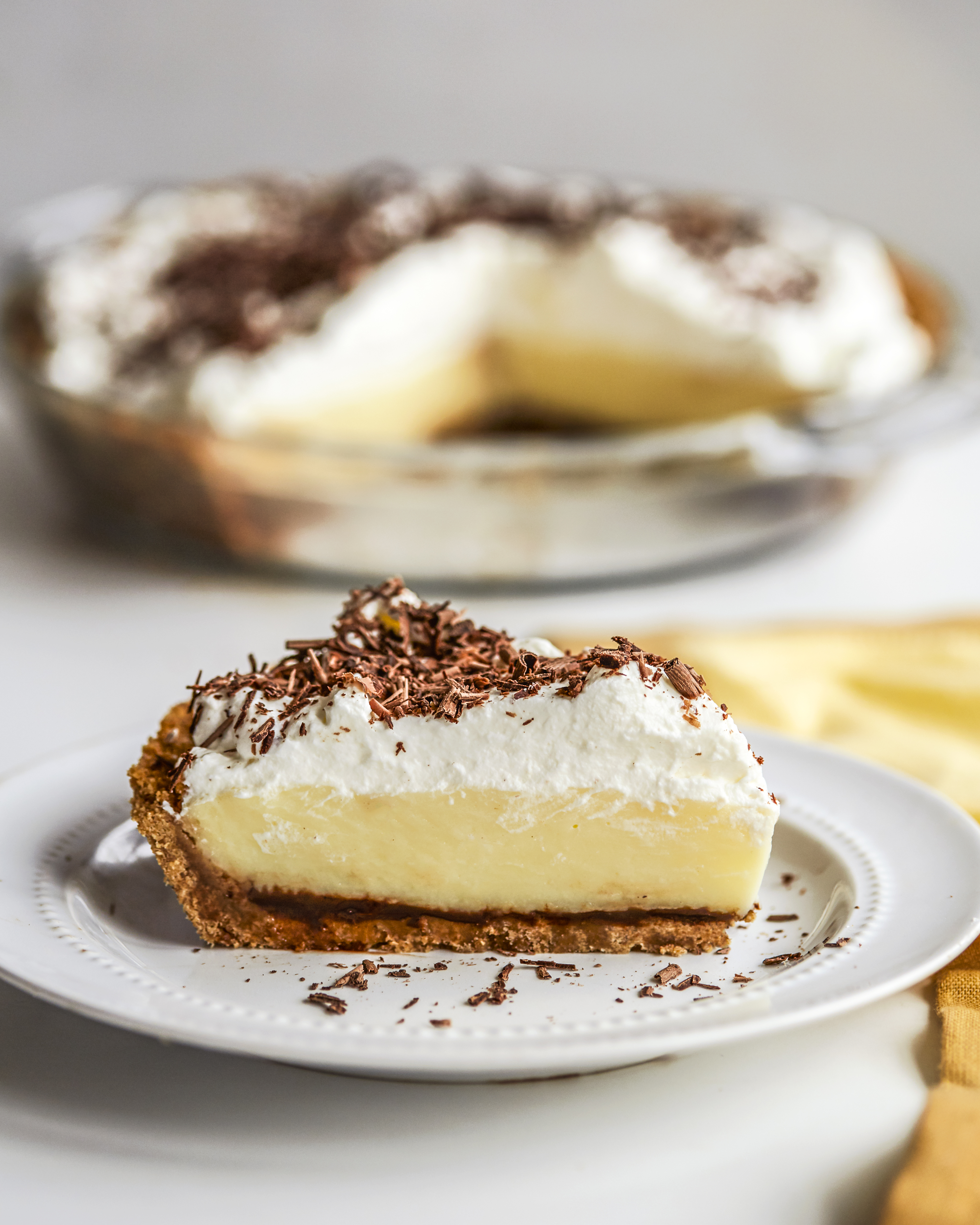 Of all earthly desserts, people have some deep feelings about pie. Pie is a labor of love. Nothing represents home, community, or slowing down to enjoy the small things in life quite like a slice of pie. Pie is not a cupcake; it's meant to be shared, and forces what is now considered a luxurious moment of taking a pause and a seat in order to eat it, with a plate and a fork. And so this Pi Day, I propose we celebrate not just the enjoyment of pie itself, but also what pie represents, and the unique ability of a great pie recipe to hold stories in a way other categories of recipes do not.
One such storied pie is the Fudge Bottom Pie, native to Madison, Wisconsin. An icebox pie with a buttery, sweet-salty graham crust, puddle of fudge, silky layer of vanilla custard, and crowning clouds of sweetened whipped cream, it's a celebration of dairy that lives up to the state's nickname. It's also the kind of dessert whose taste lingers long after you've devoured a slice. Ask the droves of students who've passed through the campus of University of Wisconsin-Madison about their Fudge Bottom Pie memories dating back to the 1940s, and it's enough to make you consider going back to school for another degree.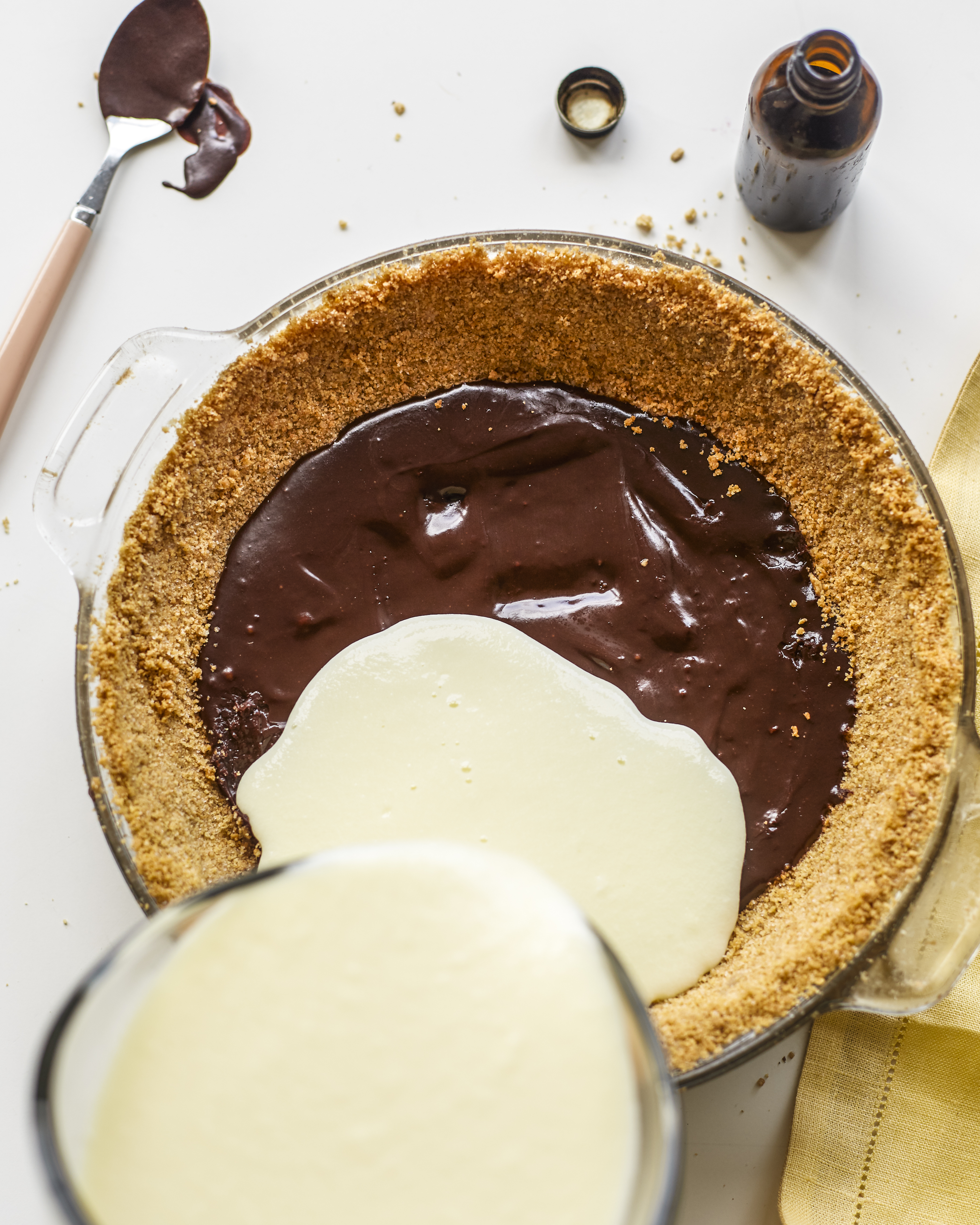 One Pie, Two Stories (and a Bit of Rivalry)
Like any treasured foodstuff, there's a bit of a debate over who first created fudge bottom pie. It's a tale of two pies, if you will, with some gentle college rivalry between the school's Memorial Union and University Housing food programs, which operate as two very separate entities on campus — especially when it comes to this fabled pie.
The Memorial Union Pie: One story of the pie's origins gives recipe credit to Lewis Marston and Maurice Coombs, who were chefs at the Memorial Union in the early 1940s.
Fans of the Union's version wax poetic about it, raving about how the fudge layer on this pie stays truly fudgy up against the creamy-but-sliceable, tender-firm set of the vanilla custard.
That top-secret pie recipe is still served at the Union today. Little can be found about the careers of Marston or Coombs past their time on campus, and since Union staff have a reputation for being tight-lipped about their recipe (I myself found this to be the case), it's hard to say exactly how their version is made.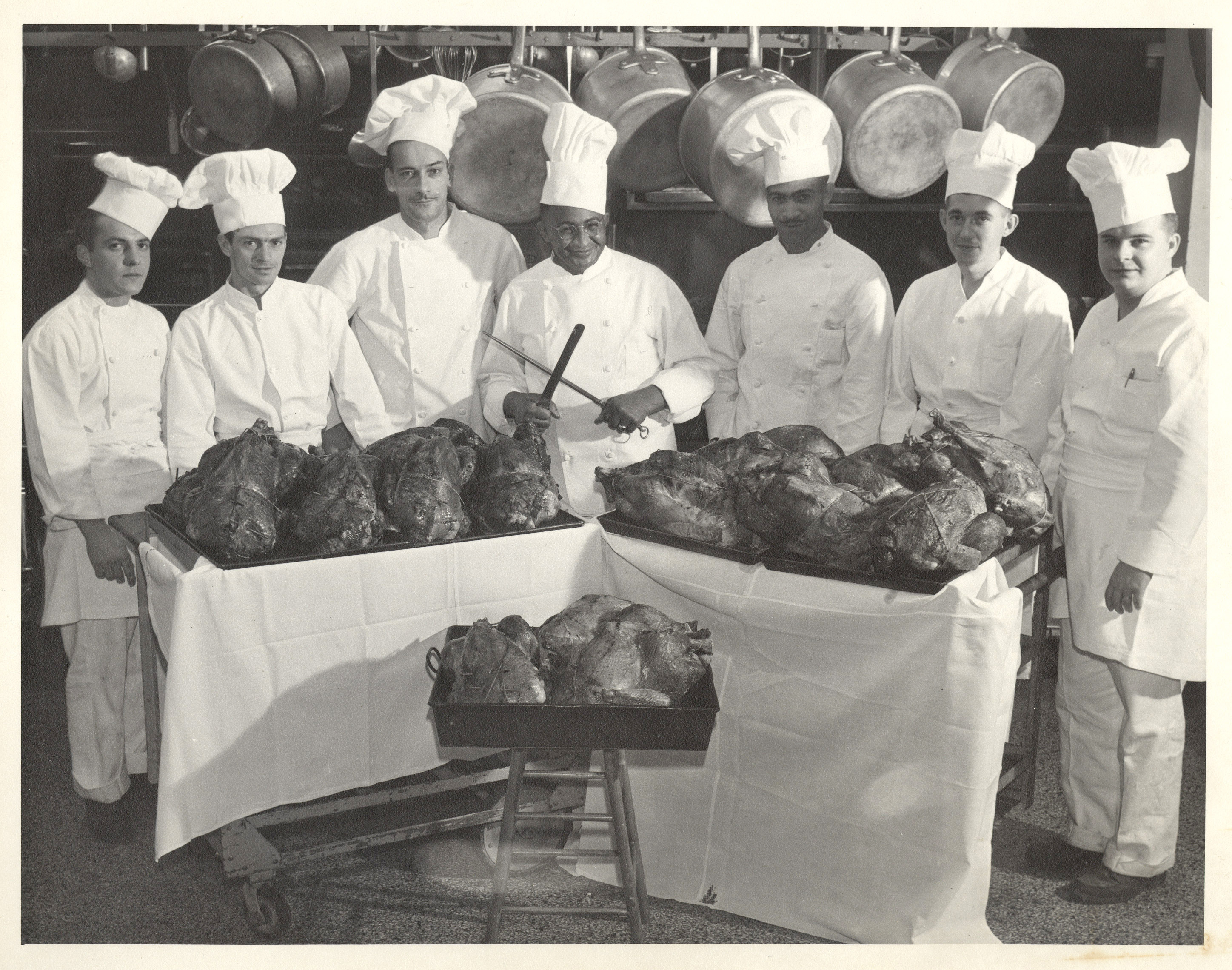 The University Housing Pie: Other stories, however, tap Carson Gulley as the pie's creator. And we will take any excuse to talk about Gulley and nudge you towards his (many) accomplishments. A trailblazing African-American chef who began cooking in the UW-Madison residence halls in 1927, Gulley and his family experienced the rampant segregation and discrimination of the era. Gulley persisted in his career and steadily rose to become head chef of the residence halls.
Gulley's recipes drew raves and gained so much attention that he went on achieve celebrity chef status: In the 1950s he partnered with his wife, Beatrice, to create their own radio show, television show, and cookbooks. His show What's Cookin' was a pioneer of food television well before Julia Child's. He also was a pioneer in the civil rights movement, and used his skill and passions for food to communicate well beyond the table. (Gulley's impact on the history of the university is especially apparent with the school library's extensive Carson Gulley Cookbook Collection, the entirety of which is fantastically searchable online.)
Gulley's legacy is expansive, but the most frequently tasted for students (and us) might just be his recipe for Fudge Bottom Pie — which began appearing on students' meal trays in the residence halls sometime in the early 1940s — credited to him. According to Brendon Dybdahl of the University Housing's marketing department, the pie served in the residence halls today closely adheres to the recipe published in the 1956 cookbook Seasoning Secrets and Favorite Recipes of Carson Gulley.
This Fudge Bottom Pie has a method similar to that of a chiffon pie. A yolk-heavy vanilla custard is stabilized with gelatin and lightened with whipped egg whites, creating a lofty, light filling inside a graham crust made with confectioners' sugar. The fudge layer is created by melting a couple ounces of chocolate and whisking it into a small amount of the vanilla custard, leading to softer-set layers throughout.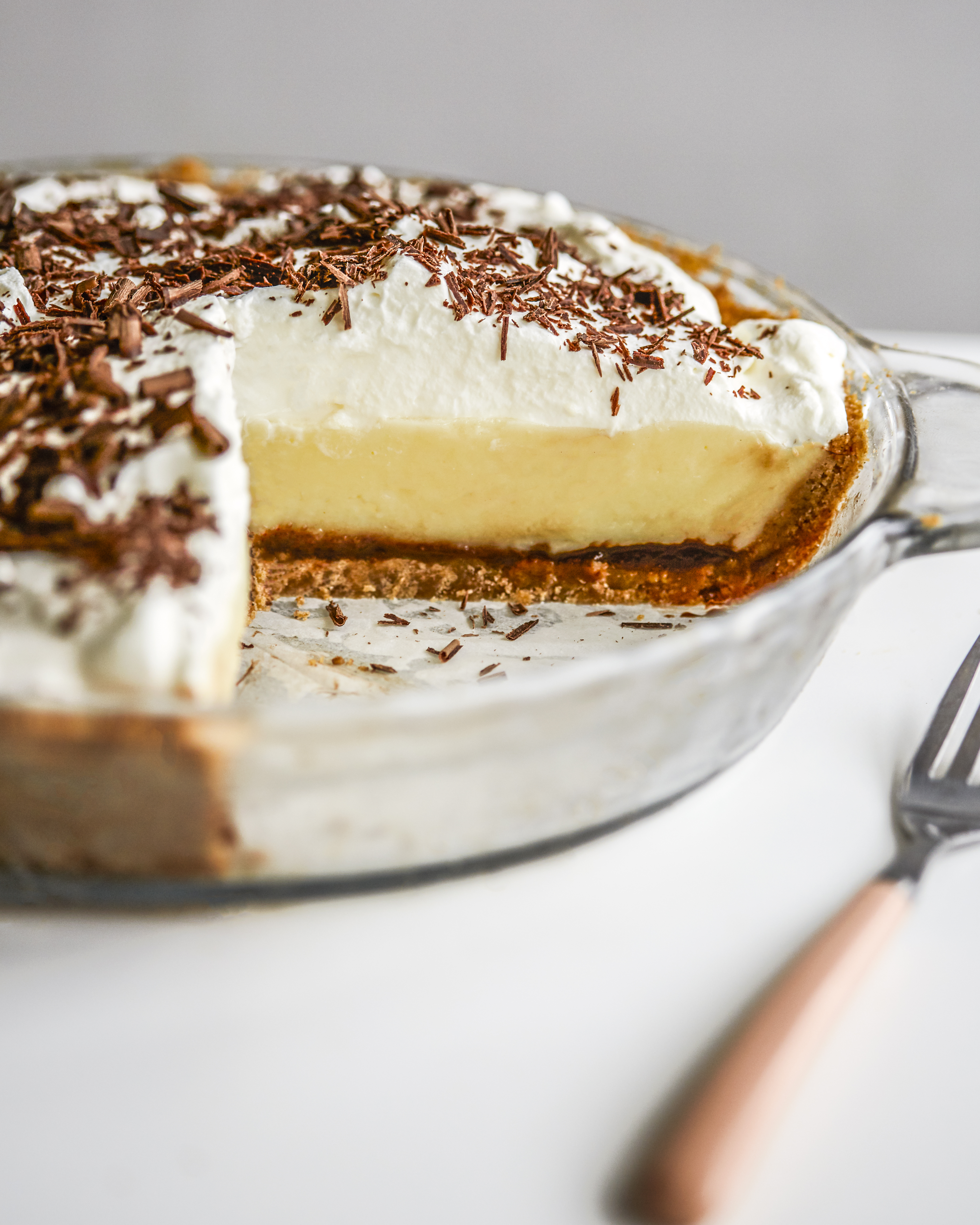 With the additional steps involved (and a need for pasteurized eggs!), this particular pie is indeed a labor of love. In fact, according to Paul Sprunger, current executive chef of the UW-Madison residence halls, many online recipes claim to be Gulley's recipe, but are actually just simplified riffs designed for the home cook. Even the University Housing website itself, alongside some Gulley history, contains one of these streamlined methods. (And we've reprinted that below.)
The Bonafide Fudge Bottom Pie
So which pie is the one true Fudge Bottom Pie, and who is its bonafide creator? Does it matter? They are both wildly delicious. Honestly, with a mingled mouthful of chocolate, custard, and cream, the origins don't matter a bit. So you can take your pick between the two recipes: Gulley's light and lovely chiffon version, or this slightly quicker version that mimics the textural bliss of the one served at the Union, and is truly easy as pie.
Like in all good university rivalries, both sides give fans something to cheer about.
Tester's Note
It's hard not to love the story behind this pie. It tastes like nostalgia, even if you, like me, aren't a University of Wisconsin-Madison alum (where they still serve the pie by the slice in the cafeteria today). It's creamy, decadent, and has just enough chocolate to keep things interesting. The university's recipe was lacking detail, so I added some for clarity and to ensure you have success. I also opted for a deep-dish pie pan instead of a regular one to accommodate all the luscious vanilla pudding filling. You'll need the filling to be completely set in order to cut a clean slice, so make sure the pie is well-chilled before you top it with whipped cream.
–Sheela, March 2019
Fudge Bottom Pie
Ingredients
For the crust:
1 1/2

cups

graham cracker crumbs (or 12 whole graham crackers, broken into 1-inch pieces and processed into fine crumbs in a food processor)

1/4

cup

granulated sugar

6

tablespoons

unsalted butter, melted
For the fudge layer:
4

ounces

semisweet chocolate

3

tablespoons

granulated sugar

3

tablespoons

water
For the cream filling:
2

tablespoons

cornstarch

1

cup

granulated sugar

1/8

teaspoon

salt

7

large egg yolks, beaten

4

cups

cold whole milk

1/2

teaspoon

vanilla extract
For the topping:
1

cup

cold heavy whipping cream

1

tablespoon

powdered sugar, sifted

1/2

teaspoon

vanilla extract

1

(1-ounce) piece

semisweet chocolate, grated or shaved
Instructions
Make the crust:Arrange a rack in the middle of the oven and heat to 350°F. Place all the ingredients in a medium bowl and stir to combine. Transfer to a 9-inch deep dish pie plate and press the crust firmly into the bottom and up the sides of the plate. Bake until lightly golden brown, about 8 minutes. Remove from the oven and set aside to cool while you make the fudge layer.

Make the fudge layer: Melt the chocolate in a small saucepan over low heat. Add the sugar and water and stir to combine. Bring to a boil, stirring constantly, until the sugar is completely dissolved and the mixture is slightly thicker than hot fudge, 2 to 3 minutes. Pour over the bottom of the baked crust and spread into an even layer. Refrigerate while you make the filling.

Make the cream filling: Place the cornstarch, sugar, salt, and eggs in a large saucepan and stir to combine. Place over medium-low heat and slowly add the milk. Stir constantly until the mixture boils, 8 to 10 minutes. Continue to stir until the mixture thickens, coats the back of the spoon, and no starch taste remains, 5 to 7 minutes more. Remove from the heat and let cool to room temperature, 20 to 30 minutes. Stir in the vanilla. Pour over the fudge layer and spread into an even layer. Refrigerate until the filling is set and very firm, at least 5 hours and up to 24.

Make the topping: Place the cream, sugar, and vanilla in a large bowl or bowl of a stand mixer fitted with the whisk attachment. Whip by hand with a whisk or on medium speed until stiff peaks form. Spread on top of the pie. Garnish the pie with grated or shaved chocolate.
Recipe Notes
Make ahead: The crust can be filled without the whipped cream topping up to 1 day in advance. Prepare the whipped cream and top the pie with it and the shaved chocolate just before serving.
Storage: Store leftovers, loosely wrapped in plastic wrap, in the refrigerator for up to 2 days.
Recipe adapted and printed with permission from University of Wisconsin-Madison. See the original Fudge Bottom Pie recipe here.
Source: Read Full Article