This Low-Carb Keto Pizza Crust Is Made of Cheese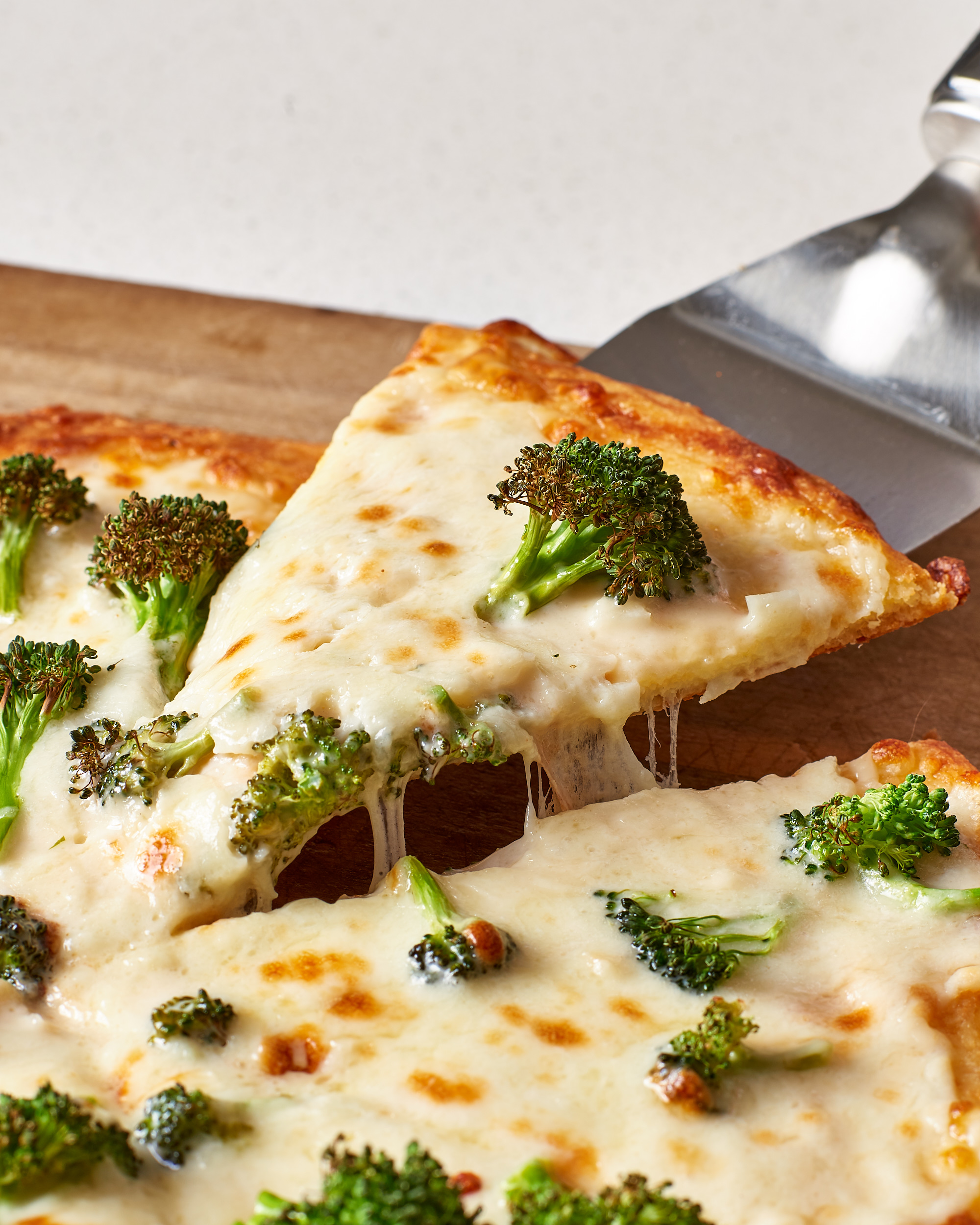 Fathead pizza crust is pizza crust made from cheese. Let that sink in a minute. Pizza crust made from cheese.
When I first discovered this high-protein, keto, gluten-free phenomenon, I was both mystified and baffled. Could this crust really be as crisp and crave-worthy as a real-deal, gluten-full pizza crust?
The answer is a resounding hell yes! Fathead pizza crust is faster and easier than traditional pizza crust, and bakes up crusty, savory, and absolutely delicious. If you're looking for a low-carb pizza option, you've found it. Here's how to make this amazing pizza crust alternative with just four ingredients.
What the Heck Is Fathead Pizza Crust?
This is the exact question my husband asked as he reached for a third slice. Fathead pizza crust was born from the Fat Head documentary, in which Tom Naughton explores how a low-carb, high-fat diet might improve everything from cholesterol to heart disease. Fathead, like Atkins and other low-carb diets, was a precursor to the now popular ketogenic diet.
Don't get too caught up in the origins of this pizza crust, though, because even if you're not following a low-carb diet, this pizza dough is so smart and delicious. This is a pizza dough that I would absolutely make regularly, not just when I'm out of flour for traditional pizza dough or serving gluten-intolerant guests.
Read more: What Is the Ketogenic Diet, and Why Are We Talking About It?
Almond or Coconut Flour?
You'll see that the recipe below calls for either almond flour or coconut flour in different amounts. Almond flour is the first choice, as it makes the pizza taste more like traditional pizza crust. Coconut flour is a nice alternate because it is inexpensive and obviously good for anyone with a nut allergy. It is significantly more absorbent, so you'll need less of it. And coconut flour will give a slightly sweeter, more coconut-tasting crust.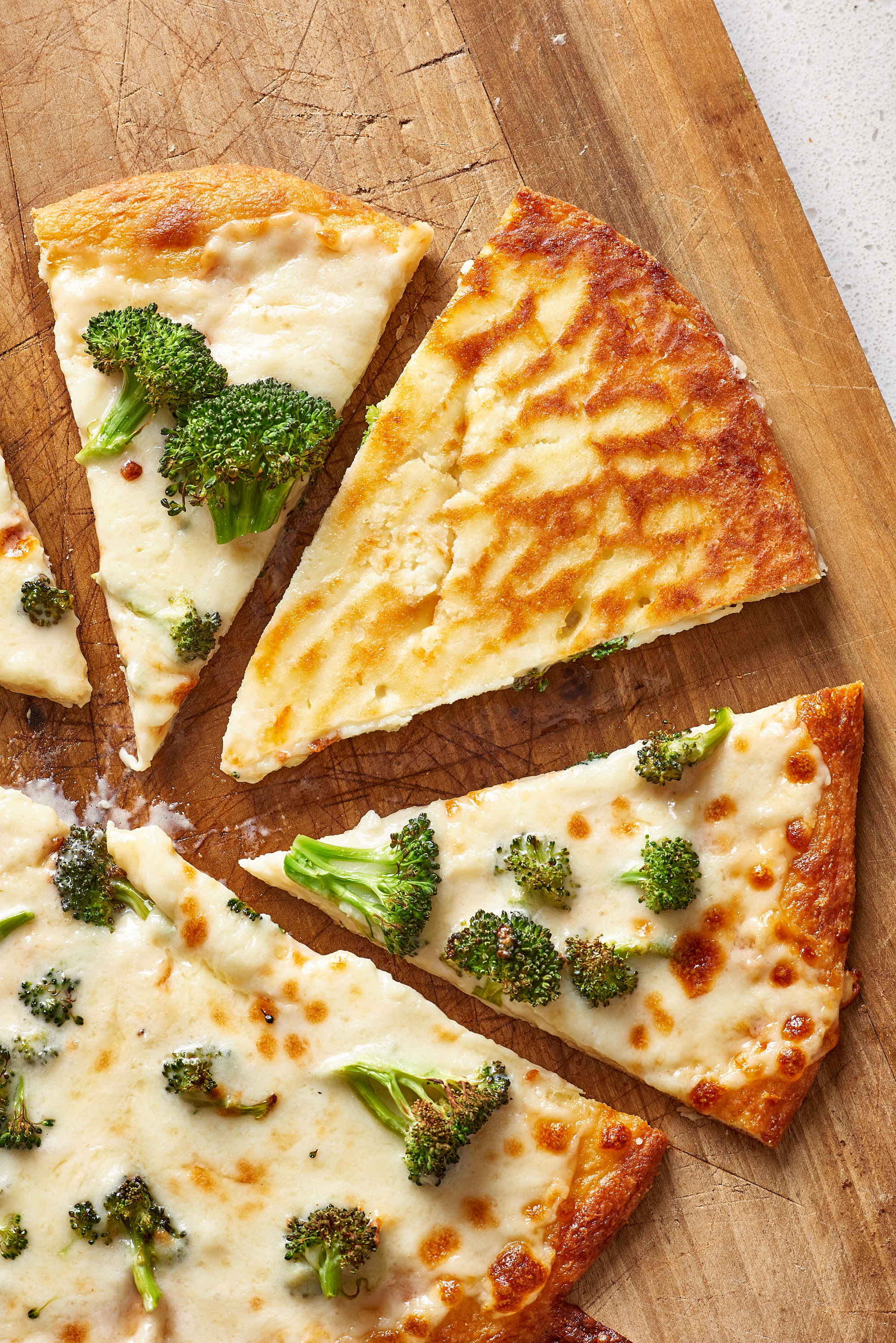 4 Key Tips for the Best Fathead Pizza
Melt the cheese and mix well. This pizza crust usually starts in the microwave, where cream cheese and mozzarella are melted together. You can use a nonstick pan and low heat for this step if you don't have a microwave. Once cool enough to touch, a beaten egg and almond flour are added to the cheese. You want to mix and knead these together really well. Don't worry about overworking the dough — your goal is Silly Putty consistency.
Press, don't roll. This dough is sticky, and you'll need to oil your hands to work with it. Don't attempt to roll out the dough with a rolling pin — it will stick. Instead, pat the dough into a very thin, even layer on a piece of parchment paper.
Add some air holes. Pro bakers call this docking. Perforate the dough with the tines of a fork to prevent giant air bubbles from disrupting the crust.
Bake before topping. To guarantee a crisp crust, bake it for eight to 10 minutes before topping. If you try to top the pizza without this par bake, the crust will be soggy and the toppings will be overcooked before the crust gets golden-brown and delicious.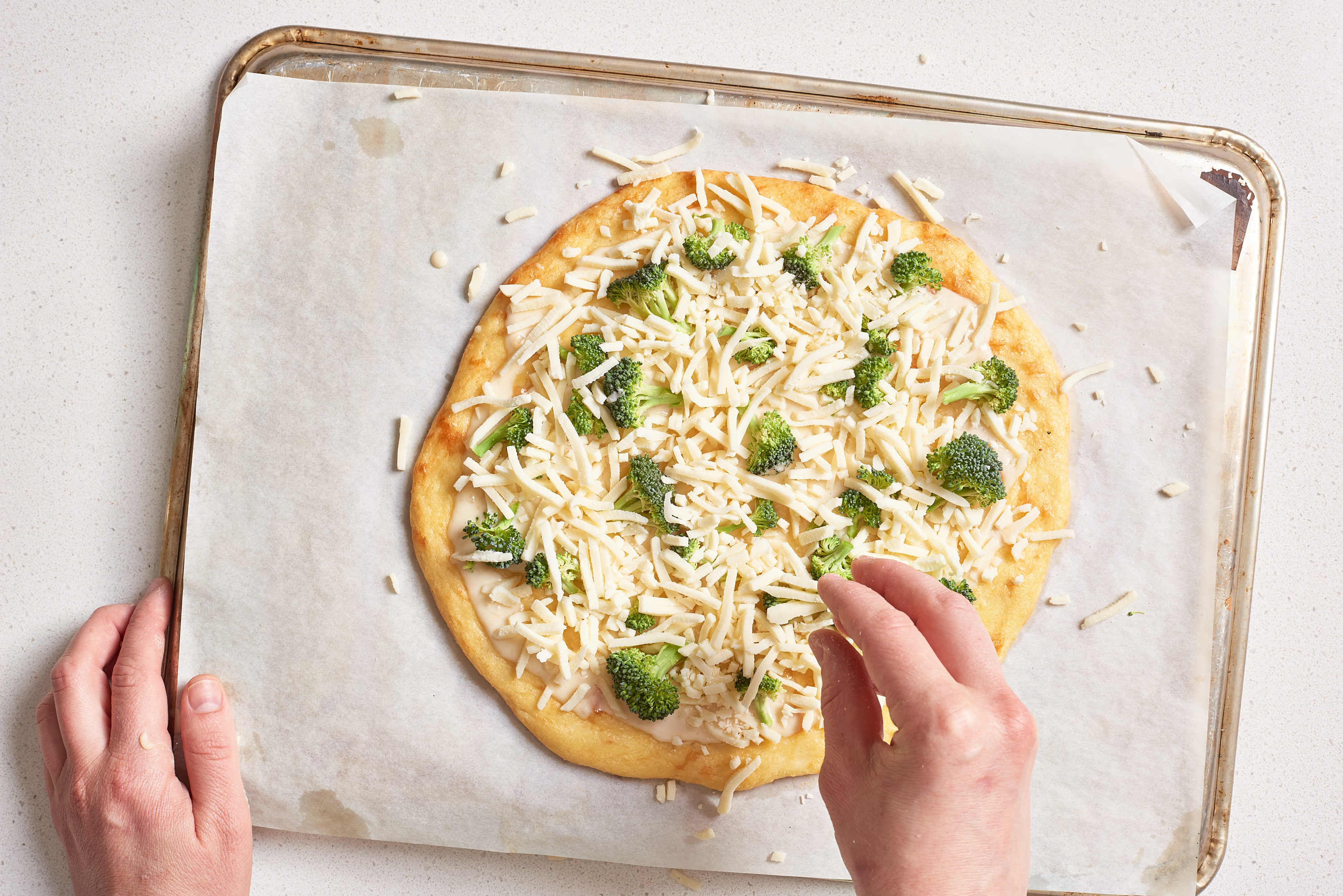 Topping and Serving Fathead Pizza
We've had this cheese-based crust topped every which way, from classic tomato sauce and mozzarella to this garlic cream and broccoli version below. Keep the toppings limited to a simple sauce and one to two other toppings like cheese and pepperoni.
Also keep in mind that if you're trying to keep this pizza keto-friendly, you'll want to keep the topping high in fat (like the one below) and low in sugar (think: tomato paste instead of pizza sauce). No matter how you top it, you're never going to believe how incredibly delicious this cheese-based crust truly is until you try it yourself.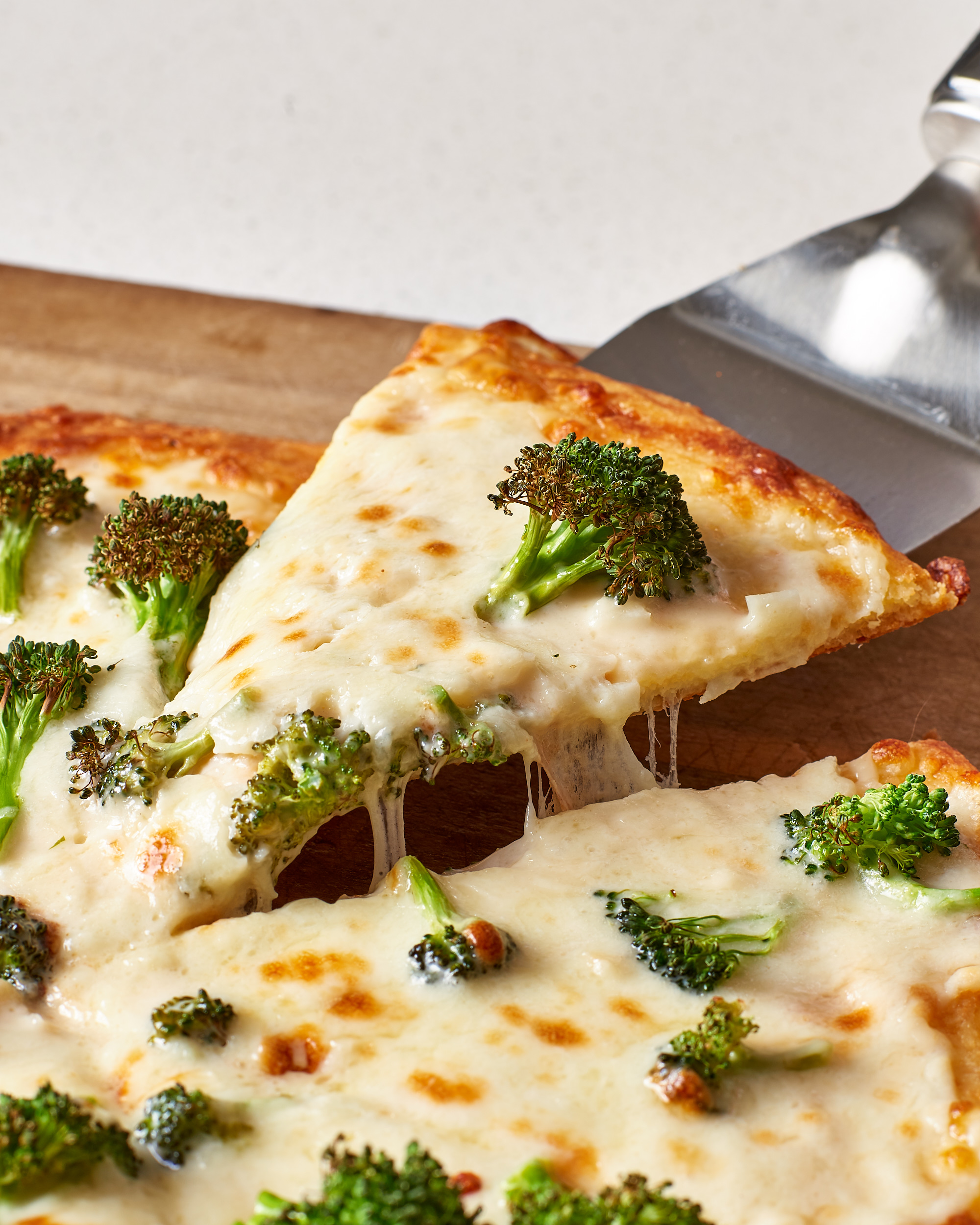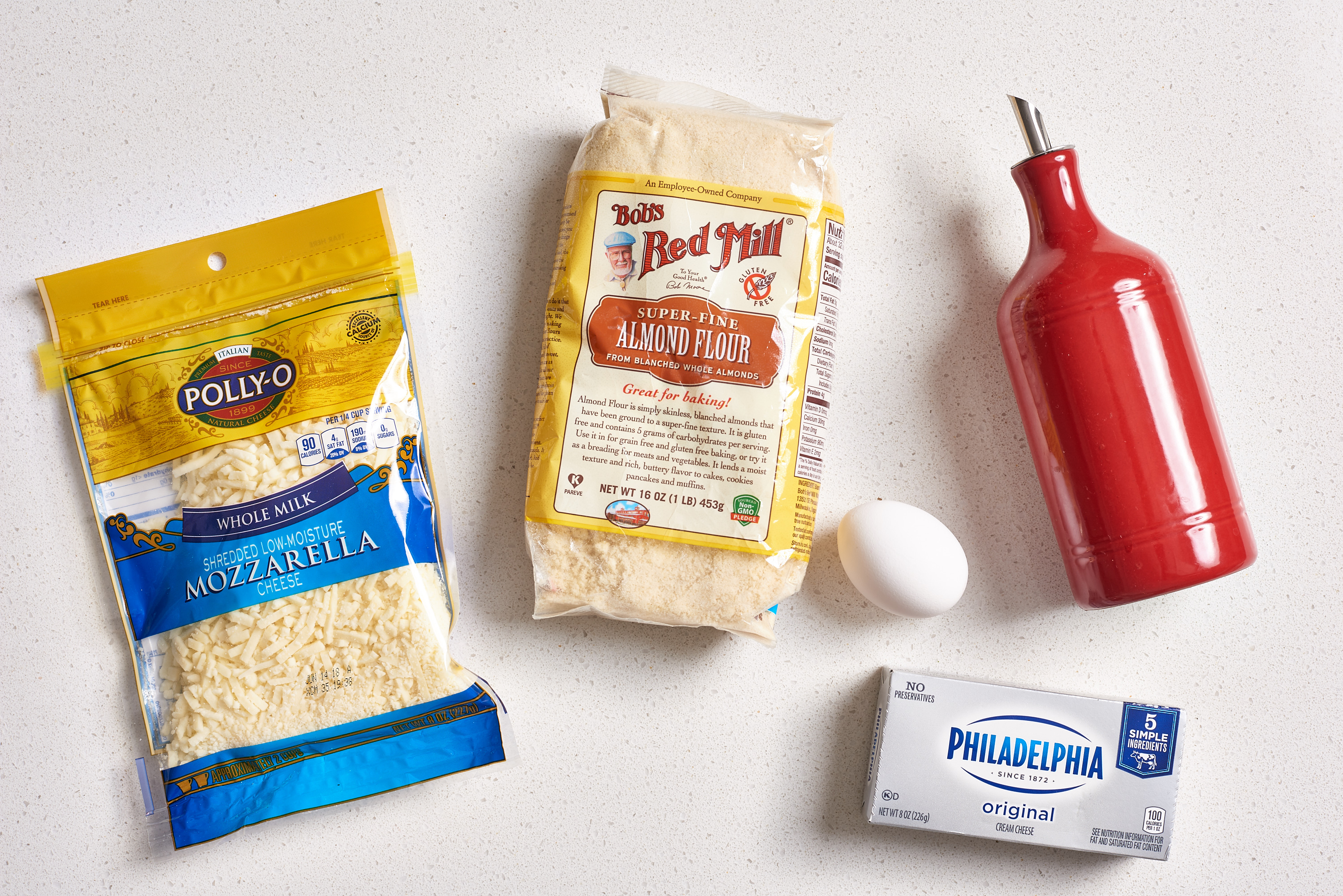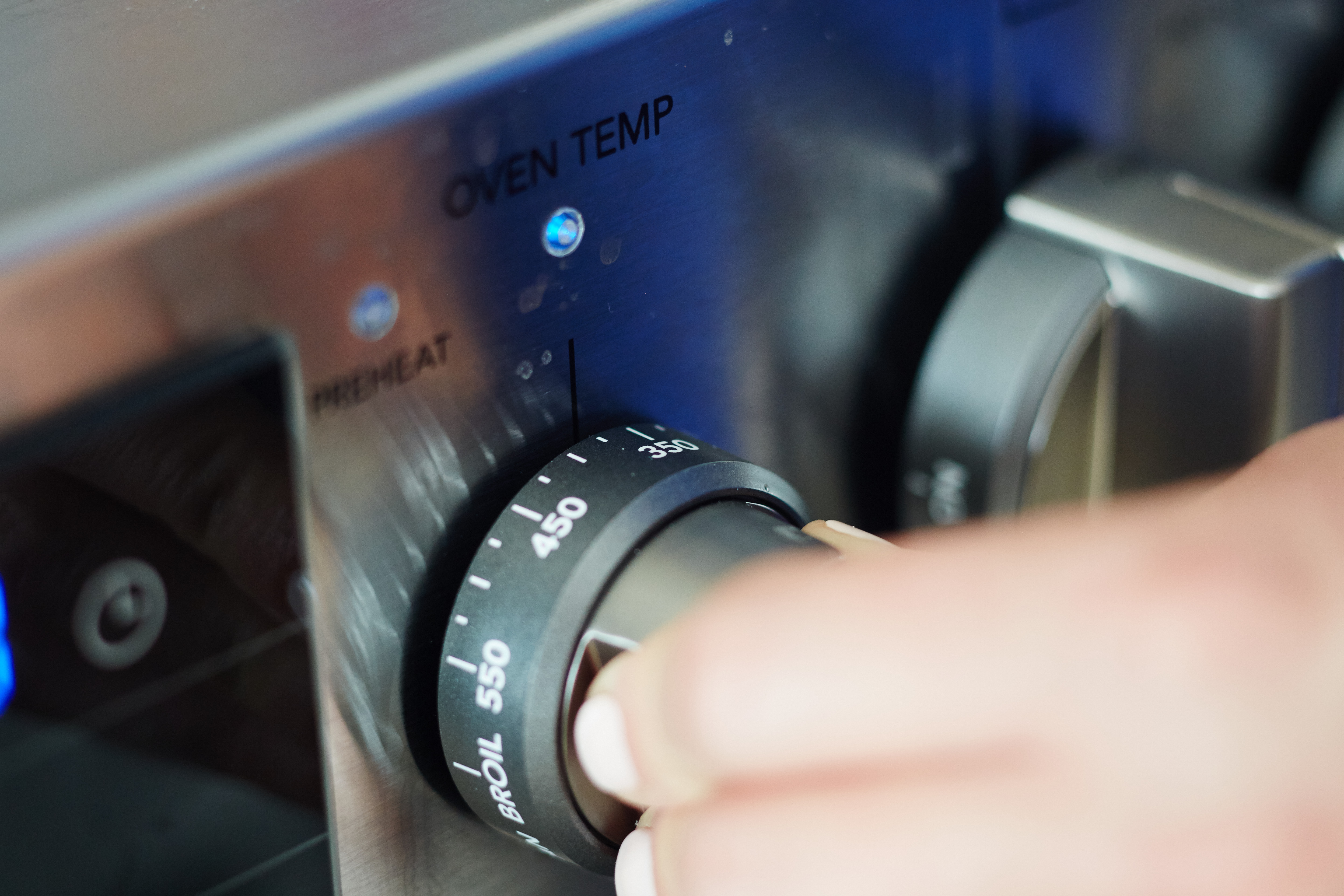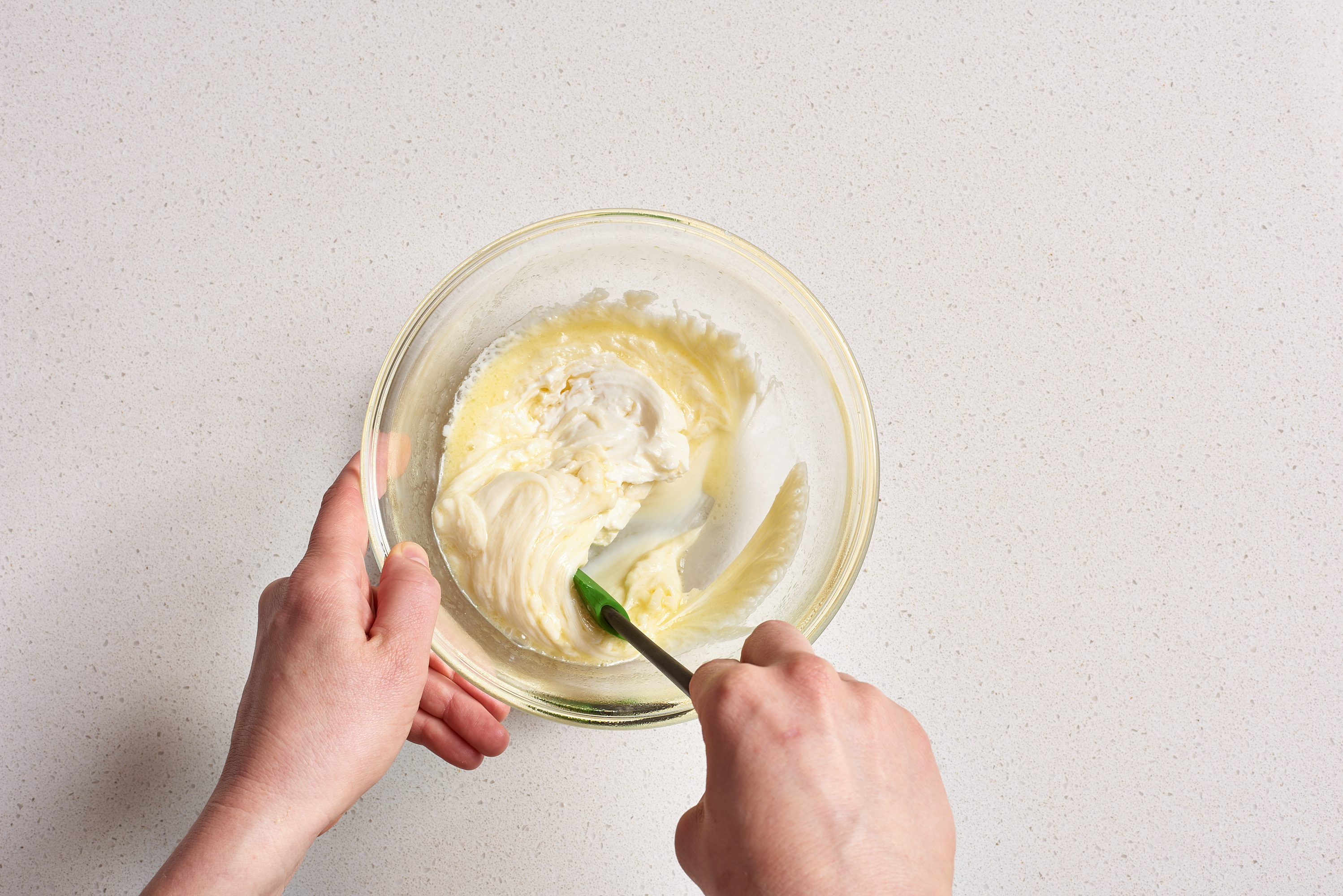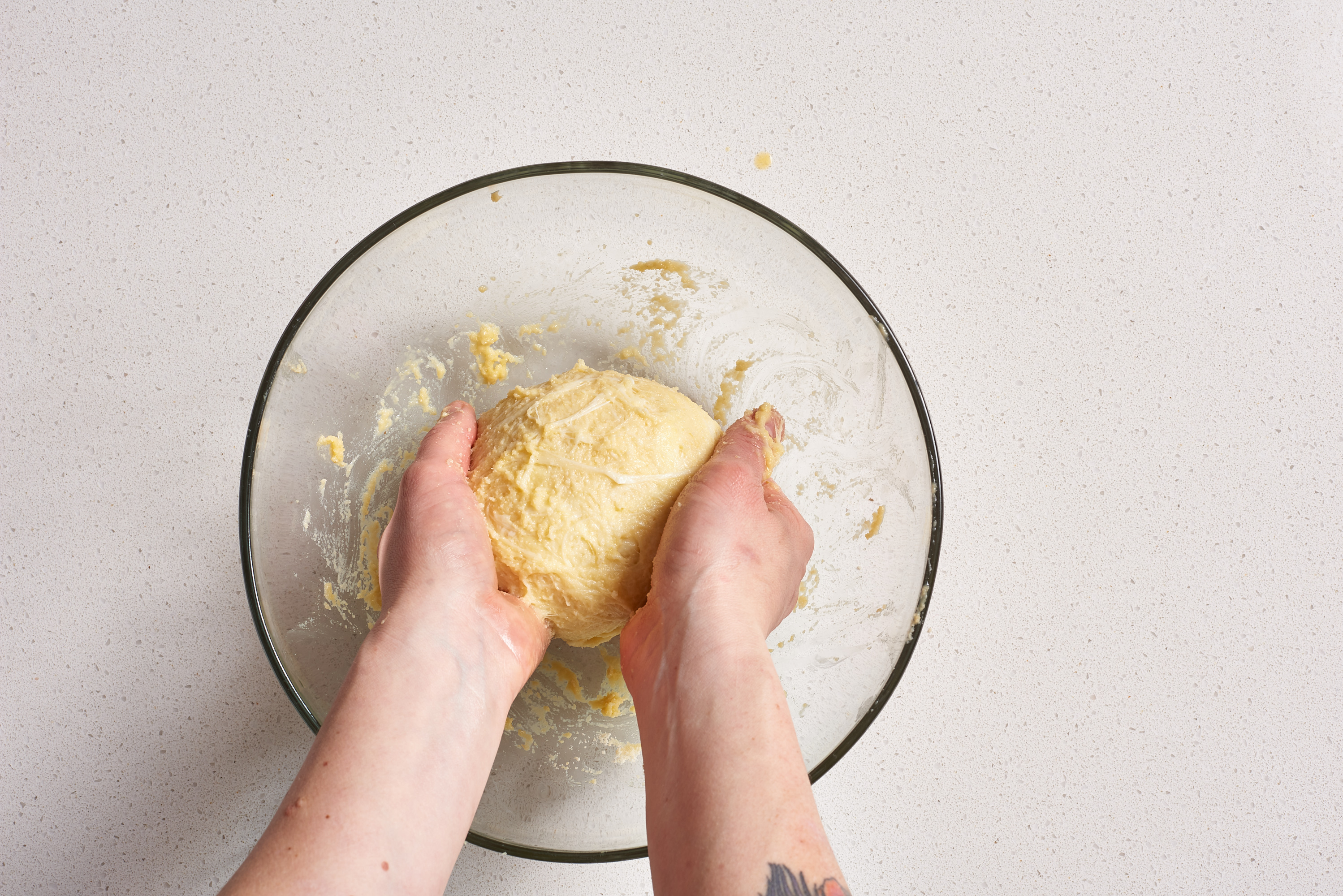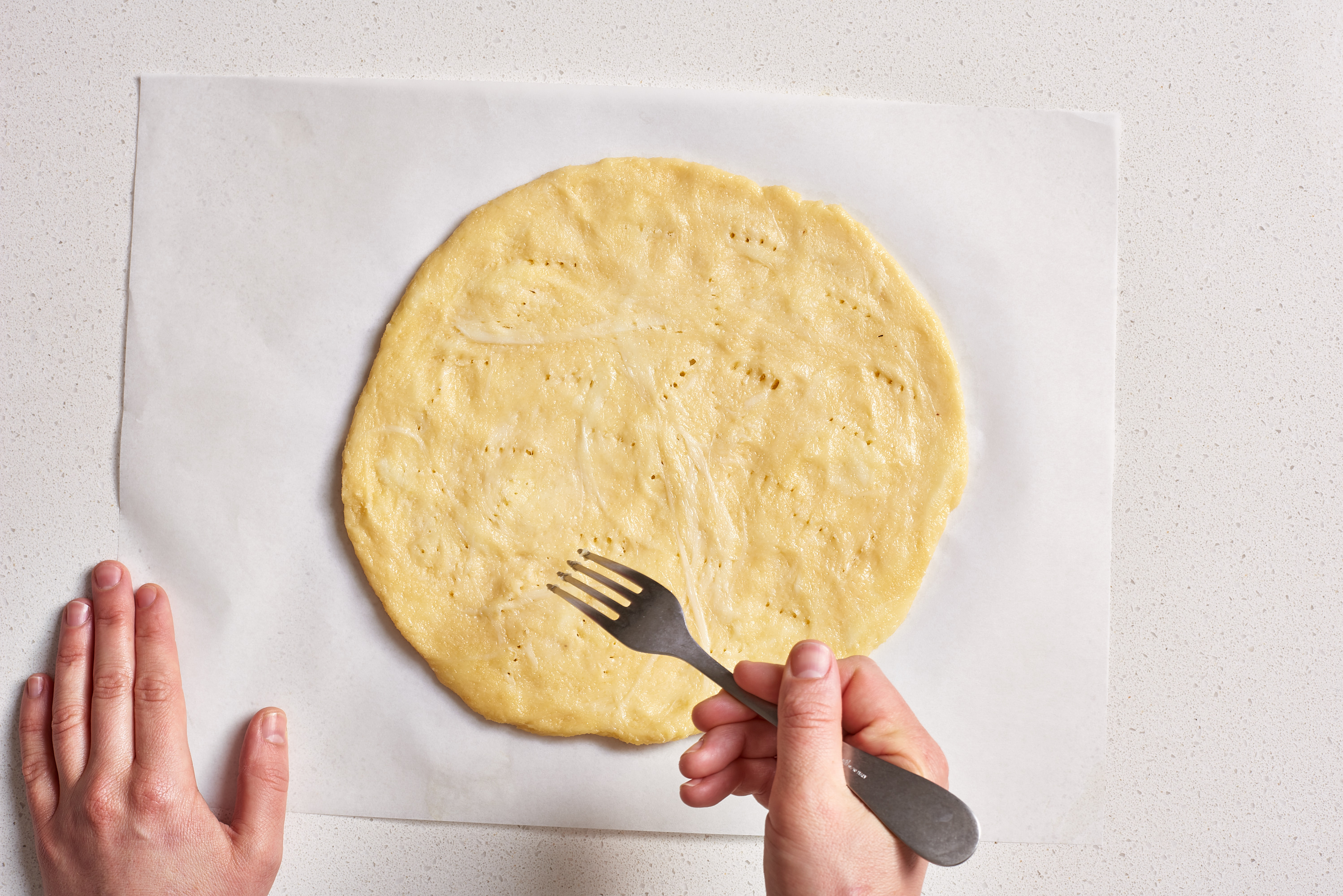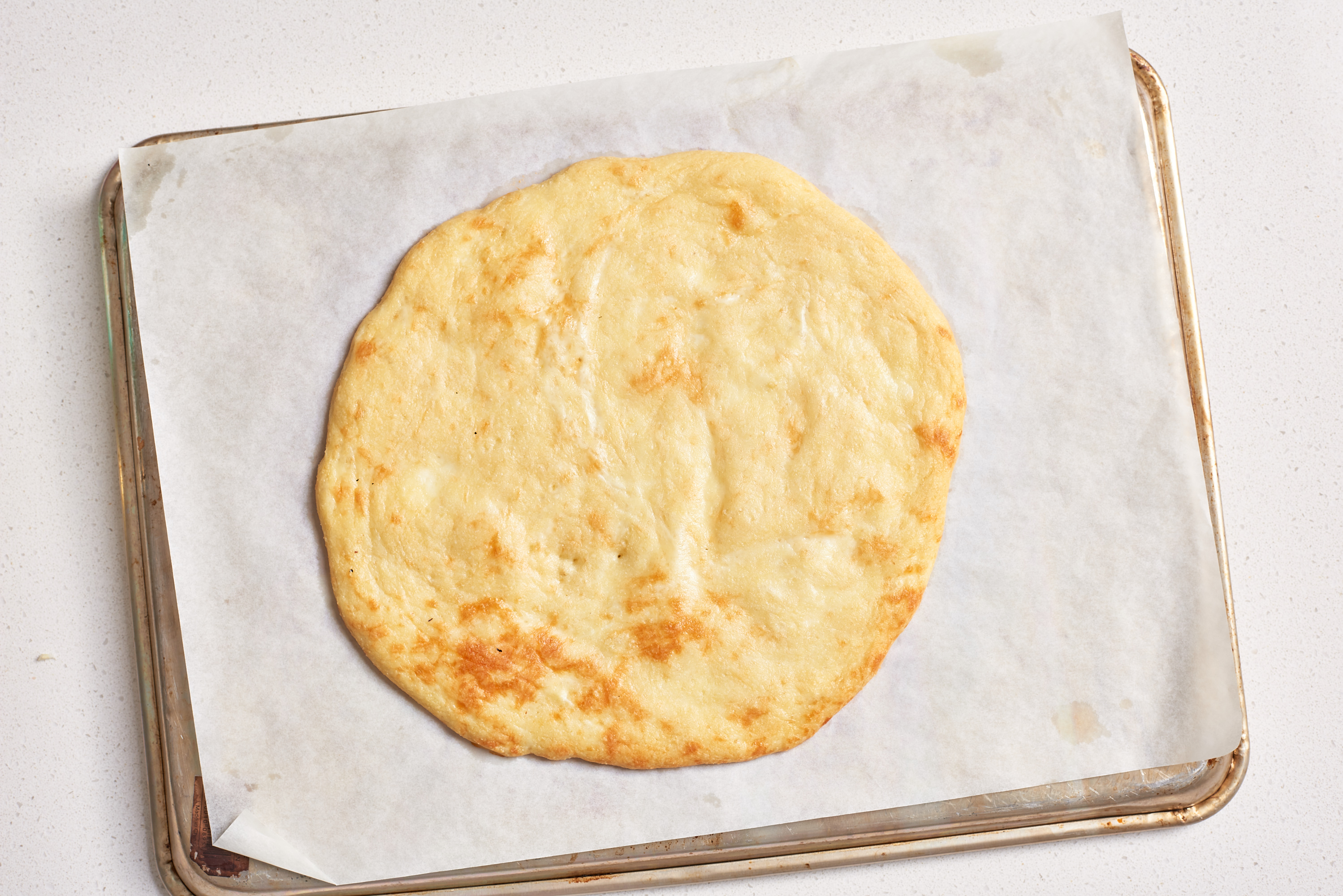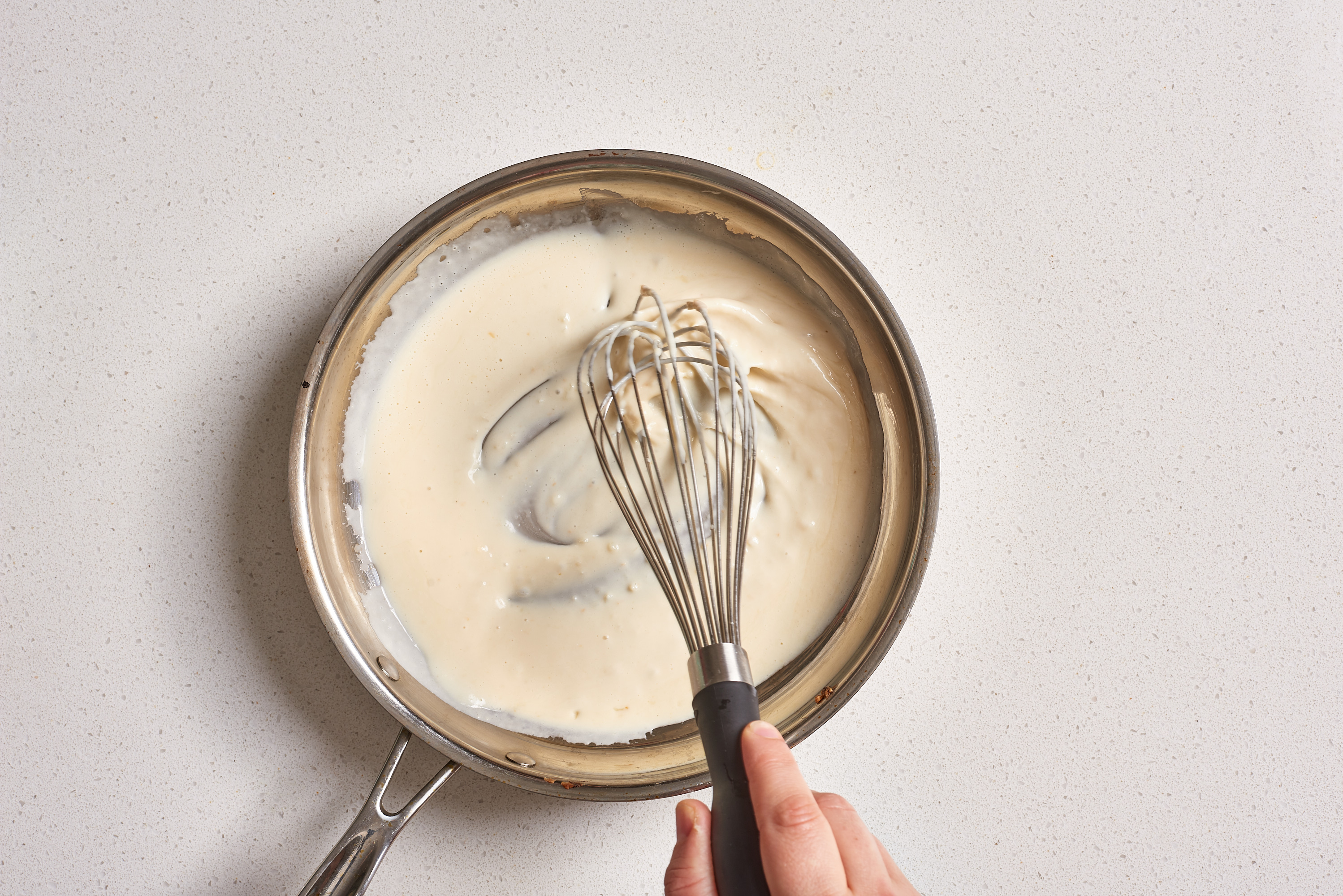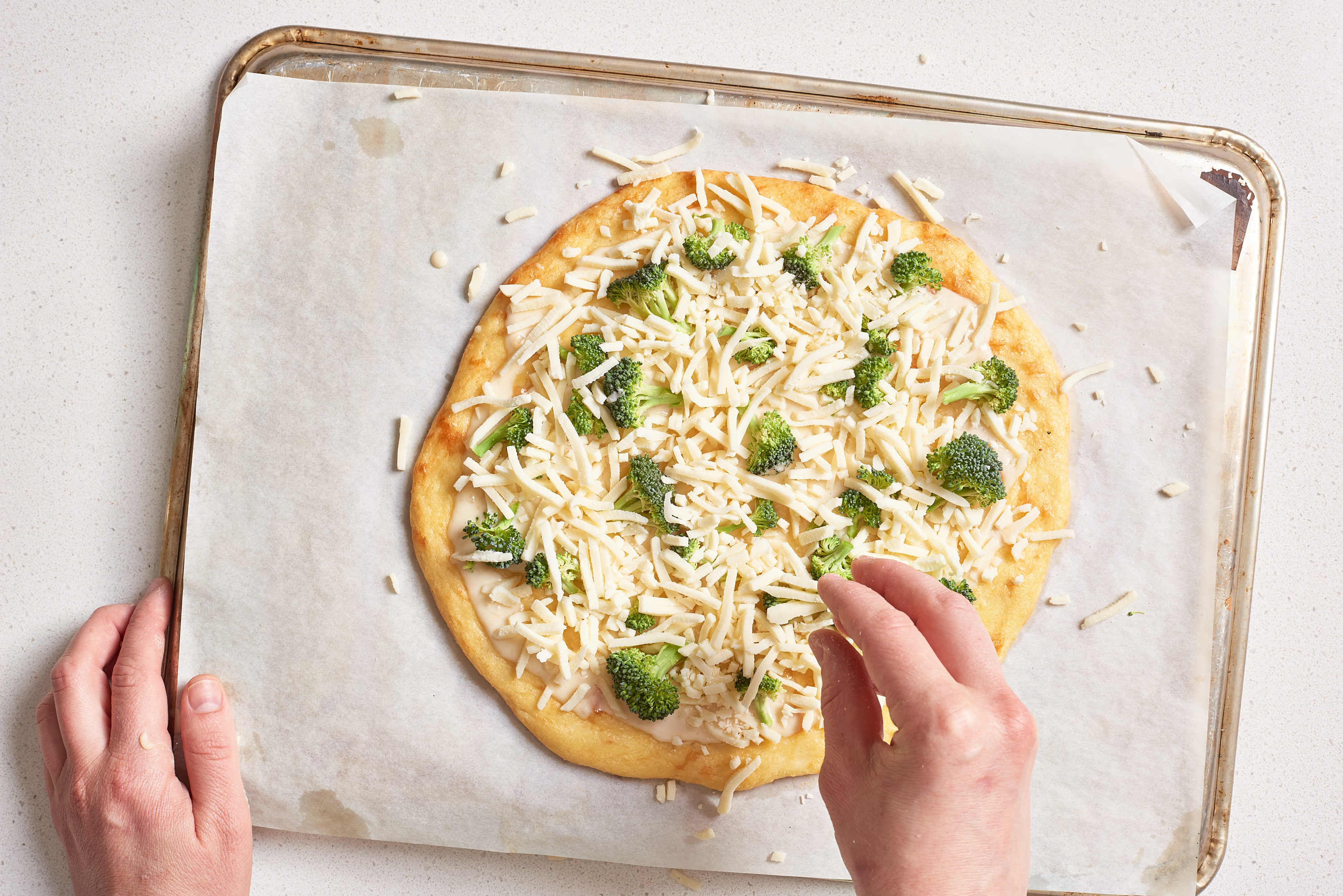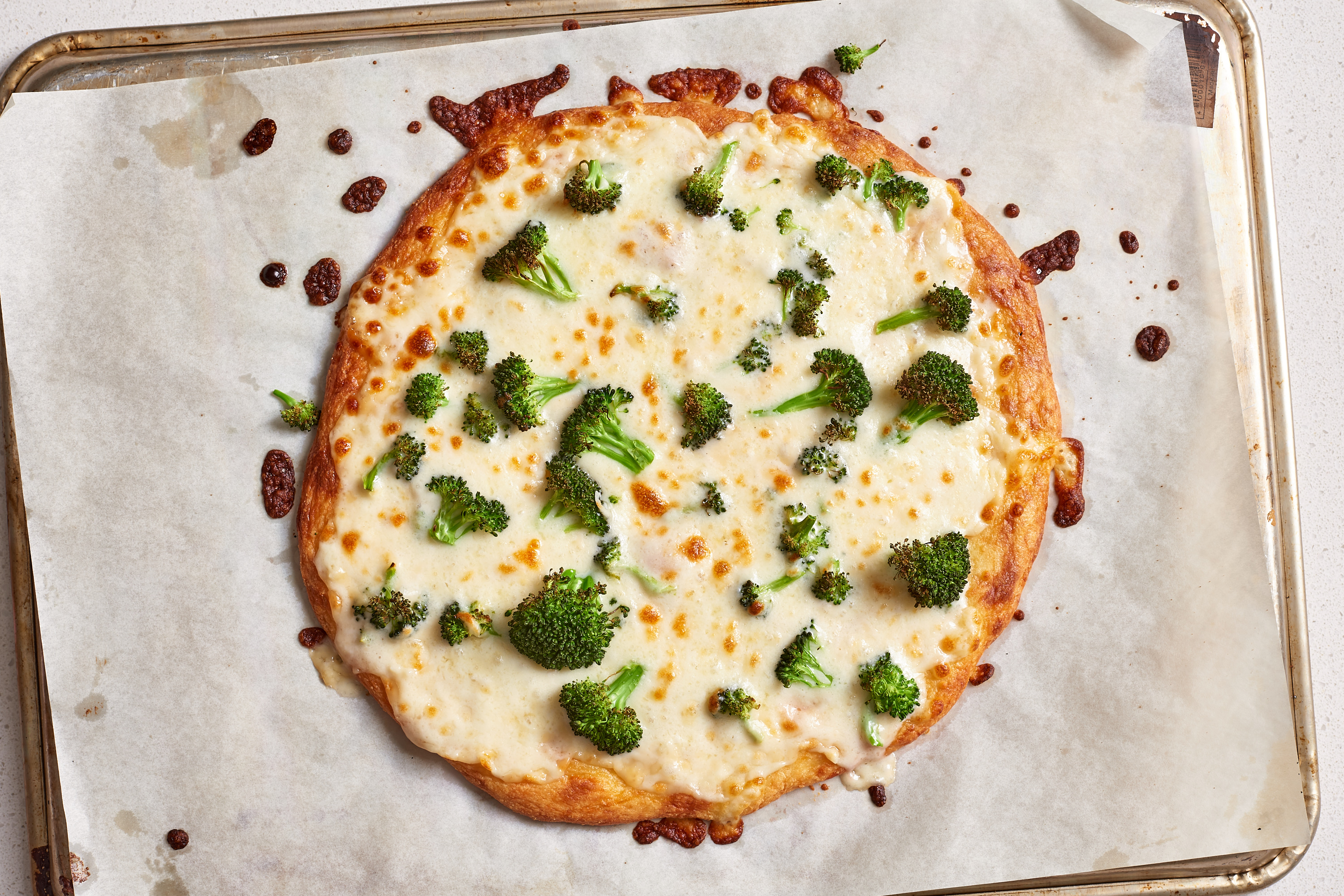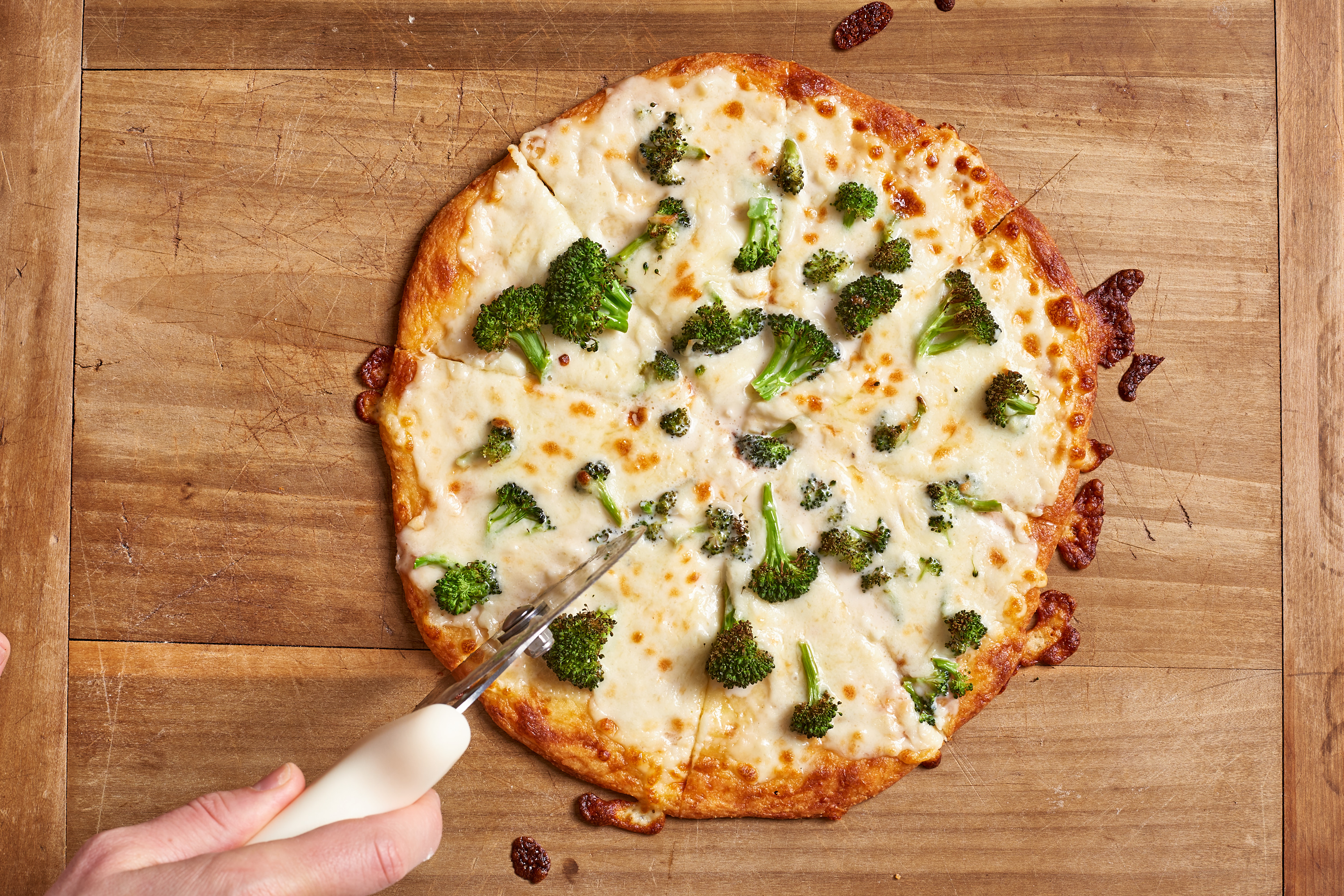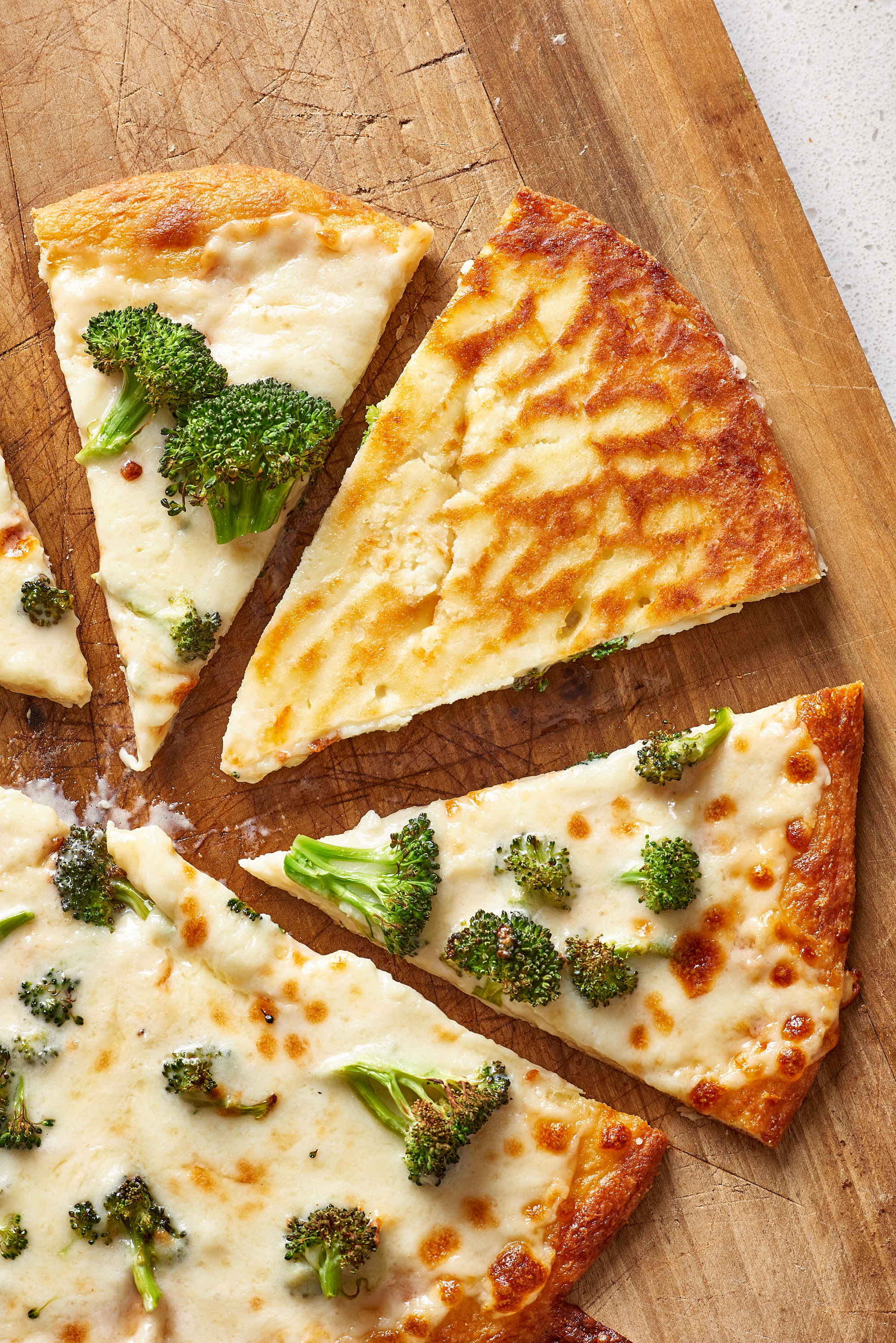 How to Make Fathead Pizza Crust
Ingredients
For the crust:
2

cups

shredded part-skim mozzarella cheese (about 8 ounces)

1

ounce

cream cheese (about 2 tablespoons), cut into 4 pieces

3/4

cup

almond flour, or 1/3 cup coconut flour

1

large egg, lightly beaten

1

tablespoon

olive oil
For the toppings:
1

cup

grated Parmesan cheese

1/2

cup

heavy cream

1

clove garlic, minced

1

cup

broccoli florets, cut into bite-sized pieces

1/2

cup

shredded part-skim mozzarella cheese
Equipment
Measuring cups and spoons
Rimmed baking sheet
Non-stick skillet or microwave
Large bowl
Parchment papper
Fork
Small saucepan
Instructions
Heat the oven to 400°F and heat the baking sheet. Arrange a rack in the lowest position in the oven. Invert a rimmed baking sheet, place on the rack, and heat the oven to 400°F. Have a sheet of parchment paper ready.

Melt the cream cheese and mozzarella. Place the mozzarella and cream cheese in a large, microwave-safe bowl and heat on high until melted, stirring occasionally, about 90 seconds total. (Alternatively, melt the cheeses in a nonstick skillet over medium-low heat, then transfer the melted cheeses to a large bowl.) Use a rubber spatula to stir the melted cheeses together until mostly smooth and cool to the touch.

Knead the dough until smooth. Add the flour and egg and stir until well combined. Coat your hands with the olive oil and gently work the dough until it is smooth and slightly springy — the goal isn't a perfectly smooth dough, but rather a homogeneous dough with no visible pockets of cheese or egg.

Press the dough out into a 10-inch circle on parchment paper. Working with well-oiled hands, transfer the dough onto the parchment paper and press it into a 10-inch round. If the dough is very sticky, cover it with another piece of parchment and use a rolling pin to roll it into the circle. Use a fork to poke and "dock" the dough all over and prevent bubbles in the oven.

Parbake the crust for 8 minutes. Move the pizza crust on the parchment onto the hot inverted baking sheet. Bake for 8 minutes. While the crust bakes, make the garlic sauce.

Make the garlic sauce. Place the Parmesan, cream, and garlic in a small saucepan over low heat and bring to a simmer. Simmer, stirring regularly, until thickened, about 3 minutes; set aside.

Top the pizza. Remove the crust from the oven. Evenly top with the cream sauce, broccoli florets, and remaining shredded cheese.

Bake until golden, another 5 to 7 minutes. Return the pizza to the oven and bake until the crust is a deep golden brown and the cheese on top is melted, 5 to 7 minutes.

Cool and slice. Transfer the pizza to a wire rack and cool for 5 minutes before slicing and serving.
Recipe Notes
Storage: Leftovers can be stored in an airtight container in the refrigerator for up to 4 days.
Source: Read Full Article